Ampd Energy, in combination with Laing O'Rourke subsidiary Select, have successfully deployed three of their zero emission "Enertainer" lithium-ion battery energy storage systems to London's Olympia Redevelopment
Over 12 months the three deployed Enertainers will avoid an estimated 192 tonnes of carbon, save 70% in operating costs and remove the equivalent of 975 cars in air quality pollutants compared to the standard diesel generators
A European first for Ampd Energy, Laing O'Rourke and Select, the modular lithium-ion battery solution aims to electrify building sites and drive down carbon emissions for the construction industry
Ampd Energy, an Earthshot Prize finalist that has pioneered the use of battery energy storage systems in urban construction, that their flagship product has been launched in the UK, deployed to London's Olympia Redevelopment. In partnership with Laing O'Rourke, principal contractor for the Olympia Redevelopment, and subsidiary Select, the "Enertainer" has powered three cranes at the construction project in the six weeks since it's deployment in December.
With over 130 of the smart batteries live across building sites in Hong Kong, Singapore, and Australia, the Enertainer is a plug and play device designed for the electrification of construction. Providing clean, quiet and fully automated energy delivery, it enables construction to transition away from fossil fuels. Thirty times quieter than a diesel generator, the Enertainer is designed for the tough, dynamic and space-constrained needs of construction sites.
In the six weeks since the Enertainer has been operational the advanced energy storage system has introduced significant financial and environmental advantages; over the life of the project, an Enertainer will be more cost effective than using diesel generators, as well as saving space and manpower time.
According to the IEA, the combined building and construction sector is responsible for 30% of total global final energy consumption and 27% of total emissions in the overall energy sector. Compared to fossil fuel generators, the Enertainer reduces carbon footprints by up to 90%, is significantly quieter, emits zero air pollutants, and eliminates diesel handling and usage risks.
With very few moving parts, the Enertainer has minimal maintenance and zero refuelling downtime. By replacing diesel with electricity from the grid network, the Enertainer can also realise significant cost-savings as well as operational benefits for construction sites in the UK and around the world. Additionally, as an IoT enabled device, the Enertainer can be remotely monitored anytime and anywhere, providing a deep level of data-transparency for data-driven decision making. The Enertainer is the first energy storage system in the UK able to power such large construction equipment which will be crucial as the construction sector looks to reduce its environmental impact.
This partnership with Select has entailed the deployment of the Enertainer in central London, and is available now across the rest of the UK.
Brandon Ng, CEO and Co-Founder of AMPD Energy commented:
"We are proud to have launched our first European deployment for the Olympia Redevelopment. This is a fantastic opportunity for us to demonstrate the 'Enertainer's' compelling environmental and commercial impacts, right here in London.
We're excited by the platform's ability to transform construction and are proud to be partnering with industry leaders like Select and Laing O'Rourke, as we continue our journey towards making this a reality. We look forward to building on this first deployment over the course of 2023, powering cleaner, cheaper construction in the UK and across the world."
From Ian Fleming- Select Site Services Product Leader at Olympia Redevelopment commented:
"The Ampd Enertainer is a game changer for site electrics and its infrastructure. Not only does it enable us to power the crane on a small grid connection, but the innovative design allows us to feed it with small power cables and charge it when site demand for power is low. It has the capacity to run additional equipment so we are looking at other applications for it already."
From Stephen Bradby – Plant & Engineering Technical Leader at Select commented:
"At Select, we understand our responsibility to challenge the norm and champion new sustainable technology. We've made significant investment in zero emission equipment and can now offer plant including our battery-powered crawler cranes and drilling rigs to our customers that dramatically reduce carbon emissions. We're constantly pushing the boundaries of what's possible through collaboration with innovative partners like Ampd Energy. When we were approached by Ampd Energy we immediately saw the opportunity to help eliminate diesel and its derivatives, from sites, particularly the ones using our large tower cranes, with high power demands. Each one of these Ampd units removes a 500kVA generator and all its associated emissions, noise, space, and cost. It really is making a vast improvement on the environmental impact of construction."
* Data taken from BEIS conversion factor spreadsheet and Enernet monitoring system, annualised for an annual figure.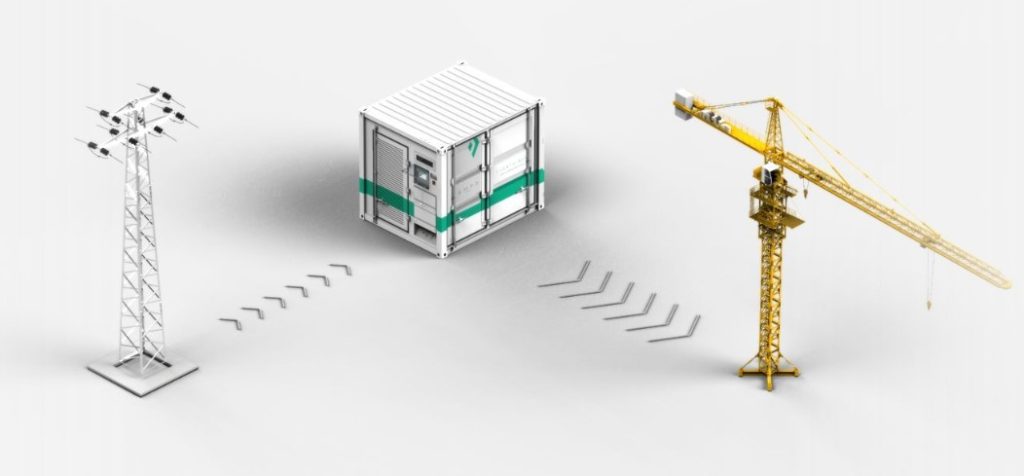 Building, Design & Construction Magazine | The Choice of Industry Professionals