Hexagon's Asset Lifecycle Intelligence division, a global leader in digital reality solutions, today announced the availability of a new version of PV Elite, its complete software solution for vessel and heat exchanger design, analysis and evaluation.
Since its launch three decades ago, PV Elite has helped users have confidently design equipment for the most extreme uses. The new version provides them with expanded capabilities for unparalleled safety.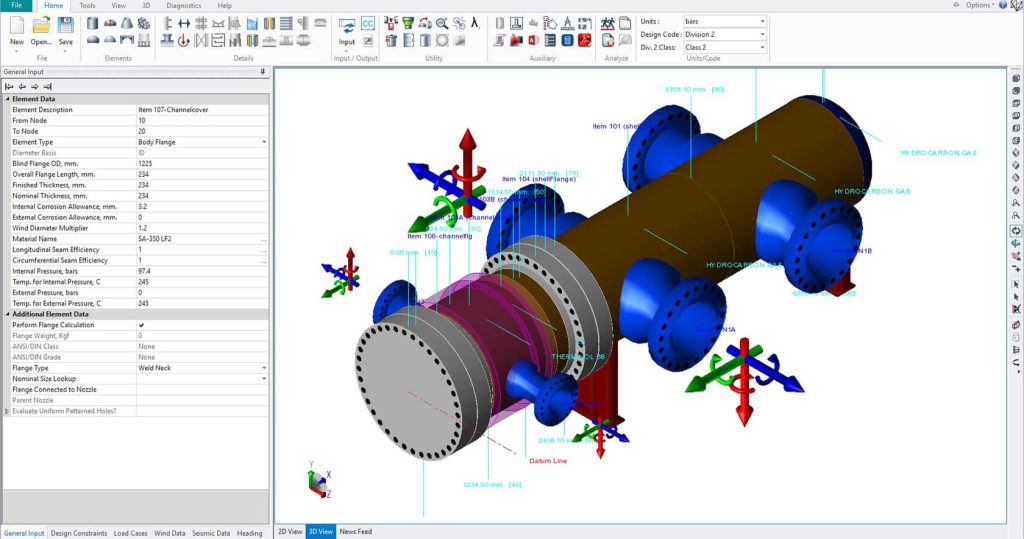 Specifically, this latest release incorporates all the tools necessary to perform a broad range of vessel analysis and boundary-defining data inputs, enabling engineers to efficiently design and quickly comprehend results that ensure safety.
It includes:
EN 13445 code enhancements, such as simplified fatigue analysis, creep design and blast loads for horizontal vessels
Rectangular vessel analysis for all supported codes
North American wind and seismic code updates
Material Database user experience enhancements
This version of PV Elite also includes user experience enhancements, making it easy to learn, start up and use for new and experienced engineers alike. It streamlines data entry by breaking input into sensible subsets, while analysis may be done in one pass over the entire pressure vessel model or on individual components (such as shells, nozzles, flanges, etc.).
Kristin Coyle, Product Owner, Hexagon's Asset Lifecycle Intelligence division, said, "Pressure vessel engineers are tasked with projects that vary greatly by size, type and material. This new version of PV Elite provides them with everything they need to improve their productivity, save time and optimize engineering design using enhanced data capabilities. In addition, it's easier than ever to learn and use, which makes it perfect for users requiring fast start-up and confidence in their safety code calculations."
Maximilian Stechhammer, Head of Sales & Marketing, Hering AG, said, "PV Elite has helped us save time and money. We have reduced our engineering and calculation costs by 30%. We have also kept our quality level high, as PV Elite is an excellent tool for designing and validating our products."