Winvic Construction Ltd, a leading main contractor that specialises in the design and delivery of multi-sector construction and civil engineering projects, along with its client Edmond de Rothschild has celebrated the topping out of a 406-apartment build-to-rent project on Kent Street in the centre of Birmingham. To mark the occasion, one of the final sections of concrete was poured – an upstand to an automatic opening vent on the seventeenth-storey roof of Block A – and finished by the investment house's leadership team and Winvic's Director of Multi-room, Mark Jones.
The project, which comprises 154 one-bedroom, 228 two-bedroom and 24 three-bedroom apartments is on the former site of the Kent Street Swimming Baths. Winvic began the enabling works in April 2021 and construction works commenced in August 2021. Contained by roads on all sides, the compact site has seen the reinforced concrete slip formed cores and frames rise to seven, eight, 10 and 18 storeys since then. The 10-storey tower is on the corner of Gooch Street and Kent Street and the tallest block – which also has a basement car park for 95 vehicles – is on the corner Bromsgrove Street and Henstead Street.
Works to the roofs as well as the Steel Frame System and window installations are over halfway through their programmes across the whole project. The Winvic team is also focusing on the façade to Block D – where brick slip panels are being installed – and internal fit out to Blocks D, A and C including partitions, first fix mechanical and electrical works and the plant room.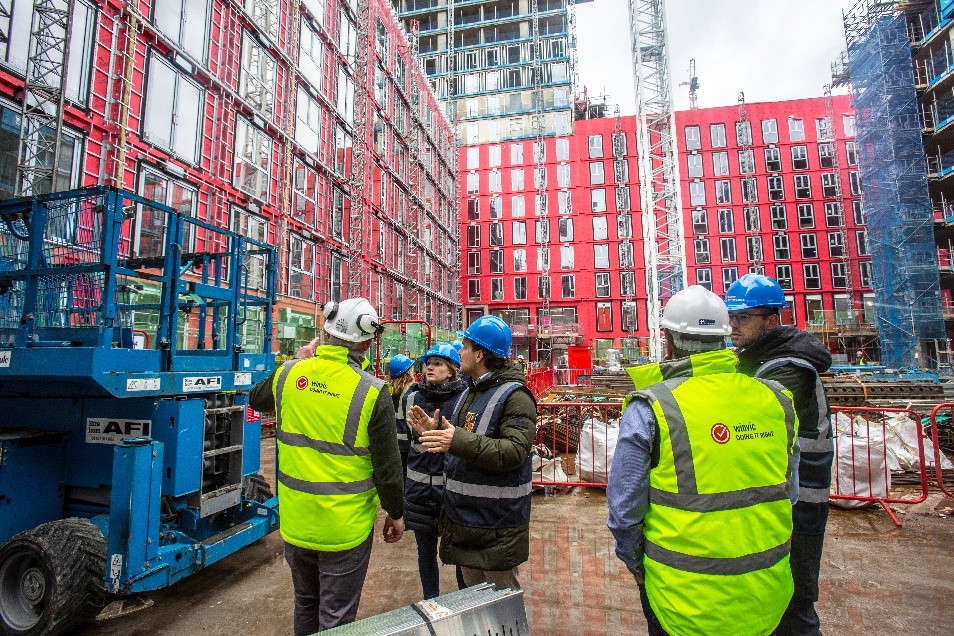 To watch the continued progress via an on-site camera, visit Winvic Live.
The scheme will also feature green roofs, a ground floor commercial space, shared resident amenity areas and a landscaped central courtyard with community hub. Winvic is scheduled to hand over the scheme in 2024.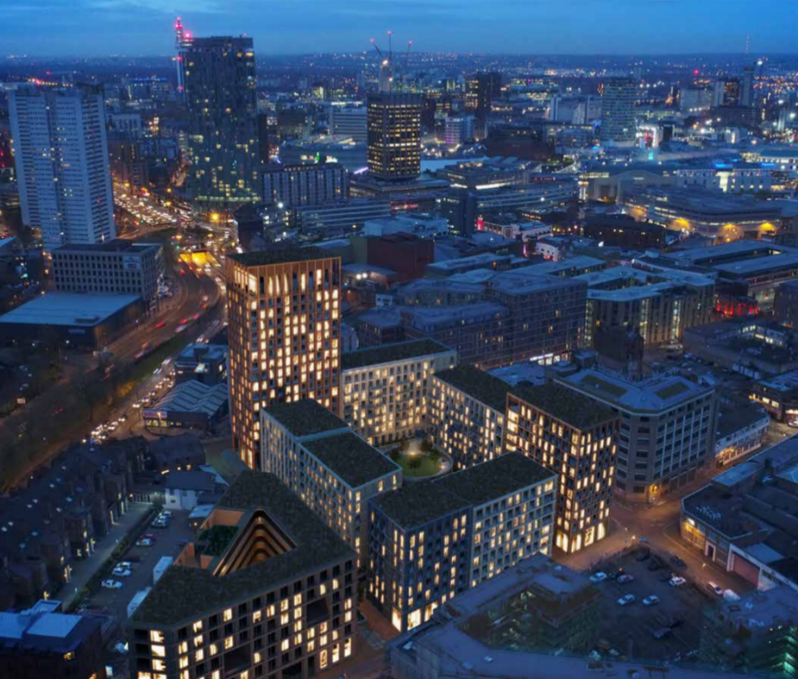 Mark Jones, Winvic's Director of Multi-room, said: "It's particularly rewarding to reach the topping out stage of a RC Framed building and we were delighted to be able to celebrate this important milestone with our client and the funders. We've been working as one team with Edmond de Rothschild to ensure progress is on track and the people of Birmingham will now start to see the brick slip façade envelop the buildings. I'd like to thank our team for their hard work to get to this stage. Everyone is looking forward to a productive year and final push to completion in 2024."
Tim Holden, Edmond de Rothschild – REIM Head of Residential UK – added: "We are delighted to be developing 400 apartments for Build-to-rent in Birmingham in partnership with Winvic. This scheme is an important project in our 2,600-unit portfolio. Working with Winvic is always a good experience and the topping out is an important milestone. We look forward to reaching practical completion so that our in-house lettings and property management service can begin to let and manage this exciting place-making scheme in the centre of Birmingham. I would like to thank our investors for participating in this project and the project team that's bringing this landmark project to fruition."
For more information on Winvic, the company's latest project news and job vacancies please visit www.winvic.co.uk. Join Winvic on social media – visit Twitter @WinvicLtd – and LinkedIn.
Building, Design & Construction Magazine | The Choice of Industry Professionals