On behalf of pan-European developer Atenor, Lichfields – the national planning and development consultancy – has secured planning approval for the deep retrofit of Fleet House near Blackfriars Station in the heart of London to create a best-in-class sustainable workspace.
Designed by global architects HOK, the project will see more than two-thirds of the current structure retained, ensuring the preservation of the existing embodied carbon and cutting the project's environment impact.
The new-look sustainable office building, which is being designed to achieve a minimum of BREEAM Excellent standards, will provide more than 77,000 sq. ft. of high-quality accommodation across eight storeys.
The City of London's planning sub-committee unanimously resolved to grant the scheme planning permission today (31 January 2023), following the planning officer's recommendation for approval.
Atenor, which is listed on the Euronext Brussels market, has projects in ten European countries, comprising office, residential and mixed-use. Atenor is recognised as an industry leader for ESG and recently achieved a 5/5 Star GRESB rating, the global benchmark for ESG-compliant real estate. Fleet House is fully aligned with this approach, with the rejuvenated building being designed to prioritise the wellbeing of the building's users as well as the wider community with adherence to best-in-class WELL principles and biophilic design.
Features for those working at the building will include short and long stay cycling parking, high-quality end-of-trip facilities and four unique external terraces – most with spectacular views of St Paul's Cathedral.
A range of new public amenities will also be created including a new pedestrian priority route connecting Bride Lane and Bridewell Place, an art wall, a new 1,300 sq. ft. (120 sq. m) juice bar/café, double-height office lobby with green wall and plentiful natural light and a 4,000 sq. ft (370 sq. m) re-provided public house at ground-floor and part-basement level.
Alison Bembenek, associate director of Lichfields, who secured approval, said redevelopment will create jobs and provide a welcome boost to the locality.
She added: "This a great redevelopment project with sustainability at its heart. It will certainly enhance the area and will undoubtedly contribute positively to this part of the City."
Eoin Conroy, Country Director UK for Atenor, said:"This is a major milestone for Atenor in the UK and highlights our ambition and focus to create beautiful places founded on sustainability and wellbeing. Our approved plans for Fleet House supersede a previously consented scheme that would have seen the existing building completely demolished and a new one built from scratch.
"Instead, 72% of the building's existing structure will now be retained, emphasising our belief that the adoption of sustainable practices at the design and construction phases is both the right thing to do and will make this building more appealing to future occupiers. We look forward to bringing forward further London opportunities in the near future."
David Weatherhead, HOK design principal, added:"HOK is delighted that Fleet House has been granted planning approval. The design provides a vast array of public benefits, including a new pedestrian passageway linking Bridewell Place and Bride Lane, along with active and inclusive ground floor uses, including a Public House. We have designed a modern, vibrant and sustainable place of work, embedding WELL principles and incorporating nature at every floor. We look forward to this exciting project being realised."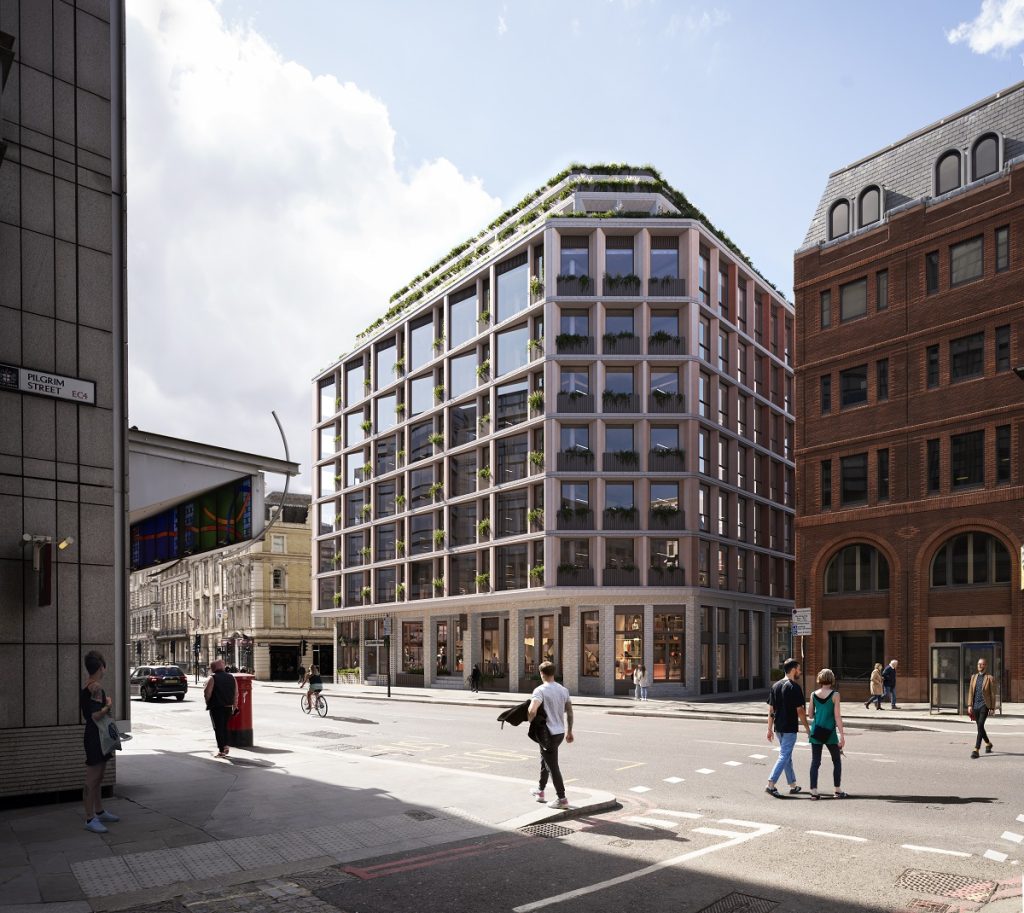 Building, Design & Construction Magazine | The Choice of Industry Professionals