Nottingham-based architects and interior designers, Marchini Curran Associates, is reflecting on a year of positive change under new ownership, with ambitious plans for growth, innovation and sustainability in 2023.
The practice has had a successful year of transition under its leadership, breaking into new sectors, promoting internally and growing the team with new staff including architect, Sara Saadouni, and architectural assistant, Lauren Leyva, with plans to further expand the senior team this year.
Major projects completed in 2022 have included Mayfield Retirement Village, whereby Marchini Curran Interiors was commissioned to develop a brand-new interior concept for the 255-apartment village, with a contemporary, vibrant and environmental community feel at its core.
Marking further inroads into the leisure and entertainment sector for the practice, Marchini Curran Associates worked alongside Willmott Dixon to deliver two cinema schemes, which included architectural works for The Arc Cinema in North Street, Daventry, as part of the £12.5million Mulberry Place Development, and the expansion of the Phoenix Cinema and Art Centre in Leicester – a landmark expansion scheme, which transformed the Cultural Quarter venue with the provision of two additional screens, a new gallery facility, together with a multipurpose events space and terrace.
Cultural and religious developments have also been a key area of growth in the last 12 months, and having secured planning permission at a public inquiry, the architects were appointed to deliver the landmark design for the UK's first purpose-bult Hindu crematorium, located in the grounds of the Hindu temple at the Shree Swaminarayan Spiritual Cultural and Community centre in Denham. The facility will address a longstanding need for a purpose-built environment for the unique funeral rites of Hindu, Jain and Sikh communities.
Finishing the year by planning further success for 2023, Marchini Curran is continuing to build on its diverse workload, increasing outputs in the data centre sector, which has been earmarked as a growth area due to increased reliance on cloud technologies.
Retirement living is another key focus for the practice with an industry shift from functional to more premium community-based end of life care, alongside co-living schemes and purpose-built student accommodation.
The practice has also been appointed to a major scheme in the heart of Oxford city centre, working with Lothbury Property Trust for a venture by Oxford Science Enterprises. Marchini Curran Associates will be delivering a mixed-use development, which is primarily a high-specification research and development facility including laboratory and incubation facilities, acting as a steppingstone for industry professionals following university PHDs.
Alongside the higher enterprise business facility, the scheme will include retail and leisure units, as well as student and office accommodation – creating a pivotal professional and educational hub in the city centre. The practice will also be delivering design support for Brasenose college in Oxford, as well as a number of residential schemes in the London area, focusing on apartment living.
To support the growing portfolio of secured projects, diversifying skill sets and expanding the senior team is a priority for the practice. Nurturing the next generation of architects and interior designers is also an intrinsic part of office culture, and placements are provided for students from universities across the UK, looking to progress with their RIBA qualifications in a thriving office environment, working with staff at a variety of experience levels.
Strengthening operations through the introduction of new technologies is also a priority, and alongside the use of 360° photography and drones to map structures and create aerial photography, virtual reality applications are being introduced to facilitate immersive working and client viewing experiences.
As a RIBA Chartered Practice, sustainability remains at the forefront of company commitments for the future. Focusing on ethical and responsible sourcing of materials, as well as efficient building, from a thermal perspective, the practice plans to continue developing its sustainability credentials across all aspects of the business, with a sustainability lead overseeing appraisals and addressing national and global targets, by reducing operational energy and embodied carbon both in the office and in construction.
Marchini Curran has linked up with Nottingham Trent for a carbon analysis initiative and has designed a plan for offsetting carbon targets, with a carbon assessment in progress this year.
Kevin Smith, director at Marchini Curran Associates, said: "The last 12 months have seen us transition into a new generation for the business, and since March we've welcomed new team members, reached clients in new sectors, and procured a significant pipeline of work putting us in a really strong position.
"To facilitate work secured, we will be building on our diverse skill set alongside strengthening the senior team, to ensure we are as robust as possible to support company visions for the future. Ensuring the culture is the best that it can be is a priority for the practice and while flexible working is needed to ensure a harmonious balance, prioritising contact time to ensure consistent supported learning is key to fuelling engagement and creativity. We are now optimally placed to put our ambitious growth plans into action and look forward to enhancing our dynamic culture and offering, with a focus on professional identity, creativity, and sustainability."
Since its formation in 2002, Marchini Curran Associates and Marchini Curran Interiors has designed a diverse portfolio of projects for local, national, and international clients, across commercial, retail, leisure, residential, education, industrial and master planning.
To find out more about Marchini Curran Associates and Marchini Curran Interiors please visit: www.mc-a.co.uk and www.mc-i.co.uk.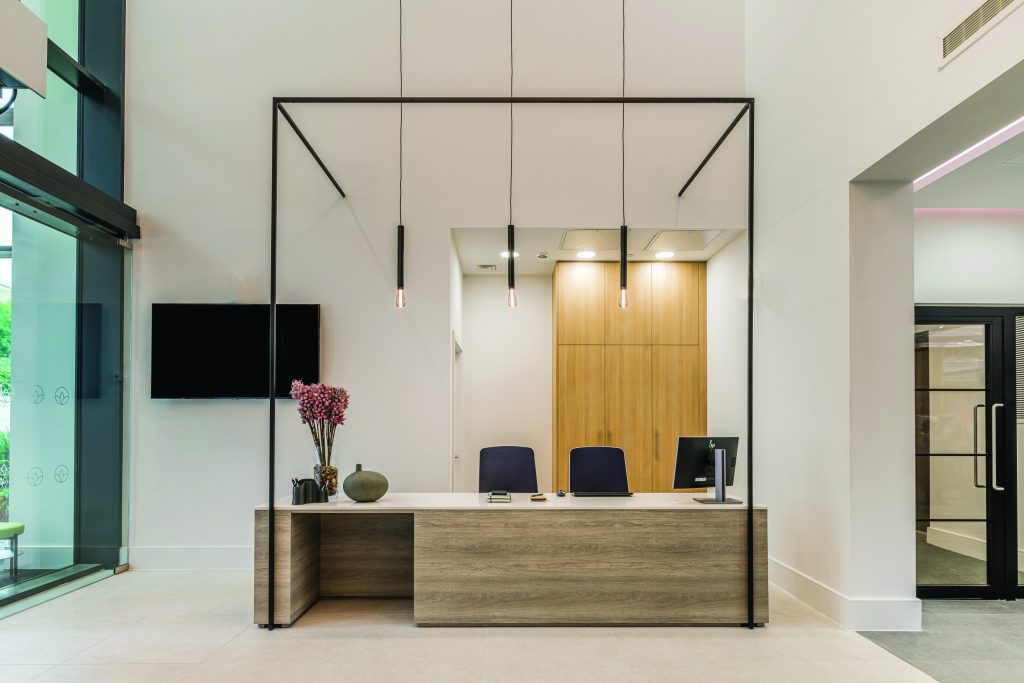 Building, Design & Construction Magazine | The Choice of Industry Professionals