Cabinet Office Minister Alex Burghart to officially cut the ribbon on new Hub, calling it an "important day for Peterborough"
Fletton Quays site to house over 1,000 staff from several departments and government bodies including Home Office and DEFRA
New Hub forms part of £120 million Peterborough regeneration project
A new government hub in Peterborough has officially opened by Cabinet Office Minister Alex Burghart last week.
The Hub is in Fletton Quays, an area undergoing a £120 million regeneration, and will house more than 1,000 government staff from a number of departments and agencies. Staff from the Department for Environment, Food & Rural Affairs and the Home Office's Passport Office will be based there permanently, with room for more roles which may relocate to the city from London.
Cabinet Office Minister Alex Burghart said:
"It's fantastic to be in Peterborough to open our brand new Government Hub. This is a very important day for the city."
"As today shows, this Government is investing in Peterborough and the East of England to create jobs and opportunities for the long-term."
The project is part of the government hubs programme, which has also seen the announcement of new hubs across the country including Glasgow, Belfast, Newcastle, Leeds, Manchester, Nottingham, Cardiff, Birmingham and Bristol.
These hubs will support the government's drive to move 22,000 government roles out of London by 2030, moving them into communities across the United Kingdom.
Lord Murray, Parliamentary Under Secretary of State at the Home Office, said:
"Being part of this new Government hub continues to reinforce HM Passport Office's long-term commitment to the city of Peterborough.
"Quay House offers brand new, purpose built, facilities that will help us to deliver increasingly high standards of service for our customers in the East and Midlands for many years to come."
To date, more than 900 roles have been relocated out of the capital and into the East Midlands and East of England, with departments including the Ministry of Justice expanding their presence there.
The government will also launch a civil service recruitment campaign in the region in April as part of the drive to offer roles previously located in Whitehall to people in the East of England and East Midlands, ensuring the government is maximising use of the area's vast talent pool.
 The new Hub is part of a £120m regeneration of the Fletton Quays site led by the Peterborough Investment Partnership and the site's developer, Bride Hall, which is expected to generate over £340 million of private sector revenue for the area.
Clive Anderson, Director of Capital Projects at the Government Property Agency, said:
"Quay House in Peterborough is the Government Property Agency's first new build Hub. It will provide inclusive, flexible, digitally-connected workspaces to support greater productivity, create cost efficiencies and enhance carbon reduction. This has been achieved by consolidating four remote sites into one new city centre building, with 1,000 civil servants now supporting local businesses.
We are all extremely proud to deliver this new Hub in Peterborough, and to be delivering the Government Hubs Programme in support of key government initiatives such as Levelling Up, Civil Service Reform and Net Zero. I welcome our clients and customers to their new place of work."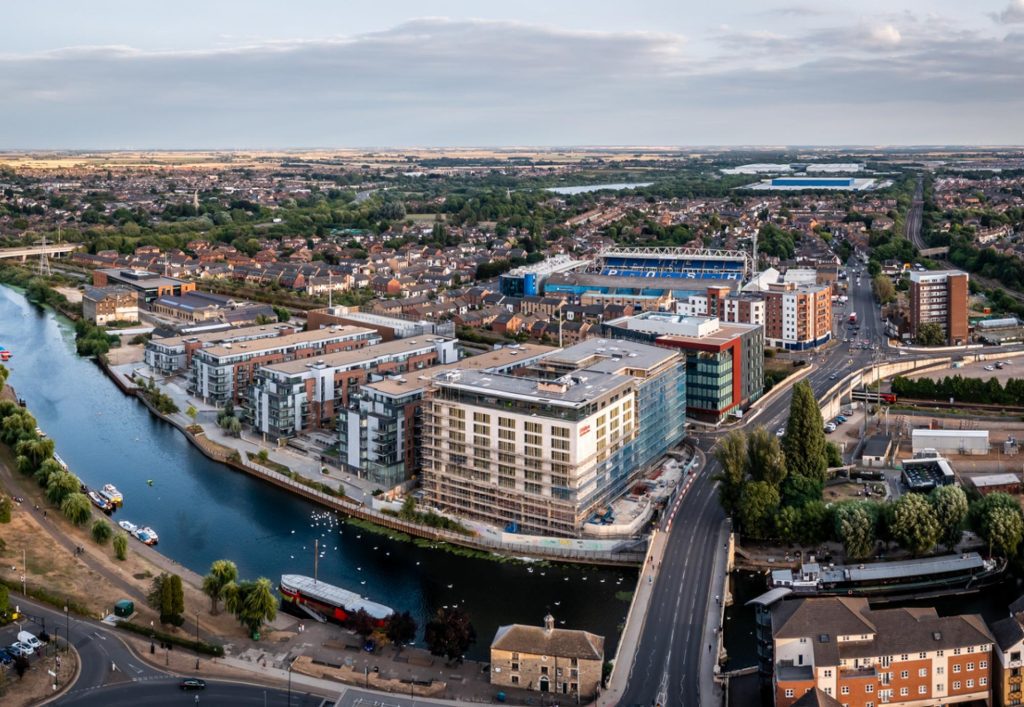 Building, Design & Construction Magazine | The Choice of Industry Professionals