As part of its two-year-long partnership agreement with Prostate Cancer UK, leading Construction Site Services firm, Panthera Group, has been organising awareness sessions with the employees of key clients to ensure as many men in the sector as possible understand the risks of prostate cancer which has become the most common cancer in men today. And, as March is Prostate Cancer Awareness month, the company is keen to keep a spotlight on the issue in conjunction with both clients and the charity itself.
Galliford Try has agreed to hold eleven sessions on site; two of which have now been successfully completed in Edenbridge and Chertsey respectively. Both events were very well attended, with over 40 employees taking the time to participate. In Chertsey the session was delivered by Patrick Williams of Prostate Cancer UK, who was able to draw on his own experience to deliver a highly engaging and meaningful session. Lis Penman and Heather Bryant of Galliford Try coordinated the event with their teams and Stefan Surge from the company attended on the day. They were all very pleased with the response to the session from the workforce and have since received overwhelmingly positive feedback from the event;
"Galliford Try and our site team – who are currently in the process of building a new mental health unit in Chertsey – were delighted to host a toolbox talk on prostate cancer, in partnership with Panthera Group and Prostate Cancer UK. We felt it was a very engaging session and the volunteer Patrick was brilliant relaying his own journey to the team, which made it all the more real. Thank you to all involved in delivering this talk."
Simon Williams and Lucie Jones from Panthera Group were also in attendance on the day. Having previously participated in a training event they understand the importance of leveraging their contacts in the sector to ensure as many sessions as possible are delivered;
"The construction industry consists of predominantly male workers. Delivering the statistics that highlight that 1 in 8 men get prostate cancer certainly has a sobering effect, but of course the talk also focuses on tests and treatments to reassure the attendees that help and support is available. We are confident these sessions are instrumental in men in the construction industry acting early to get checked."
As well as running the awareness sessions, two of the team from Panthera Group are currently in training to run the London Landmarks Half Marathon on the 2nd April to raise vital funds to support the charity. All support and donations are welcomed.
Panthera Group's scaffold alarm clients have also been generously donating to Prostate Cancer UK throughout the year and their support is acknowledged via a special scaffold alarm board installed on the scaffolding.
To find out more about holding Toolbox Talks, sponsoring runners, or simply helping our fundraising efforts, please contact Lucie Jones; l.jones@pantheragroup.com.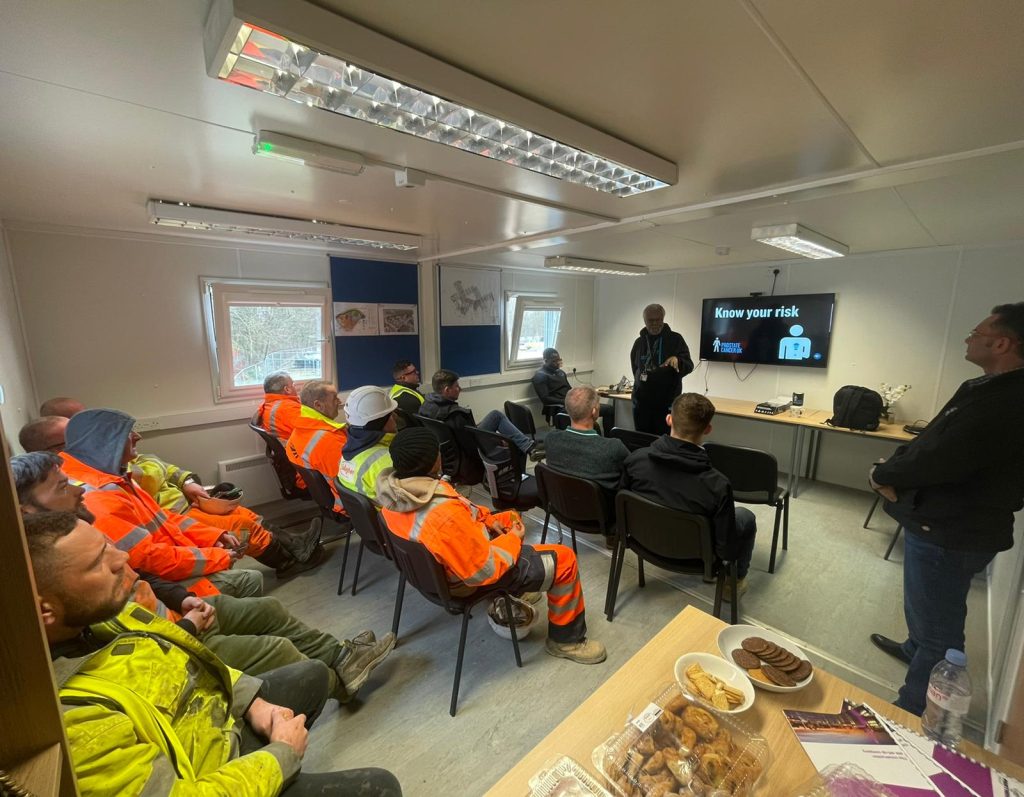 Building, Design & Construction Magazine | The Choice of Industry Professionals