Latest analysis from Barbour ABI shows all sectors performing at or above long-term average
Education at highest level for 12 months and industrial still strong, but commercial continues to struggle
As well as contract awards, £11.3bn in new projects received planning approval
A late rebound to contracts awarded and a boost in planning approvals have rounded off a difficult first quarter for the construction industry.
In a time of continued volatility in the sector, the latest monthly figures from construction intelligence provider Barbour ABI show that there is still work to be had.
"At the end of Q1 it's broadly good news with new activity being brought forward in the face of uncertainty and ongoing constraints," explained Tom Hall, chief economist at Barbour ABI. "And, while activity is very volatile at the moment the smoothed trend shows that the pipeline is looking solid going forward too, albeit at slightly lower levels compared to the recent past."
However, performance varies across sectors. While the majority are at or above their average year-on-year levels, both the residential and commercial sectors are continuing to struggle. Compared with the end of last year, the commercial sector is down by nearly a third when it comes to contract awards and new planning applications for residential are weak.
Tom added: "Residential has finished the quarter with a solid performance after two weak months. However, it is a sector that is expected to struggle this year. We're seeing the lowest level of new planning applications since May 2020, when the country was in the first Covid-related lockdown.
"This is common in the face of wider economic uncertainty but is going to cause issues when it comes to supply in the market and the wider trend around property values and pricing. It could be a rocky period as the sector finds a new level of consistency."

The data was published as part of Barbour ABI's monthly Snap Analysis Report which reviews activity in the residential, infrastructure, commercial, hotel and leisure, industrial, healthcare and education sectors.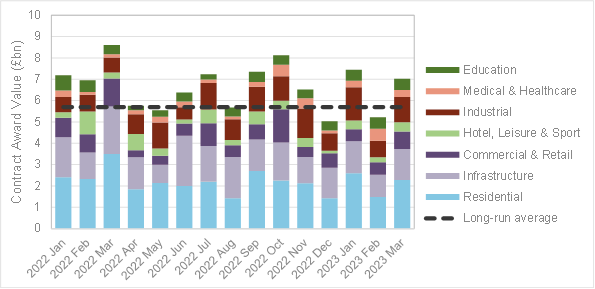 Building, Design & Construction Magazine | The Choice of Industry Professionals