Intex™ was launched at an industry event on building safety
The product will solve cavity congestion – reduction of up to 60%
Intex™ is 40% faster to install
Leaders of the Building Alliance and NHBC attended the product launch
Leading Yorkshire manufacturer and designer of structural building components, ACS Stainless Steel Fixings (ACS) has today launched Intex™ Fire Protect – setting a new standard for masonry support.
Intex™ is the first combined masonry support system combining four critical components in one easy-to-fit design – meaning it is over 40% faster to install, reducing congestion by to 60% and providing rock solid reliability.
The product was launched at a packed industry event, attended by developers, contractors, architects and leaders from across the sector. It was centred around a Q&A on the Building Safety Act, with speakers from NHBC, Building Alliance and BBA all in attendance to discuss the role of the industry in creating safe and sustainable structures post-Grenfell.
Speaking at the launch Paul Ruding, Strategic Specification Director at ACS, said: "It was a privilege to host so many of the industry's leaders in one room, giving us the opportunity to debate and explore our role in creating safe high rise buildings that will stand the test of time. Our thanks to all who came along to engage, listen and find out about our new product – something we have invested heavily in in our pursuit of safer buildings."
Intex™ is a patented design combining wall tie, masonry support and cavity tray in one, with an added open state fire barrier mechanically fixed to the cavity tray for exceptional fire protection. The product has undertaken fire testing at Warrington Fire and achieved a test value of over 120 minutes integrity and over 90 minutes insulation. It is warrantied for an industry leading 12 years with a 60+ year design life. Paul continued: "Intex™ is a revolutionary and game changing system which brings peace of mind to everyone involved on a construction project – from installers to architects, main contractors to warranty providers. It helps to eliminate a host of problems that can lurk between masonry panels and the internal structure.
"It has been created to overcome previous issues of overly complex design, cavity congestion, incompatible parts and incorrect installation, whilst Intex Fire Protect is also over 40% faster to install than traditional masonry support which means significant labour cost savings. It is ergonomically designed, making it easy for installers to handle and fit, with the added bonus of reducing deliveries and storage space onsite by up to 32%. This doesn't just dramatically speed up the installation process, it gives complete peace of mind that components are compatible and every one of them is doing its job."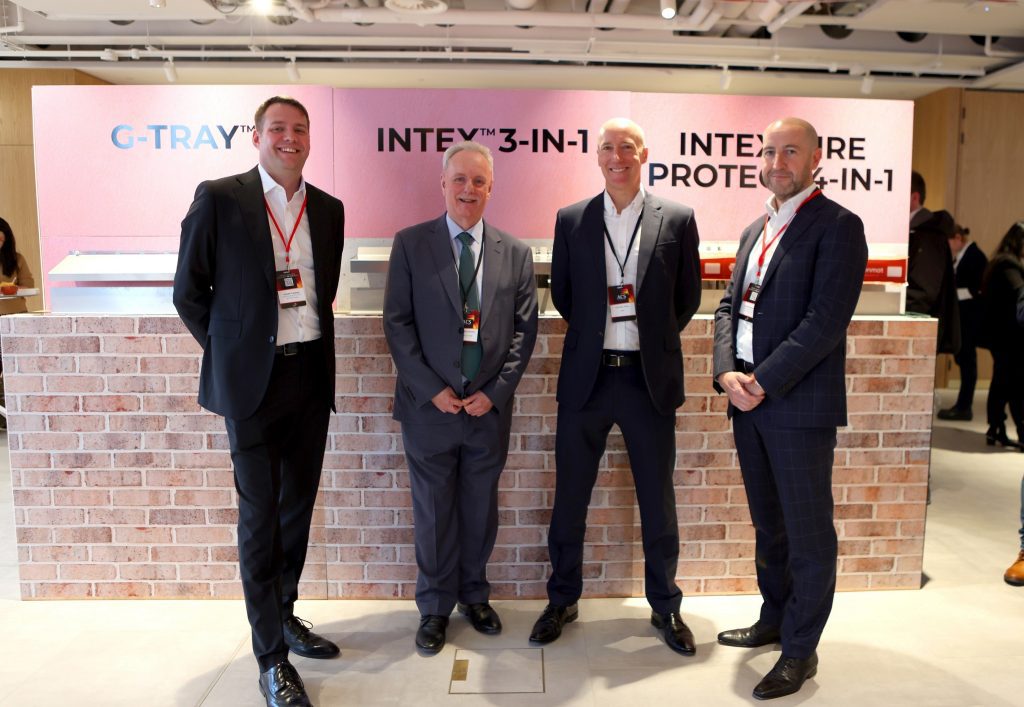 ACS' commercial director Gareth Twohey led the Q&A on the night, and was joined by Chris Hall, Innovations Services Manager at NHBC, Bill Hewlett, Technical Director at BBA, and Mike Leonard, Chief Executive at Building Alliance. Speaking on the night Mike Leonard said: "Among our key Building Alliance tenets is a commitment to articulating the benefits of the masonry building envelope, so I am delighted to see an organisation like ACS investing in R&D to give the industry a fantastic new masonry tool. Intex is a pioneering product that will help us build safer futures."
Made with 90% recycled steel, 100% recyclable, and with a 60-plus-year design life Intex™ Fire Protect is more reliable, effective, and efficient to install than anything that has come before. It sets a new standard for masonry support. Intex™ is also available as a 3in1 solution.
In a further bid to pioneer safe and sustainable construction, ACS has also launched a free CPD programme for anyone in the sector, covering a range of masonry support topics. More than 400 delegates have already signed up for the courses. Renowned for its pioneering approach, award-winning ACS has developed its solid reputation in the market for providing patented innovative solutions, including masonry support and brick slip panel solutions – essential construction components used in construction of the largest modern-day projects in the UK. It reinvests its profits back into product research and development and creates A1 non-combustible, new products that can be used by developers looking to create high rise structures that meet changing Government legislation. Find out more at https://acsstainless.co.uk/landing_page/intex-4-in-1-masonry-support-system%20%20and%20%203-in1
Building, Design & Construction Magazine | The Choice of Industry Professionals