Inspirational local women have been honoured with street names at a brand-new Orbit Homes development in Hastings.
Eversfield Rise on Harrow Lane is a joint venture with modular housebuilder ilke Homes and will deliver 140 affordable properties.
The five street names were selected in partnership with Hastings Borough Council and recognise local women who had significant personal achievements or contributed to the Hastings community:
Bowerman Street – A militant suffragette who was rescued from the RMS Titanic, Elsie Bowerman was the first women to appear as a barrister at the Old Bailey in London.
Harrison Close – Isabella Harrison was an author, secretary of the Hastings and St. Leonards Women's Propaganda League and a leading figure in the local branch of the Tax Resistance League during the women's suffrage campaign.
Sheridan Road – Renowned sculptress, novelist, journalist, and traveler, Clare Sheridan was the cousin of Sir Winston Churchill and spent her latter years living in Belmont House in Hastings.
Connely Way – The Venerable Cornelia Connely co-founded the Convent of the Holy Child Jesus, based in St. Leonards, to educate factory girls and train women as teachers.
Bodichon Lane – Founding member of the British women's rights movement, Barbara Leigh Smith Bodichon was born in Whatlington and remained well connected to the Hastings area throughout her life.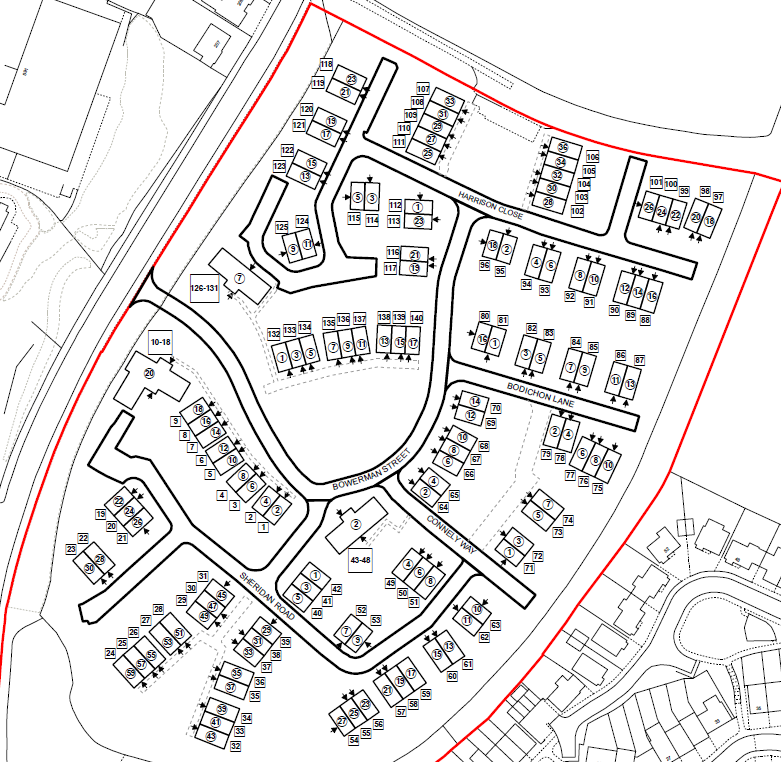 Brian Nearney, Regional Managing Director at Orbit Homes, said: "We're delighted to be paying tribute to these five inspirational local women. Naming streets in this way carries real significance and will help to build our new community, as well as reinforce its important links to the wider local area. We're thrilled and proud to place their names at our new development and very much see this as a celebration of their achievements, that have helped inspire generations."
Matthew Suggitt, Development Director at ilke Homes, added: "In partnership with Orbit Homes, ilke are proud to be delivering an exemplar development employing the use of pioneering Modern Methods of Construction (MMC). Paying tribute to these local women's trailblazing work and capturing it with permanence through the street naming of this innovative development is a fitting celebration of their resilience and relevance."
Cllr Maya Evans, Lead Member for Housing, commented: "Hastings is a town full of strong women both past and present, it's very fitting to celebrate some of these incredible women by commemorating them in name with these much-needed high quality, sustainable, affordable homes, which are being delivered during an acute housing shortage. I have no doubt that these dwellings will be the birthplace of many more revolutionary women who challenge the status quo and strive for equality and justice. This is a proud and historical moment for Hastings."
Eversfield Rise will consist of 70 affordable rent and 70 shared ownership properties. A mixed tenure of apartments and houses will be offered, ranging in sizes from one to four-bedroom homes.
Eighty-four of the properties will be zero-carbon, helping to protect consumers from rising energy bills. The new homes will be available from Autumn 2023.
Orbit Homes currently has seven brand-new thriving communities underway in the South of England, comprising a range of affordable two-, three-, four- and five-bedroom homes. A choice of purchasing options are also available including market sale and shared ownership.
To find out more about the properties on offer at your nearest Orbit Homes development, please visit: www.orbithomes.org.uk.