Leading developer City & Country is hosting its first webinar titled 'Next Stepping in the Current Market' on Wednesday 31st May at 6pm which will provide digestible and practical information on how to navigate an ever-changing property landscape. The webinar will be the first in a series aimed at supporting buyers at every market entry point.
The webinar will be hosted by renowned property and finance journalist and former editor of the Times' Bricks & Mortar segment Anne Ashworth, with panellists made up of experts from leading property agents Savills; well-known property search portal, On The Market; mortgage specialists, The Mortgage Brain; alongside City & Country's Sales Manager.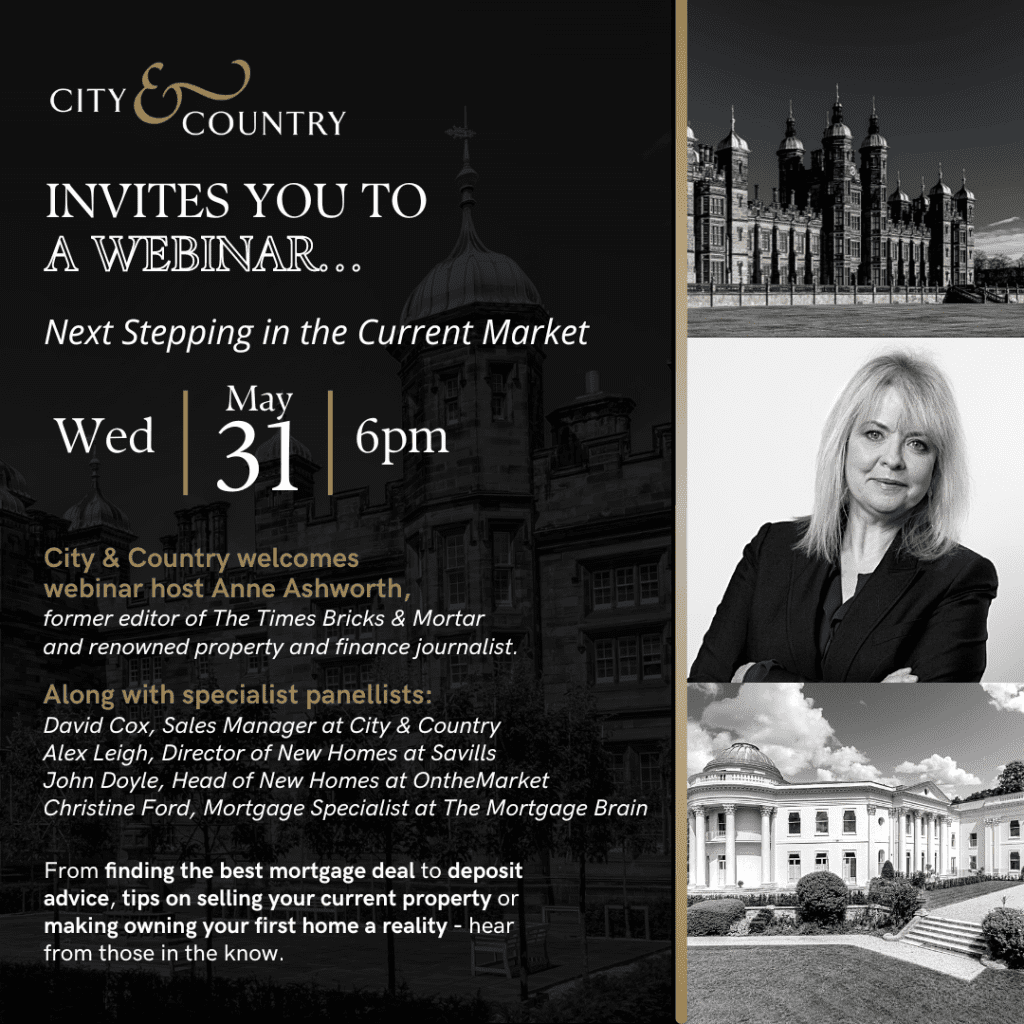 The webinar will focus on the challenges buyers are facing in the current market, with the well-experienced panel offering advice and guidance to combat this. There will also be a question – and – answer section, with attendees able to submit questions live and receive personalised advice about their property situation from specialists in the field. City & Country's interactive approach also allows attendees to submit their queries prior to the event through a selection of platforms, for example, via Instagram and emailing cityandcountry@building-relations.co.uk.
David Cox, panellist and Sales Manager at City & Country, said: "The webinar is a fantastic opportunity for those buying for the first time, upsizing, downsizing, or otherwise to really get an understanding of what is happening in the market at the moment. Demand has been steadily increasing since the beginning of the year and with house prices recently rising for the first time in seven months, we are potentially starting to see a bounce back from the economic turbulence since the mini-Budget; as a result many people are dusting off their previous plans to move – it's an important time to be informed. We would encourage anyone who's interested in making a move this year to sign up – it's a great chance to get the very best advice from our experienced panel."
Alex Leigh, panellists and head of office and head of new homes at Savills Chelmsford, said: "There's no doubt the market has been a little more subdued when compared to the heights of the previous two years or so. The cost of living and rising interest rates have forced many buyers to reassess their budgets. However I think we're now starting to see things settle down and return to what you might describe as a 'post pandemic-norm'. Demand remains robust and long-term house price forecasts are broadly positive. Reports the Government is considering reviving the Help to Buy scheme could also be good news for first time buyers. Although some way from becoming a reality, it has at least brought the challenges in the housing market to the front pages of newspapers; the hope being that it may prompt a more balanced debate about housing policy.
"Our own buyer/seller survey shows that commitment to move continues to be strong – especially among those at the higher end of the market who are perhaps less reliant on borrowing to fund a move. Consequently, while there might not be quite the same level of urgency in the market as there was 12 to 24 months ago, there are grounds for cautious optimism. For those selling, setting a realistic guide price remains key to driving activity, while for those buying it's important to have all your ducks in a row. If you have a property to sell make sure it's on the market, instruct a solicitor as soon as possible and – if you need a mortgage – make sure all your finances are agreed in principle. It's also important to understand exactly what it is that you want – both in terms of the property itself and the location. Take some time to view a variety of properties and visit the area you're hoping to move to. Looking at somewhere as a buyer is very different from if you're on holiday or just passing through."
City & Country offer a number of initiatives for prospective buyers including the Deposit Unlock scheme at selected developments across England and Scotland, which allows buyers to purchase with just a 5% deposit*, as well as providing customers with competitively priced mortgage products. The developer also offers schemes such as Assisted Move, helping buyers who are facing the challenge of selling their current property, as well as Early Bird reservation which allows buyers to secure their dream home before it is put on the market.
City & Country is a family-owned business, with over 60 years experience in the restoration and conversion of the very best of Britain's historic and listed buildings. As the UK's leading heritage developer, the company has one of the most eclectic porfolios in the industry with sites including former schools, hospitals, factories, and mansions. Current projects include Bristol's former General Hospital, King Edward VII Hospital, FN1, Donaldson's College in Edinburgh, Springfield Hospital in South West London and the Mansion at Sundridge Park.
Increasingly, the business is taking the expertise, skill, and attention to detail demanded by heritage sites to creating beautifully crafted new build homes, often within the grounds of nationally important heritage assets or within sensitive conservation area. Recent developments include Manningtree Park, Sanderling Reach and St Osyth Priory developments in Essex and Burderop Park in Wiltshire.
To find out more about City & Country, call 020 3811 6170 or visit www.cityandcountry.co.uk.
To register for the webinar, please visit: https://us02web.zoom.us/webinar/register/WN_XpohIR1MRYCcjAH419szpQ
*Terms and Conditions apply. Visit https://www.cityandcountry.co.uk/promotion-terms-and-conditions/ for more information.
Building, Design & Construction Magazine | The Choice of Industry Professionals