Exeter's £44m energy-efficient St Sidwell's Point is the UK's first Passivhaus leisure centre, designed to use up to 70 per cent less energy than a conventional pool and leisure centre.
The centre features: a main swimming pool and learners pool with moveable floors; a confidence water pool; and a 100-seat spectator seated area. In addition, there is: a 150-station fitness gym and two fitness studios; a health suite and spa facility; a children's soft play area; and a 50-seater café.
"St Sidwell's Point officially opened one year ago, and I worked with the contractors to ensure we got everything right from an operational point of view," says Jonathan Brown, Centre Manager. "Since opening, footfall through the centre has exceeded all expectations, so keeping the premises clean, particularly as it is so busy, is an ongoing challenge.
"Due to the mixed nature of the site, with so many wet areas, we have the highest anti-slip tiles throughout. The flooring needs to be kept scrupulously clean for the safety of centre users, while also needing to be maintained to look good.
"From day one, we needed the best possible equipment, but the first-floor cleaning machines we tried simply were not reliable or robust enough. We were therefore delighted when our janitorial supplies contractor H.D.Adcock Nelson Ltd recommended floorcare machinery from Truvox International.
"At the in-house demonstration we were extremely impressed with the ease-of-use and efficiency of both the Orbital 1500 and the Multiwash™ PRO 340."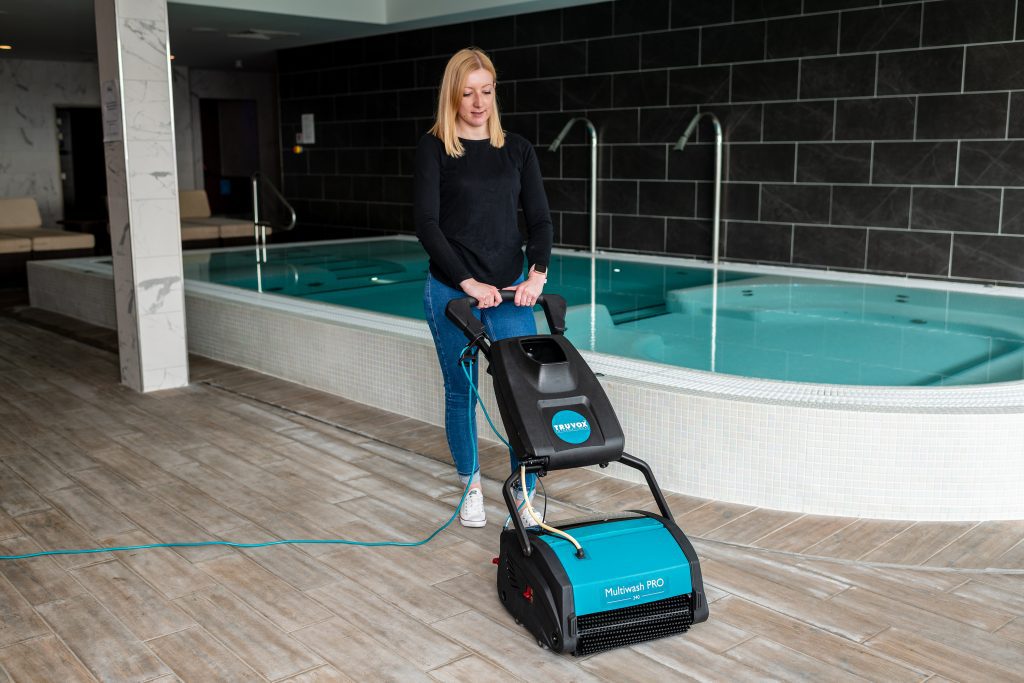 Efficiency and reliability
"It's quite unusual for a service business based in South Wales to be a preferred supplier for a site in Devon, but maybe that says a lot about us," says H.D.Adcock Nelson Ltd Business Development Manager Kirsty Wallis. "I already knew the Partnership Manager at Exeter Council Leisure Services, so had the opportunity to offer some advice on the particular janitorial requirement for their new St Sidwell's Point Leisure Centre.
"One advantage we offer is that Adcock is part of the Jangro buying group, which means that all our customers receive free access to an online learning portal, and that certainly appealed to Exeter Council's health and safety team.
"As far as our relationship with Truvox International is concerned, it's all about efficiency and reliability. One area that people always forget is the floor, and that's where savings can be made. It's also where all the hidden problems often are. St Sidwell's Point Leisure Centre is an incredible looking facility with numerous different flooring types which creates huge challenges.
"After reviewing a number of suppliers and equipment, it became clear that these were the only machines that could solve the wide range of problems at the site. The demonstration was so convincing that the order was placed only a couple of hours later!
"Truvox International is a very hands-on business, and they are very supportive of us and our customers. When we recommend, specify or deliver cleaning equipment, such as Truvox's Multiwash™ PRO, or Orbital machines, we also provide training for management and operatives. Both machines are so easy to use and maintain that the training is actually fun."
Two machines solve all the complex floorcare issues
The Orbital 1500 combines orbital and rotary motions into one, providing a constant vibration that increases cleaning efficiency. The roto-orbital movement gives the machine great stability, which enhances the performance compared with a regular single disc machine. It is easy to use and manoeuvre and the low vibration levels provide excellent operator comfort. Meanwhile, the Multiwash™ PRO 340 is a scrubber-dryer, which gives excellent scrubbing power and pick up, leaving the floor clean and dry as well as adding a finishing touch to the floors.
"Both the machines look good and highly professional, which is extremely important as since Covid, regular cleaning has become a front of house and highly visible activity, providing reassurance for centre visitors," says Jonathan Brown.
"To continue in the spirit of the Passivhaus philosophy, for floorcare we use only environmentally friendly BioHygiene solutions. They are highly concentrated biotechnology based all-purpose cleaning products offering superior cleaning and odour control using renewable and sustainable ingredients.
"With the two machines from Truvox International we can guarantee perfect cleanliness and hygiene across the flooring throughout the site as they solve all of our complex floorcare issues."