Doka has expanded its product portfolio with the addition of Ringlock modular scaffolding. Customers worldwide can now obtain formwork and scaffolding from a single source and benefit from seamless planning, reliable assembly and disassembly, rapid availability, and a professional rental process. This allows construction projects to be realized even faster and more efficiently.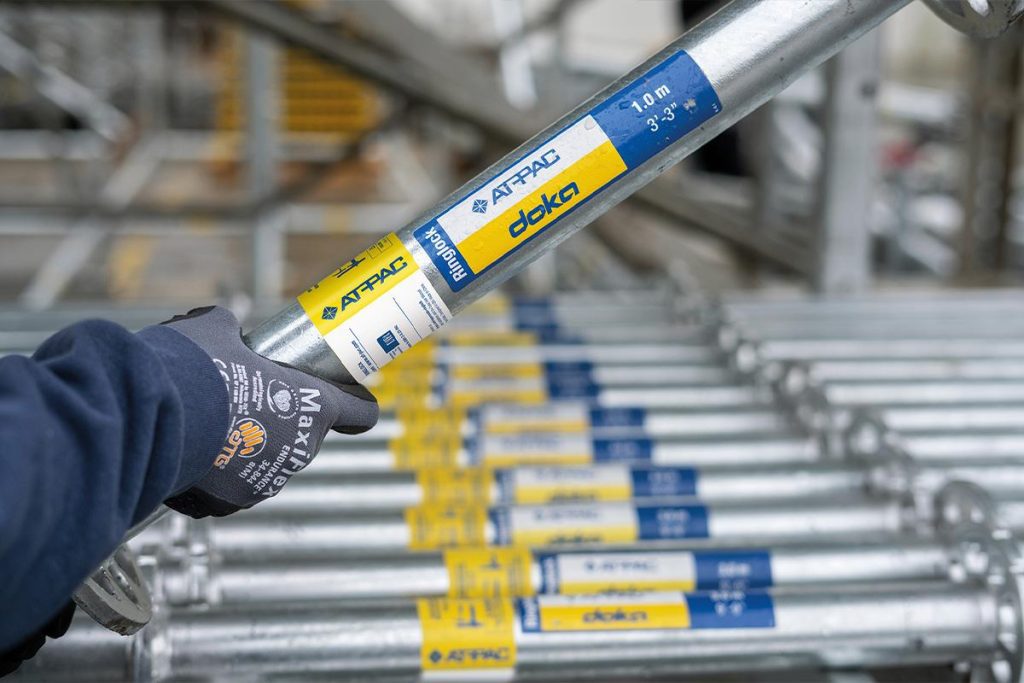 At bauma 2022, the world's largest trade fair for the building industry, it was clear: Doka stands for formwork and scaffolding. The impressive 30-metre Ringlock scaffolding tower was a remarkable example of this. By expanding its portfolio to include scaffolding solutions, Doka is responding to current challenges in the construction industry, such as high transport costs, bottlenecks in the supply chain and increased organisational and coordination efforts. "Following the full acquisition of the global scaffolding manufacturer AT-PAC at the beginning of 2023, we are now the one-stop shop for all our customers' formwork and scaffolding needs. This reduces the number of interfaces. Especially when it comes to renting formwork and scaffolding from a single source, valuable synergies are created for our customers," explains Robert Hauser, CEO of Doka. The latter was of great interest to bauma visitors, as Hauser reports: "Our customers showed great interest. The conversations were extremely positive."
The Ringlock scaffolding system offers all of the operational advantages that contractors have come to expect from the Doka brand. Customers benefit from seamless planning, rapid availability and a professional rental process underpinned by a quality reliable product. By providing a single point of contact for both formwork and scaffolding trades, customers can minimize organizational and coordination efforts, thus saving time and resources. Furthermore, Doka's worldwide sales network ensures a streamlined ordering process and reliable delivery, while a global service network guarantees fast and flexible support.
Fully rentable from a single-source
Doka offers its customers an efficient and high-quality rental network for formwork and scaffolding. Robert Hauser adds: "We ensure that our customers benefit from a smooth and simple rental process, allowing them to concentrate on what really matters – their construction project." With Doka's supplementary rental service, even larger construction projects can also be realised quickly and easily without high investments in new material. Doka customers are thus able to respond flexibly to requirements and remain economically efficient.
Maximum flexibility
The Ringlock scaffold is a versatile all-rounder on construction sites, offering best quality at an attractive price-performance ratio. Thanks to its modular capabilities, the system can be used flexibly for different construction site requirements. Established for decades on the scaffolding market, this tried-and-tested system solution is the ideal complement for performing reinforcement and formwork quickly and safely. In addition to use as a facade scaffold, Ringlock can also be used as a rebar scaffold, trench bridge, stair tower, rolling scaffold, as well as a suspended or birdcage scaffold.
Moreover, the Ringlock scaffold is also extremely robust, easy to assemble and fully compatible with other widely used and tested Ring-type systems on the market. In addition, the Ringlock scaffold is DIBt certified and complies with all common safety standards.
All in all, a safe and lasting choice
Ringlock is an ideal solution for working scaffold in construction projects, offering exceptional safety and durability. Its robust design ensures stability and reduces the risk of accidents, providing workers with the confidence to perform their tasks effectively, and this means both the scaffolders and end-users of the structure. On top of it, Ringlock's galvanised finish reduces maintenance costs and provides long-term reliability, which, combined with its modular design, enables versatile configurations and long-term reusability. By adopting Ringlock scaffolding, customers can be confident that they are investing in a safe and durable solution for their construction needs.
Building, Design & Construction Magazine | The Choice of Industry Professionals