The slowdown in UK construction brings the sector back in line with European neighbours as predicted higher inflation takes its toll into 2024.
European construction output for 2023 is expected to fall by 1.1% due to inflation, interest rate hikes and the slowing global economy.
It means that recovery to pre-pandemic levels is now unlikely until 2025, according to the independent construction market forecasting network EUROCONSTRUCT.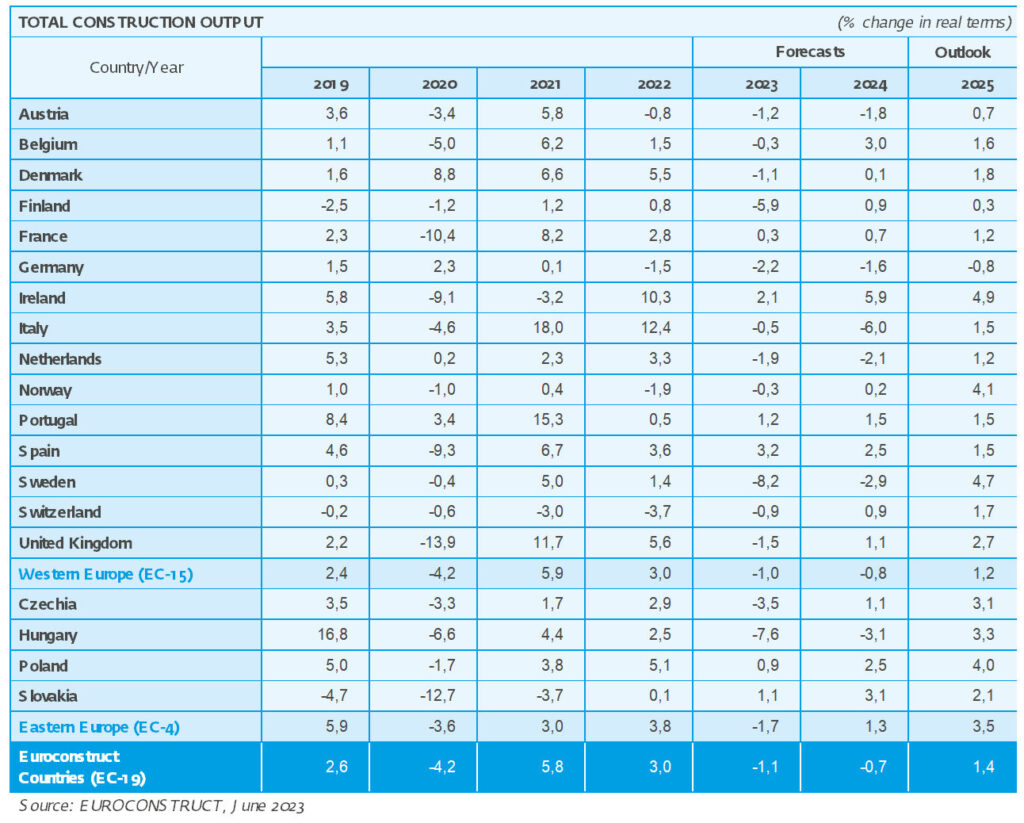 Construction data analyst Barbour ABI work in partnership with the UK chair Experian in the network. It found that the UK outperformed European neighbours in 2022, with 5.6% growth in construction output compared to Europe's 3.0% average. However, a negative forecast for 2023 brings the UK into line with European neighbours.
Barbour ABI Chief Economist Tom Hall commented:
"There was an unexpected bump last year as energy prices stabilised and supply constraints eased. This now appears to have been a transitional period with new pressures in the shape of interest rate hikes and inflation beginning to weigh on the European construction sector. The effects of post-covid recovery are also fading, leading to a slower global economy.
"The UK appears to be fairing reasonably well, sitting close to the average and measuring well against the likes of France and Germany. The UK has also avoided some of the more extreme swings in construction output forecast in countries like Sweden, Finland, Italy and Hungary. However, challenges still lie ahead, and uncertainty remains."
Challenges in the residential sector were the major factor in Europe's negative forecast. Mortgage rates have doubled in most EU countries and tripled in Finland, Slovakia, Switzerland and the UK. Meanwhile, high-interest rates and increased costs are making financing more difficult.
Figures show new European residential construction is set for a big fall this year, with the UK a relatively poor performer, with a 7.1% drop. In the most extreme cases, countries like Sweden could see a fall of more than 30%.
Civil engineering is another area of interest. Long-term projects, public financing and Government led stimulus helped the sector to outperform others through the uncertainty of the last few years. The UK is up 21% on pre-pandemic levels in terms of output but this is now likely to see reduced growth as investment falls in real terms. In Europe as a whole, forecasts predict consistent increases in 2023 and 2024 whilst UK growth is expected to fall.
Inflated construction prices are also a problem. Last year, last year saw double-digit growth in construction prices across Europe. That trend is expected to ease 2023-24, but the UK is predicted to suffer with an 8.1% increase in prices versus 6.5% in Europe.
Hall commented: "Barbour ABI recently reported that inflation had added 23bn to the cost of UK construction in 2022. EUROCONSTRUCT'S figures show a similar impact in Europe and suggest the situation will not have improved by the end of 2023 – on the continent or in the UK. As such price inflation will continue to weigh heavily on the viability of new construction projects."
Building, Design & Construction Magazine | The Choice of Industry Professionals