A dressing table may not be a bedroom essential, but it can make a lot of difference for both practical and aesthetic reasons. It allows you to keep all your hair and makeup products in one place, easily accessible first thing in the morning. In addition, a dressing table can complement the room's overall design and fill up space if you feel that your room is too empty.
But now you may be wondering how to choose a dressing table that will perfectly suit your needs and your bedroom. With so many available options, narrowing it down to just one furniture piece will not be easy. That is why we have prepared the following four tips to help you!
1. Decide What Features Your Dressing Table Needs
Aside from their original purpose, dressing tables frequently double as writing desks and storage units. So, the first thing to consider when getting one is how it would be used and whether it would need any additional features to fulfill that purpose.
For example, if you plan to use your dressing table as an additional storage unit for makeup, hair products, or jewelry, you will need to buy a piece with drawers and little compartments. That way, you will be able to organize everything properly and keep your items in order as you get ready. However, keep in mind that this kind of dressing table will likely only fit in spacier bedrooms.
If you are limited in space, a dressing table that doubles as a writing desk might be a good solution. Such a table would need a larger surface area and a comfortable chair or a stool for you to sit in. Luckily, the cheap dressing tables selection tends to be rather large, so you should not have trouble finding a perfect piece.
2. Pick a Style That Suits Your Room
Once you decide on your dressing table's functionality, it is time to consider its design and the specific style you are going for. The interior design of your bedroom will play a significant role in this, as the dressing table should complement it and naturally fit in with its surroundings.
To help you pick the perfect dressing table design for your bedroom, we will introduce you to some basics. For instance, you can look for:
Traditional style – a chunkier, larger dressing table with several drawers, either painted in neutrals or with a wooden finish. This type of table adds a luxurious touch to the room and suits large, spacey rooms decorated in a classic style.
Mid-century modern – this dressing table style is simpler, with clean lines, smooth curves, and slightly splayed legs. It is usually made of high-quality wood and suits most rooms, regardless of their overall design.
Contemporary – contemporary dressing tables are usually minimalist, with drawers under the table area. They come in many different styles with various finishes, including wood and paint. Usually, it is best to place them in contemporary or minimalist bedrooms.
Aside from these three basic styles, there are many others to choose from; for instance, art deco, transitional, new traditional, eclectic, and more. Ultimately, you need to do your own research and find out what suits your tastes.
3. Choose Between an Oak or a Painted Table
Do you want your dressing table to retain that natural, wooden feel, or would you rather have it add a dash of color to your bedroom? That will largely depend on the room's overall design and the style you are going for. There are no specific rules for choosing the right finish, but home improvement experts give the following advice:
Choose a solid oak dressing table to bring some warmth into your room and complement almost any style;
Light oak is modern and matches well with other light and neutral tones. If your room is bright and airy, this dressing table finish is an excellent choice;
A dressing table painted black is stylish and attractive, particularly effective with cold color schemes;
A white dressing table can tone down colorful rooms with lots of patterns and oozes a classic, sophisticated feel;
Brightly-colored dressing tables can add a pop of color to more neutral bedrooms, acting as a statement piece. Blue is a popular choice but certainly not the only option worth looking into;
Gray tables suit a muted or neutral room, perfectly blending in with the surroundings.
As you can see, a painted finish is more versatile than wood, but oak comes with its own advantages. Usually, an oak finish is long-lasting and durable, ensuring continuous quality for years. In addition, certain styles, such as traditional or classic, do not work as well with painted finishes as they do with oak.
4. Consider Where to Put the Dressing Table
Before ngpurchasing a dressing table, consider the space in your bedroom and how your dressing table will fit in. That does not mean only buying a smaller dressing table if you do not have a lot of room and vice versa. Instead, think about the precise position of the dressing table and the general arrangement of furniture in your bedroom.
For example, dressing tables are spots where you will do your hair and makeup, so it is important to take light sources into account. If possible, place your table near a window to soak up as much of that natural light as possible!
Another thing to consider is sockets, as you will most likely want to plug in your hairdryers and straighteners or even just your phone charger. Plus, putting a dressing table near sockets allows you to easily add another lamp in case your existing light sources are not sufficient.
Finally, the kind of mirror you will use with your dressing table plays a large role in its placement. For instance, if you opt for a hanging mirror, you will need to put the table against a wall to accommodate it. But if the dressing table comes with a built-in mirror, that will not be as much of a concern.
In Conclusion
Ultimately, all interior designers' rules and advice should serve only as guidance when choosing a perfect dressing table for your bedroom. What matters the most is that you are satisfied with your choice, even if it doesn't necessarily fit the ideal from home improvement catalogs.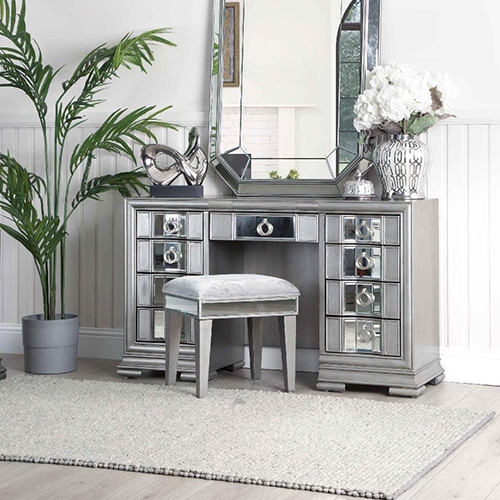 Building, Design & Construction Magazine | The Choice of Industry Professionals