Five live tower cranes analysed for emissions and fuel savings in follow on to industry-first field trials
More than 234 tonnes of CO2 saved
Total saving of 85% in both emissions and fuel, and as high as 93% on one individual crane
An ongoing partnership between Sir Robert McAlpine and temporary power and temperature control hire company, Aggreko has yielded an 85% reduction in emissions and fuel across five live tower cranes on one construction project.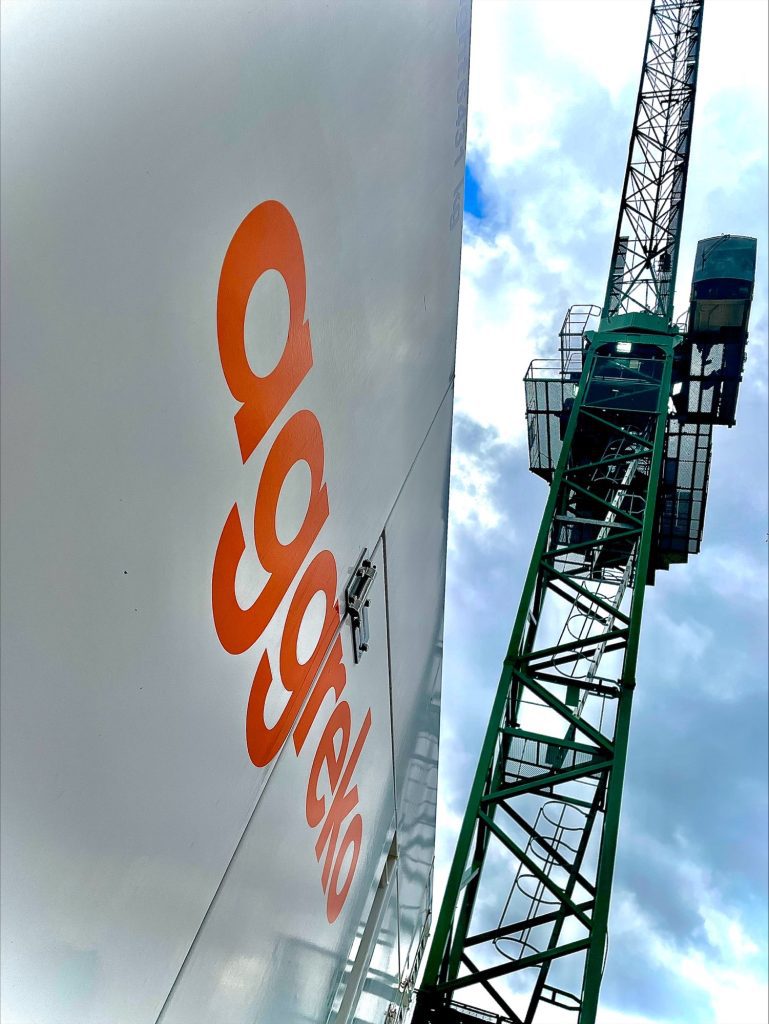 The two companies have been working together since a series of industry-first field trials in 2021 to identify areas where savings could be made to reduce energy use and emissions during construction. The savings, which were made across five tower cranes from October 2022 to January 2023, came from powering on-site tower cranes with smaller generators, Battery Energy Storage Systems (BESS) and more sustainable fuels.
Overall, estimated total efficiencies across the five tower cranes equalled over 234 tonnes of emissions and over 87,300 litres in fuel – equivalent to an 85% reduction in consumption. As Martin Mitchell, Plant Procurement Manager at Sir Robert McAlpine verifies, these savings demonstrate a clear roadmap forward for a sector looking to decarbonise: "We have been working closely with Aggreko for a while now as part of our shared goals to deliver long-term emissions and energy reductions on our projects. The fact that we've now realised an 85% reduction in fuel and emissions across multiple live cranes is fantastic news."
From October 2022 to January 2023, Sir Robert McAlpine's tower cranes were powered by HVO-fuelled generators and BESS solutions. These work in synergy; the batteries operate the crane with generators, only running at time of peak load or to charge the batteries.
Tom Adlington, Sector Sales Manager at Aggreko Europe has been a key stakeholder since the initial trials. He comments: "The typical nature of power consumption on construction sites means peaks and troughs are common. However, this also means generators are often oversized due to the misconception of incorporating greater power to meet start-up demand. In addition to adding a BESS solution, it was also crucial to select power solutions that would optimise energy usage through right-sizing."
Martin adds: "This evidence-based approach gave our business the confidence to invest in new technologies, which has clearly paid dividends in reducing our emissions and fuel consumption. As can be seen here, close working relationships across the supply chain are key to implementing more sustainable practices, and we look forward to working more with Aggreko in the future."
Batteries and hybrid solutions are a key strand of Aggreko's recent £150m investment in its Greener Upgrades fleet, aimed at making cost and sustainability improvements via reduced emissions. Tom concludes: "Construction is and always will be vital to the UK economy, so it is crucial it is carried out sustainably. New technologies and processes must be part of the solution to optimising energy usage, which is why we continue to research, test and invest.
"The success of this project provides a valuable example of challenging conventional thinking in the supply chain on the solutions and technologies required to reduce carbon footprints in line with net zero emissions targets set out in legislation."
To find out more about the Aggreko-Sir Robert McAlpine partnership, visit: www.aggreko.com/SRM
Building, Design & Construction Magazine | The Choice of Industry Professionals