THE East Midlands team at leading housing developer Lovell Partnerships has ramped up its commitment to the region, strengthening its expanding team with several senior appointments and promotions.  
Longstanding Lovell employee Beth Bundonis has been made regional managing director to oversee the growth of the East Midlands team, stepping up from regional commercial director. Continuing the upward trajectory, former regional technical director Lewis Charity has also been promoted to land and technical director helping to spearhead continued growth.  
To ensure the ongoing market success of the business, the regional office has also secured three senior hires – commercial manager Dan Buller, refurbishment manager James Phillips and sales and marketing manager, Mark Blake.
Dan Buller has returned to Lovell having originally started his career with the firm in 2005 as a trainee quantity surveyor. After holding senior commercial roles for the past eight years within another housebuilding association, Dan has taken the opportunity to rejoin Lovell to help drive forward success for the East Midlands.
He said: "I have always held Lovell in high regard, so I am very keen to get stuck back in and help Beth and the team achieve our growth plans, while also continuing to develop our commercial team and building key relationships with stakeholders and subcontractors in the region."
With more than 20 years' industry experience, James Phillips has been appointed as refurbishment manager having spent the past 10 years working in the region and is keen to harness the potential for Lovell. This service arm is designed to help partners to make best use of their existing property portfolios through repurposing spaces and using retrofit services to create more sustainable homes.
He said: "The planned refurbishment and maintenance works in the region is a key focus for many social housing and local authorities within the region. With the introduction of the SHDF for installing energy measures to reduce energy consumption, I'm keen to position us as the go-to refurbishment partner in the region to really unlock the potential in the existing building stock, build on the great existing partnerships to see where we can add more value to our clients and its local communities. I will also be developing my own team and am really looking forward to nurturing new talent."
The third senior appointment is Mark Blake, who joins Lovell as sales and marketing manager with extensive experience within the housebuilding sector. His appointment marks significant strides for multiple developments as they go on sale across the region.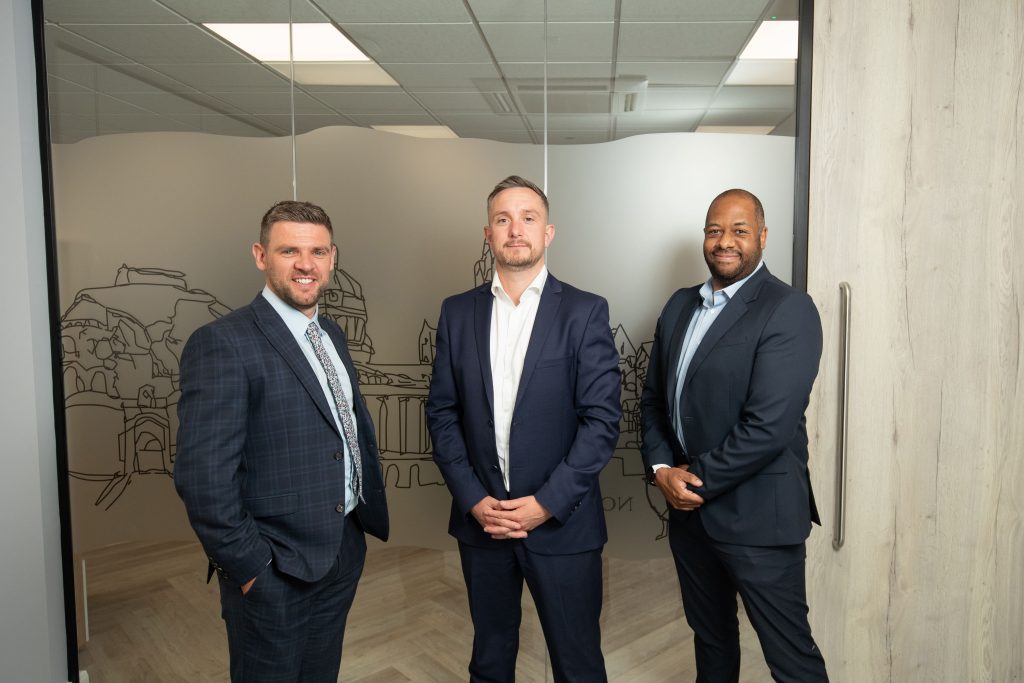 The team changes reflect the progression of several key developments with housing partners such as EMH, Riverside and Compendium Living. Most notably, the Castleward development – a major regeneration in Derby city centre under the Compendium brand – has announced the launch of 83 homes for phase 3 and planning permission for phase 4. Once completed, the scheme will deliver 800 new homes, as well as schools and commercial space in a once underused area of the city.
Mark said: "The reputation at Lovell is well known in the industry, and as it is currently in a phase of huge growth it felt like an exciting time to join. I'm keen to hit the ground running with sites already selling well, as well as helping with bids to acquire and expand on new land. With Derby's Castleward progressing and St Aidan's Garden in the pipeline – a new development in Burton-upon-Trent – there is plenty to get stuck into.
"It's certainly a challenging time for developers, however, I am confident in finding innovative ways to overcome and help deliver fantastic communities for the region."
In addition to the senior team, Gareth Bevan and Rory McPheators have been promoted to land and preconstruction manager and procurement manager respectively, both having spent more than 15 years with the business.
Beth Bundonis, regional managing director at Lovell in the East Midlands, said: "I'm proud of the progress the East Midlands team has made since opening its dedicated office just last year. We have a diverse mix of projects happening, strong partnerships and a highly experienced and committed group of people to deliver for them. I welcome all the new additions to our team – the combined knowledge of Dan, James and Mark will help to ensure we can reach the goals we have set for this year, and really shine a spotlight on Lovell in the East Midlands."
For more information, please visit https://corporate.lovell.co.uk/
Building, Design & Construction Magazine | The Choice of Industry Professionals