For those that own and manage large-scale commercial, industrial, and residential buildings, effective life safety systems are critical. Aside from legal obligation, compliant systems ensure risk is managed appropriately, particularly mitigating the threat of fire and smoke. The latter is where Colt comes in. A pioneer and market leader in smoke control systems which allow smoke out of a building in the event of a fire.
Having a system in place that enables smoke to escape is critical to saving lives. But it can also protect assets and reduce the degree of damage to a building. Crucially, when a fire breaks out, reducing the amount of smoke in the building helps those inside, whether they are awaiting fire services or trying to evacuate, because visibility is improved and toxic gases are reduced. Once onsite, fire services can facilitate evacuation more quickly and, with better visibility, rapidly locate the source of the fire in order to speed up extinguishing.
Commonly installed in large single-storey factories and warehouses, shopping centres, multi-storey buildings, car parks, and buildings with atria, customers not only rely on Colt's smoke control technology, but its holistic project managed approach to designing, installing, and maintaining a solution tailored specifically to each project's need. That means everything a building needs for smoke control.
As well as Automatic Opening Vents (AOVs), this also includes fully certified openable ventilators, natural and mechanical shaft systems, access hatches, smoke control dampers, smoke extract fans, smoke and fire curtains and automatic controls. Its multi-disciplined technical expertise, including in-house CFD capability, and in-house engineers mean Colt provides a full turnkey service.
It's little wonder Colt has worked on some of the most prestigious buildings across the UK as well as the tallest structures in the country. These include the 65-storey 22 Bishopsgate (London's highest commercial building), the 56-storey 1 Nine Elms, and 68-storey South Quay Plaza.
Having pioneered the science of smoke control in 1954 when it designed the UK's first-ever smoke control system to be installed in a manufacturing plant, Colt has continued to set new benchmarks.

Continuous innovation from the market leaders
One of its latest innovations is the Defender F2, a smoke control damper. Certified to EN12101-8 and tested to EN1363-1 and BS EN1366 Parts 2 and 10, the Defender F2 provides a fire-rated solution when closed and a reliable smoke extract solution when open. Significantly, it has been designed to be seamlessly integrated into the surface of a wall. From an aesthetic point of view it is unobtrusive, unlike traditional louvre damper systems, providing architects greater design control.
It's an example of the wide spectrum of products and solutions Colt can bring to market. While Colt is the market leader in smoke control, as a turnkey service partner it boasts a number of other strengths from smoke and fire damper systems, pressurisation systems for stairwells, car park smoke, fume and CO extraction systems, and the servicing of solar and photovoltaic arrays, as well as brise soleil.
Working in collaboration with clients from conception through to commissioning and ongoing maintenance, Colt enables owners and operators to not only address fire safety but unlock a building's full potential in terms of energy efficiency and architectural design.
Its ability to do so lies in its talented personnel. As well as employing all its own engineers, Colt's vastly experienced design and technical team can develop bespoke solutions tailored to specific building environments and compliance requirements.
It also means architects and consultants can work with Colt to identify the best combination of products and systems to achieve the desired effect and performance. Its experts use in-house computational fluid dynamics (CFD) and other design tools such as CAD and BIM to simulate airflows and heat transfer within buildings to assist with designing effective building conditions.
Further peace of mind is gained from the fact Colt manufactures its products at its dedicated facility and extensively tests systems prior to installation to verify performance. Independent accredited test houses carry out fire testing, environmental testing (for wind, rain, snow) and safety testing (for load and impact).
And no stone is left unturned when commissioning its systems. In compliance with BS7346-8, which is specific legislation relating to the commissioning process, Colt's multi-stage process includes thorough static testing, functionality,
cause & effect and performance testing. The final stage, System Acceptance, involves witness testing, demonstration, sign-off and client training. This is supported by independent 3rd party certification (IFC Certification) for the installation and maintenance of smoke control systems, including smoke and fire curtains – just another step in the process of demonstrating their competence and compliance processes.
Colt are fully certified to ISO 9001, 14001 and 45001. They are also (uniquely for the industry), certified to the demanding ISO 37301 for Compliance Management Systems.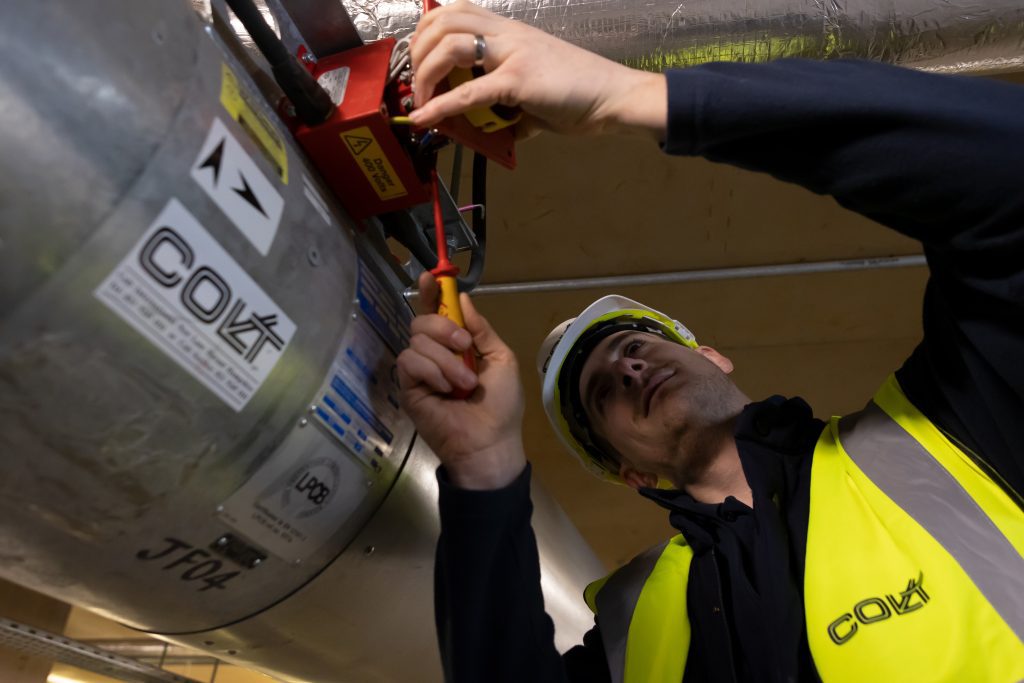 For Colt engineers, the training never stops
Never standing still, Colt continues to evolve. It has, for example, established its own dedicated Training Centre at its manufacturing plant in Havant. Designed specifically for the initial and ongoing training of its maintenance engineers, the centre is equipped with working examples of all the types of smoke control systems that engineers will encounter in the real world.
This includes Colt-produced systems as well as those of other manufacturers to ensure engineers have a broader understanding in order to be able to service any system they may encounter. Ongoing training also features regulatory updates and standards in addition to fault-finding to enable first-fix works wherever possible. It guarantees Colt's engineers remain competent and knowledgeable; ensuring clients have peace of mind that their systems are working as expected.
Colt's enviable reputation has been built on its multi-disciplined approach and almost 70 years of researching and developing systems that have made buildings safer. Its holistic solution is backed by unrivalled in-house technical expertise and highly trained engineers which ensure clients have confidence in the performance of their building safety systems.
If you are working on a project that requires smoke control design expertise or manage a building where smoke control maintenance is required, get in touch with Colt's knowledgeable team to learn how they can help you keep your buildings safe.
Email info@coltinfo.co.uk or call 02392 451111.
Visit us as www.coltinfo.co.uk.
Building, Design & Construction Magazine | The Choice of Industry Professionals