Artisan Real Estate to Progress Plans for 289 New Homes, Commercial Space and Riverside Park
Ambitious proposals to demolish a vacant office complex on the edge of the Salts Mill World Heritage Site in Saltaire, Shipley and replace it with a vibrant and sustainable residential quarter and riverside park have been given the go-ahead by Bradford Council in late September. Urban regeneration specialist Artisan Real Estate will now progress with its 'transformational' redevelopment of the 11-acre site, sandwiched between the River Aire and the Leeds & Liverpool Canal, which was formerly home to an HMRC office block that closed in October 2021.
Artisan's plans for the new 'Saltaire Riverside' development include the provision of 289 new homes, more than 5,000 sq. ft. of commercial office space designed for flexible working and a café facing on to a new 'pocket' park and piazza. A sizeable riverside park will seamlessly link the development to the River Aire, providing woodland, grasslands and lawns to act as a natural flood water storage area whilst pedestrian links will provide direct access to Saltaire Rail Station and the canal towpath.
Welcoming the planning approval, James Bulmer, Development Director for Leeds-based Artisan North said: "We are naturally delighted that our transformational vision for this vacant site next to an UNESCO world heritage site is now set to become a reality. This is a hugely exciting development that will spectacularly open up a large riverside area that has effectively been closed to the public since the 1970s when the HMRC complex was built. Our proposals will bring interest and investment to the area and provide a natural, contemporary extension to the existing Saltaire footprint. Our completed development will become a modern interpretation of the neighbouring Saltaire village, bringing much needed sustainable family housing in an accessible, well connected and environmentally responsible setting."
He added: "Progressing such a large development on the very edge of a UNESCO World Heritage site brings its own set of challenges and responsibilities, and we have taken time to understand and reflect the unique historical contexts of the Salts Mill location. Our final proposal, developed in partnership with Yorkshire-based architects Axis Architecture, is the result of a more than 18-months of design and architectural planning. This has been supported by a comprehensive and broadly very positive public consultation programme – including two design workshops with local stakeholders and three major public events."
Artisan's scheme will demolish the existing seven-storey HMRC building which consists of two large hexagonal office blocks, with a construction start on site forecast for early 2024. The niche developer has a strong track record in delivering complex residential and mixed-use regeneration projects in sensitive urban and city-centre environments – including the award-winning New Waverley in the heart of Edinburgh's Old Town, the refurbishment of the historic Everard's Printworks in Bristol's Old City and the transformation of Glasgow's 19th century Custom House into a vibrant hotel quarter overlooking the River Clyde.
Mr Bulmer added: "Our proposals for Saltaire Riverside herald another significant addition to Artisan's enviable list of sensitive regeneration projects, in highly desirable and historic regional locations across the UK.
"From our regional office bases, we are creating dynamic investment platforms to deliver transformational and sustainable development to the benefit of our towns and cities – and the people who live, visit and work in them. With these pioneering projects and investment, Artisan has the opportunity to turn the development spotlight firmly on high-quality and sustainable city centre regional development across the UK."
Prior to the HMRC development, the Saltaire Riverside was used as occasional storage shed area, allotments and grazing land for canal ponies.
Saltaire Village is named after Sir Titus Salt who built a textile mill known as Salts Mill and the supporting village overlooking the River Aire in the second half of the 19th century. Designed by architects, Lockwood and Mawson, Saltaire followed in the footsteps of other model settlements in providing a relatively healthy environment for workers to reside and work. Saltaire has beautiful Italianate architecture and a rich history and was designated a World Heritage Site by UNESCO in 2001.The village is considered an outstanding example of mid-19th century philanthropic paternalism and had a profound influence on developments in industrial social welfare and urban planning in the United Kingdom and beyond.
For more information about Artisan's Saltaire Riverside development, visit: www.saltaireriverside.co.uk. For more information on Artisan Real Estate visit www.artisanrealestate.co.uk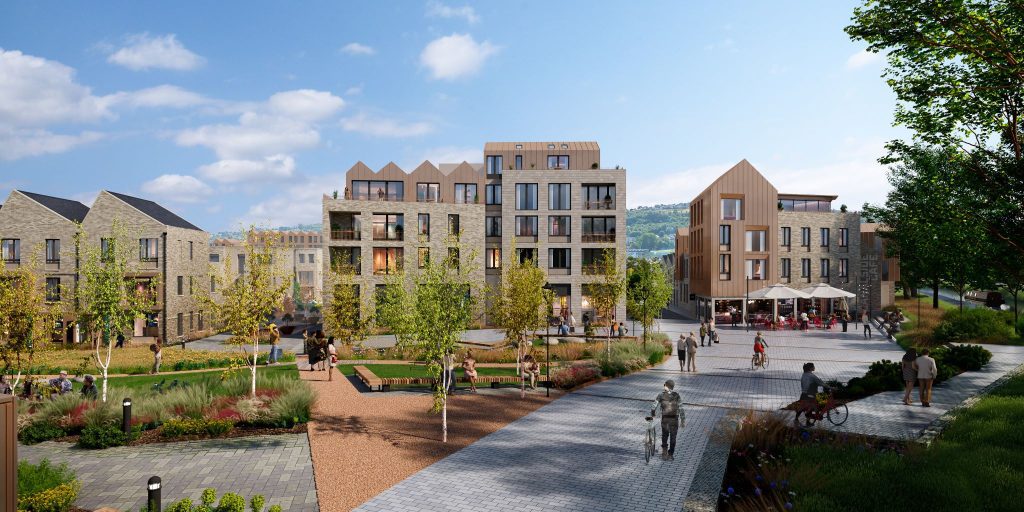 Building, Design & Construction Magazine | The Choice of Industry Professionals