Britain's Strategic Road Network (SRN) has been the backbone of the nation's connectivity for decades. But as demands on our roads evolve, so does our commitment to updating and enhancing them.
A collaboration between Costain, WSP, Flannery, and Forkers, the Smart Motorway Programme (SMP) Alliances' recent M6 project is a perfect example of this commitment. Spanning the M6 Junction 21a to 26, the 16km Smart Motorway project set out to augment capacity and enhance journey reliability on this integral artery of the UK's highways. With triple the goods moved by road over rail and water combined and a third of all motor vehicle miles made on the SRN, projects like this have never been more pressing.
On similar projects, the absence of data quality and efficient analysis has led to significant idle times, resulting in substantial fuel wastage and increased emissions. To maximise the efficiency of machinery during the construction phase, the SMP Alliance called on equipment data and telematics specialist MachineMax.

Data-driven solutions

MachineMax addressed these environmental and economic repercussions using its transformative telematics and data solution. The platform, focusing on crucial metrics, including: idle time, emissions, location, and fuel use, provided real-time data on equipment status, enabling immediate and actionable insights that lead to significant fuel savings and reduced emissions.
Between the start of 2022 and July 2023, idling was successfully reduced from 56% to an impressive 19%. Furthermore, during the pilot phase, SMP Alliance managed to decrease fuel usage by 3500 litres per month, preventing 9236 kg of CO2 emissions.

Tom Grahamslaw, Head of Connected Site for the SMP Alliance commented, "The MachineMax solution has created the insights we now need to understand and effectively manage plant across our projects, enabling us to drive a change in behaviours and deliver a step change in environmental performance."
Realising net-zero ambitions

Construction teams on the project gained invaluable insights into equipment activity, idle periods, and usage percentages, significantly improving their understanding of equipment usage. GPS integration enabled tracking of routes, distances, and stops, facilitating better operational planning. Using just 20 highly efficient and cost-effective sensors from MachineMax, the SMP Alliance realise its ambition to deliver highway projects more efficiently and sustainably through tangible savings and reductions in idling, as well as improved air quality for both on-site workers and local residents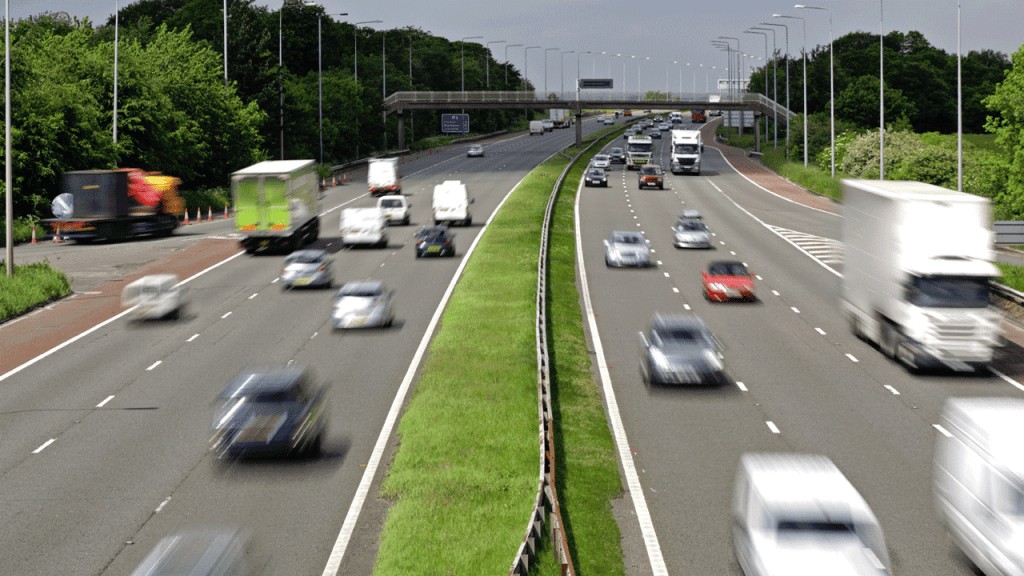 Eamonn Slevin Operations Director for the SMP Alliance added, "The use of fuel on our construction sites is the single largest contributory factor to carbon emissions during assembly. On the M6, by using MachineMax's innovative data solution, we were provided with better quality data which has allowed targeted behavioural training, plant idling has been reduced from 50% of operating time to 18%. The benefits of this are a reduction in carbon emissions, reduced impact on air quality from emissions and longevity of plant."

The green brick road

The M6 Junction 21a to 26 Smart Motorway project is a testament to Britain's commitment to its SRN, and the integration of innovative solutions to foster a data-driven approach sets a benchmark for future infrastructure projects. As the government continues its substantial investment across transport modes, projects like this will ensure our road networks remain safe, reliable, resilient, responsive, and efficient, unlocking vast economic and social benefits.

Amy Law, Head of Marketing & Sales at MachineMax, concluded, "'In a world where every second and every litre of fuel counts, our technology is not just about data; it's about driving real change on the ground. Working with Costain, Flannery, Forkers and WSP has enabled us to showcase the importance of timely, accurate data for project emission reductions, also exemplifying how the fusion of innovation and collaboration can redefine the future of construction efficiency and our Strategic Road Network. We're not just building roads; we're paving the way for a sustainable, connected Britain."
Building, Design & Construction Magazine | The Choice of Industry Professionals