It is not very often that a company comes along and has a product offer that 'ticks all the boxes', but when it does, customers are usually savvy enough to take advantage. What is it that makes such an offer irresistible? Customers, in this instance are facade fabricators and installers, who seek a value proposition. To some 'value' may be seen as competitive prices for aluminium systems, but this is not the case for any serious facade company.
As a supplier, 'credibility' and 'partnering' are two key elements high on the 'tick list' for a facade company. Credibility is the depth of aluminium system options and profiles which are only attainable from large systems companies. Typically, these systems companies have already designed and supplied a wide range of profiles to cater for many complex installations. Partnership comes in the form of systems company support, working side by side with a facade company. Pioneering throughout the construction cycle with the systems company recognising 'value management' which ensures both client quality and cost management for the facade company. These are just two of the pillars that Aluprof have built its business upon over the last sixteen years of systems supply in the UK and Ireland.

Aluprof's logistics provides weekly deliveries to Ireland from an extensive stock of aluminium systems and hardware located at their head office in Poland. Powder coating to a Qualicoat specification, including thermal break facilities, are all housed under the same roof in Poland allowing products to be finished to meet any specification. Aluprof also offers a fabrication service to support its network of fabricator installers across the region when required to meet programme expectations. Coupled with a physical 'on the ground' presence from Aluprof UK & Ireland's team of support technicians, has quickly placed Aluprof UK in Ireland as a major systems supplier. Facade fabricators and installers nationwide quickly appreciated the benefits of well designed, robust Aluprof systems and dedicated technical and customer backup. This co-operation grew into many strong, long-term relationships, carried out through difficult times during the 2008 economic downturn and more recently Covid.
Of many projects located in Ireland, here are a selection of several projects that have recently been completed in Dublin:
Home to a wide range of global businesses Dublin Landings offers 100,000 sq.m of office, residential and retail accommodation set in over 5.8 acres on the banks of the River Liffey. E1 Dublin Landings is one of several buildings in the development overlooking the river where Aluprof systems have been specified. Designed jointly by RKD Architects and Arrow Architects the projects utilises both curtain wall and window systems from Aluprof's extensive catalogue.
To the North West of Dublin Landings and just a 15 minute walk away from Trinity College, Kavanagh Court offers student accommodation in modern high quality rooms in the city centre. The development boasts a rooftop terrace, a modern gym, cinema room, laundry room, secure cycle storage and fast 100Mb WiFi. Owned and maintained by Yugo, the development opened to students in September 2017 and is one of the largest purpose built student halls in Dublin. The development provides accommodation for 491 students with bedrooms, bathrooms, kitchens and living rooms that all sit within 88 self-contained 'house units' of varying sizes. Designed by John Fleming Architects the project was built by Bennett Construction.
To the south of the River Liffey, Dublin's Molesworth Street and Dawson Street have been the focal point of the city's elegant quarter. The project 'One Molesworth Street' epitomises this status and can be viewed as one of the capital's most distinguished addresses. The project was designed by leading architects, Henry J Lyons, offering sheer quality to maximise the occupier experience. The Dawson Street facade uses vertical glass fins together with bronze anodised brise soleil. The Aluprof systems facade finishes and proportions have been designed to complement the neighbouring buildings.
Back on the south bank of the River Liffey, Sir John Rogerson's Quay was one of the first projects to be supplied by Aluprof in Ireland. It is a six storey office building complete with basement which offers modern office accommodation. Adjoining the Ferryman and Tropical Fruit Store the glass facade of the building is designed to maximise the spectacular views from the development. Designed by HKR Architects, the completed development now offers 6,500 square metres of office space.
Having a strong presence in the Irish construction scene, Aluprof UK is supporting the Irish Construction Excellence Awards 2023 for the second time. Located at the Convention Centre, Dublin, the 27th April event, organised by the Irish Building Magazine, is always a construction highlight of the year for the Green Isle. As Gold Sponsor at the Gala Event, Aluprof will offer awards in the best 'Education Project' and the best 'Healthcare Project' categories.
The awards, founded by the Irish Building Magazine in 1993, are generally known as the ICE Awards and are the original and premier recognition of performance excellence for the contracting sector in Ireland. The Gala Night is always attended by Ireland's elite construction professionals, where construction leaders, design and supply chain partners, and clients meet and celebrate construction excellence.
Currently with overseas growth further extending across Europe, into the Middle East and with firm roots already in the East of the USA, Aluprof continues to grow into a global player in facade supply. Further information about systems and specification support is available through the company's website at aluprof.co.uk or direct from their UK head office in Altrincham by phoning +44 (0) 161 941 4005.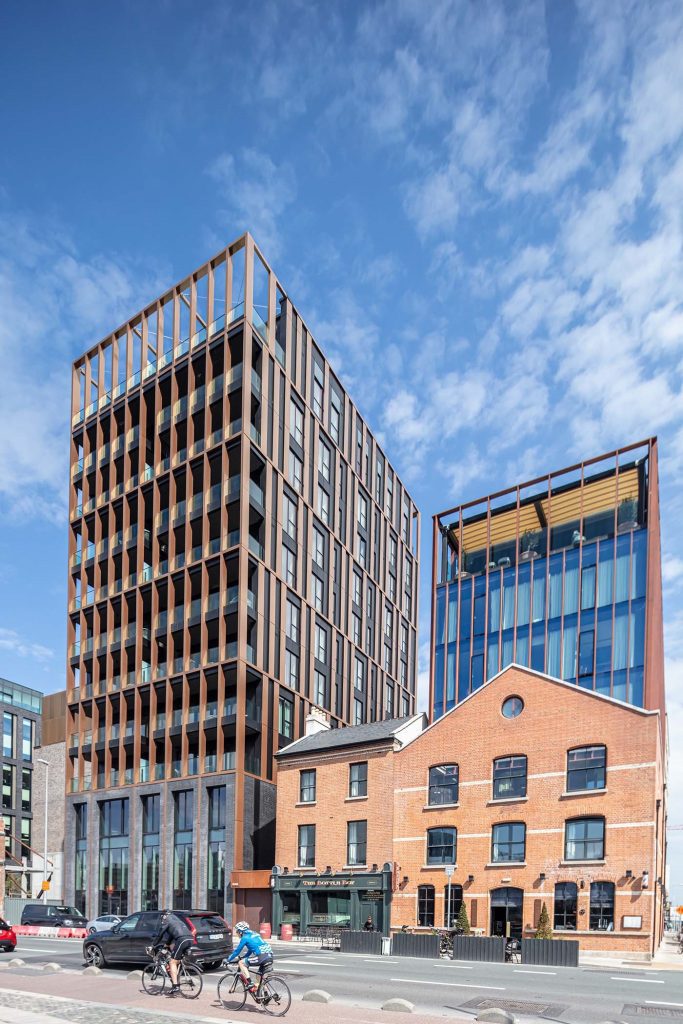 Building, Design & Construction Magazine | The Choice of Industry Professionals