Modern construction is heavily involved in the fight against climate change. Through the use of innovative technologies and modern building materials, buildings can be made more energy-efficient and environmentally friendly. Sustainable construction in an era of the increasing climate crisis has become a universal obligation and not just a fad.
Modern architecture must take ecological aspects into account, as the principles of sustainability are increasingly being followed by architects as well as investors, contractors and end users. Which specific solutions make modern construction contribute to the fight against climate change?
Use of highly insulating building materials
One way to combat climate change is to use building materials with high thermal insulation. This enables buildings to maintain an adequate temperature, significantly reducing the energy required for heating and cooling. In addition, such building materials are often made from recycled raw materials, which further contributes to reducing the use of limited natural resources.
Aluminium, glass and wood are building materials that are now a cornerstone of green construction. Good-quality timber is safe for the environment and is ideal for the construction of buildings. Its proper processing and impregnation make it a highly durable raw material (also fire-resistant). Glass can be processed almost endlessly by melting and refining. Its production does not consume a large amount of energy. It is completely non-flammable and corrosion-resistant. Aluminium, on the other hand, is the most environmentally friendly metal for the construction industry. It is recyclable without any loss of properties or structural changes and, most importantly, only 5% of the energy required to produce the virgin metal is used in the process. In the UK, the recycling rate of aluminium packaging in 2021 was a record 68%. This was a record result, demonstrating the ever-increasing public awareness of environmental issues and the widespread benefits of aluminium recycling.
There is a huge demand for aluminium scrap in the construction industry, which is why initiatives such as the Council for Aluminium in Building's 'Closed Loop Recycling' programme are emerging to continuously improve aluminium's sustainability credentials. Closed-loop recycling is not yet compulsory in the UK, but all CAB members are welcome to join.
In addition to the ecological aspect, aluminium is also a material that ensures appropriate parameters in terms of thermal insulation and resistance to unfavourable environmental conditions.
'It is safe to say that we not only follow sustainable construction trends, but we pioneer them; we co-create the direction of further development in architecture and construction. Our products, which are manufactured largely from recycled aluminium materials, are used in the most prestigious investments in Europe and around the world', says Tomasz Grela, President of the Management Board of Aluprof S.A.
Aluprof's development strategy for 2021–2025 includes moving towards climate neutrality, reducing the carbon footprint and increasing the share of recycled aluminium in production. This share is set to be 75%. It was 65% at the end of 2022.
Care for the building's surroundings
The ecology of modern buildings is also influenced by concern for their surroundings. Permeable green solutions are used, giving direct access to the soil, so water is effectively filtered, relieving the pressure on the sewage network. Underground retention basins or ponds store rainwater, which can be used for cleaning or irrigation of greenery. Building roofs are also increasingly often covered with greenery. Green façades and living walls creates additional space, which, when covered with vegetation, produces oxygen and also filters the air of harmful particulate matter and carbon dioxide. The layer of greenery present on the building creates shade and absorbs solar radiation, which improves the thermal comfort of the occupants and reduces the need for cooling.
The Forge office building in London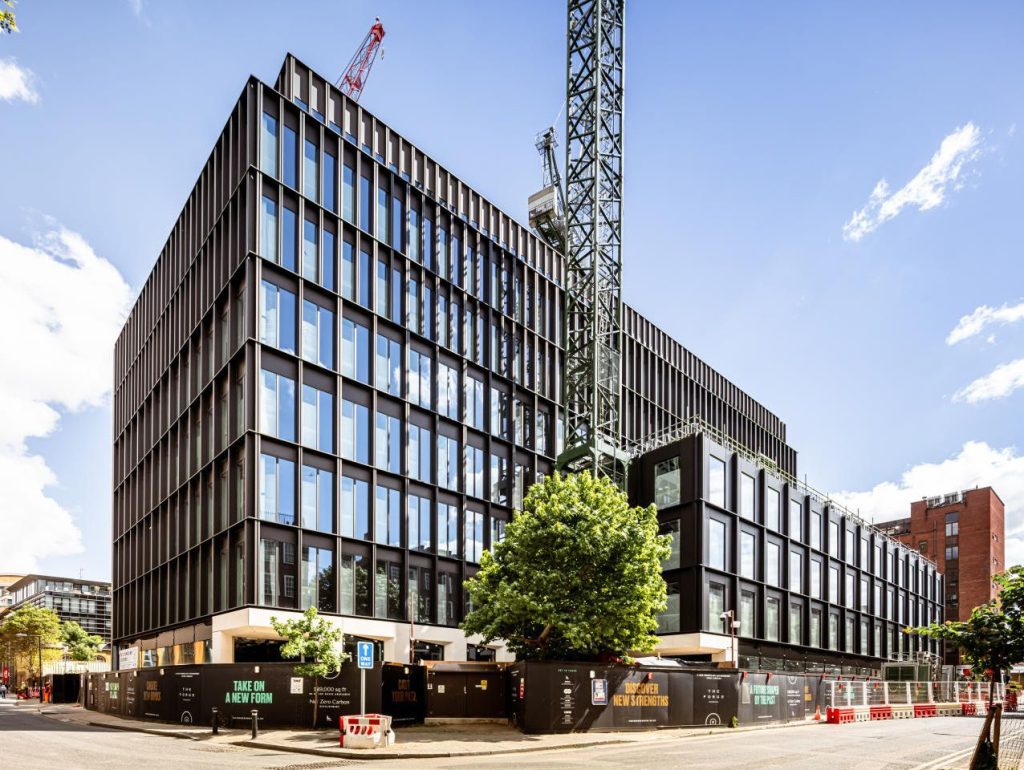 An example of a modern building that stands out for its responsible and innovative approach to environmental issues is The Forge. It is a modern office building located in the London Borough of Bankside. It is the first commercial building in the UK with zero carbon emissions both during construction and later during operation. The building is BREEAM certified at the Excellent level. The construction method is another innovation of this development – thanks to the use of prefabricated components and repeatable processes, its construction was fast, precise and more environmentally friendly. The result is a structure that uses less material, generates less waste, and achieves a 19.4% reduction in carbon emissions.
A unitised curtain wall façade designed by Aluprof in the MB-SE 120 SUM system was used in this innovative, environmentally friendly investment, which can inspire architects and designers from all over the world. One characteristic feature of this system is the vertical fins that act as light breakers. The entire prefabricated façade consisted of 986 parts, the largest of which measured 3 m x 4.76 m.
Sara Kulturhus – the world's tallest wooden building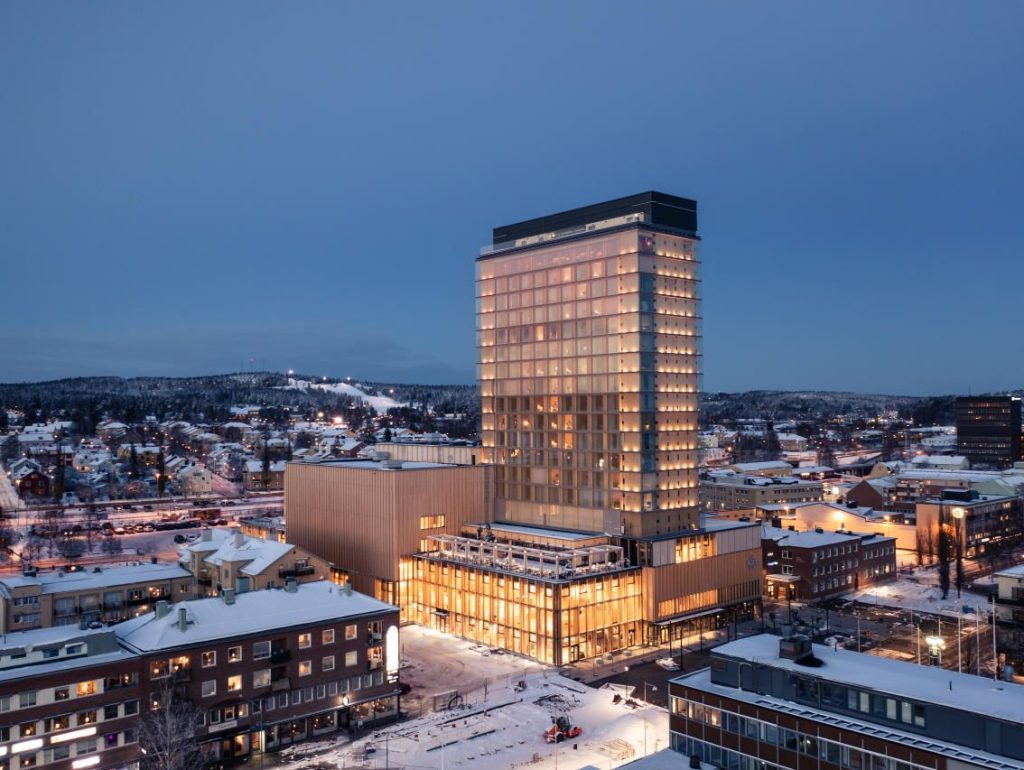 Another world-famous gem of architecture and sustainable building is the Sara Kulturhus, the world's tallest wood and aluminium building, located in northern Sweden. The building is made mainly of timber, aluminium and glass. The Scandinavian traditional wood building has been combined with modern engineering solutions, making the building a benchmark for sustainable design and green construction. The lower part of the building, which houses a community centre, was made of prefabricated CLT elements reinforced with concrete panels. The glazed façades were made using the Aluprof MB-SR50 HI+ system, specially adapted for this development, which offers incredible panoramic views from inside the building. The system has an A+ certificate from the PHI Darmstadt Institute, which means that it is recommended for the construction of passive buildings.
The external façade of the building's upper floors was made from an Aluprof aluminium system specially designed for this development, which was certified by BVB and rated GOLD/BREEAM SE. The triple-glazed internal aluminium windows and doors were made in the Aluprof MB-86 SI system, which is characterised by high strength and good thermal insulation. As a whole, it provides the facility with high energy efficiency and structural durability.
Let's build a better future
Implementing energy-efficient solutions in modern construction is an effective way to reduce energy consumption, limit CO2 emissions and, therefore, combat climate change. Architecture has an ever-increasing impact on the environment and is a great tool in the fight for a better tomorrow.
Article sponsored by Aluprof

Building, Design & Construction Magazine | The Choice of Industry Professionals