This week is National Apprenticeship Week (NAR) and Wythenshawe Community Housing Group (WCHG) is supporting the annual week-long celebration of that most enduring route into work, the apprenticeship.
With the UK facing a skills shortage the popularity of apprenticeships is on the rise, particularly in sectors like construction, and that's hardly surprising given the advantages a modern apprenticeship offers for both jobseekers and employers. Though many apprenticeships are taken up by young people places are available to anyone over the age of 16 and there's no upper age limit.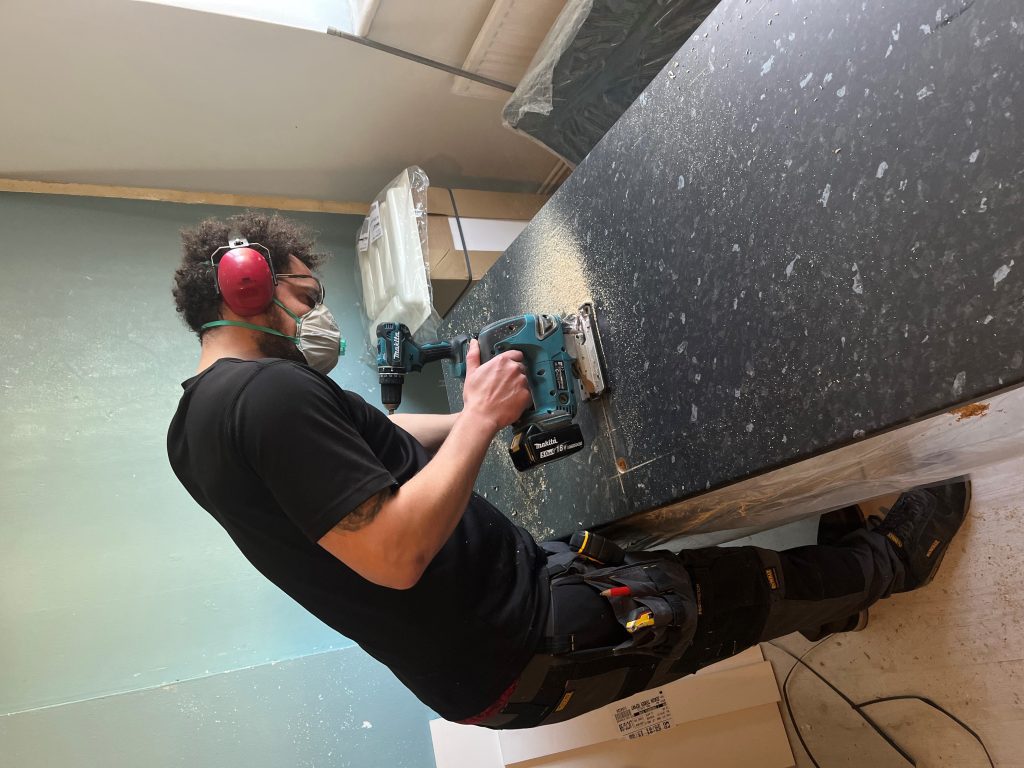 Christian Atkinson is 36 and he's been an apprentice with WCHG for more than a year, having left his job as a support worker to pursue a career in joinery. In October last year Christian was nominated for the Apprentice of the Year award at the Construction Apprenticeship Awards 2022.
Christian said: "I was incredibly proud when I found out I'd been nominated. I'm following in the footsteps of my grandad, who was a joiner for Manchester Council, and I hope taking up an apprenticeship at 36 will show others it's never too late to follow your dream.
"I think to succeed in an apprenticeship you have to have confidence in your abilities, and know what it you want to achieve from your time as an apprentice. For me no two days are the same in my job, and I love learning new skills each day and having a laugh with my colleagues at the same time. I've even told my son, if he wants a skill for life, get an apprenticeship."
Paul Butterworth, Executive Director of Assets at WCHG, said: "In terms of building a career and furthering your education an apprenticeship very much offers the best of both worlds.
"An apprenticeship is a real job where you're a paid employee with a contract of employment, just like any other employee. But as an apprentice you also attend college part-time and work towards nationally recognised trade qualifications, and your employer will support you throughout the whole process.
"So, as an apprentice, you're both earning and learning and gaining valuable, hands-on experience right from day one.
"As an employer we also benefit by recruiting apprentices. Not only are we able to recruit bright, dedicated people into our business, it also helps us develop a talented workforce that's equipped with skills for life. At WCHG we have a business head and a social heat, and it's fantastic to see apprentices coming into our company and succeeding, not just in their chosen carer, but in life too."
Apprenticeships at WCHG
In the last 10 years more than 100 people joined WCHG through our apprentice/trainee programs. In 2021/2022 there were 14 apprentices working at WCHG, all fully supported by our employment team. This included:
three new apprentices
seven successfully completing their journey with us
two gaining permanent positions within WCHG
two gaining positions with our sub-contractors
WCHG now recruits apprentices from six different trades (up from three last year) and so far in this financial year we've already enrolled a further nine new apprentices, with more to follow.
Recruitment for WCHG apprenticeship positions usually takes place during the summer months and places are advertised on the WCHG website, as well as through local schools and colleges. 
Building, Design & Construction Magazine | The Choice of Industry Professionals