Innovative architect and change-maker, Ninotschka Titchkosky is passionate about the role architects play in shaping the future and the possibilities that new technologies offer. As Co-CEO of design group BVN, she is changing the nature of architectural practice.
"Architects – and people in construction, property and city-making – really need to rethink the system we operate within," says Titchkosky. "We have to get to the point where the planet, society and infrastructure are in balance.
"At BVN, we're designing in new ways, and constructing buildings differently, with new methods and products. For example, we are doing more projects with mass timber construction and pre-fabrication, and researching into robotics and digital fabrication, including large-scale 3D printing."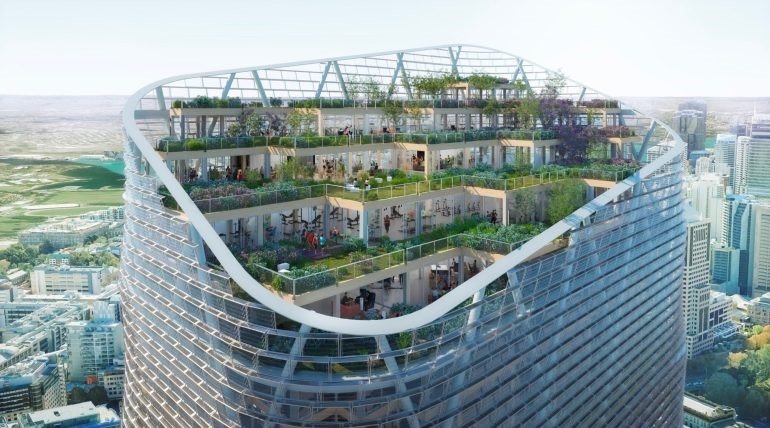 One of her most recent projects is the 40-storey Atlassian HQ in Sydney. Designed in collaboration with Shop Architects for major Australian software company Atlassian, it is set to be the world's tallest hybrid timber tower.
Featuring an exoskeleton of large steel rings and mega floors supporting eight four-storey sections constructed solely from mass timber, the building will target a 50 percent reduction in embodied carbon and energy compared to conventional construction. Atlassian has also committed to operating on 100 percent renewable energy with zero emissions, by using various energy efficient designs, as well as generating green power on site through solar panels integrated into the building's facades, which will be a glass and steel exoskeleton tied to the structure.
"What's amazing about this project is there's a very clear vision of what Atlassian wants to achieve," says Titchkosky. "They maintain the courage of that conviction, even though at times there are difficult challenges.
"Then again, that's why I became an architect – I was always curious and good at solving quite complex problems."
This innovative design and Titchkosky's other work has been recognised through numerous awards nationally and internationally including a RIBA International Award and a World Architecture Award commendation. She is also currently a Commissioner on the Commission for the Future of Sydney CBD.
The Atlassian project will feature in the closing session of Timber Offsite Construction Conference & Exhibition, 21 – 22 June 2022 when Titchkosky will share her experience and vision for sustainable design and construction – in perfect harmony with the conference theme, Timber & Technology: The Zero Carbon Future.- her presentation is Wed 22 June at 3.40pm.
Building, Design & Construction Magazine | The Choice of Industry Professionals