Studio Moren has recently gained a planning consent from Tendring District Council for a scheme of 86 new homes on the edge of the village of Great Oakley, Essex. The 3.7ha development, for Great Oakley Development Ltd, features a mix of bungalows, terraced, detached and semi-detached homes and has been designed as a contemporary interpretation of the local vernacular of the villages nearby.
An emphasis on nature, context and the living community has driven the overall design of the scheme which is complemented by extensive landscaping, including communal open spaces for residents to meet and relax, as well as a woodland walk that extends the length of the site. A community building is proposed, opening out to a new play area and connecting the site to the local village and school.
Mark Wood, Partner at Studio Moren comments: "Our design for this development has included involvement from multiple stakeholders such as the Parish Council, Tendring Planning Authority and members of the local community. The result is a highly contextualised extension to the local village, with architecturally rich and varied streetscapes, acting as a positive contributor to the local area. All dwellings meet Essex Design Guidelines and planning and building regulations, whilst being integrated into extensive new landscaping and several pedestrian friendly streets."
Whilst the site, which sits at the south-western end of the village, presented a number of constraints, it was important whilst efficiently accommodating the quantity of residential units required to, at the same time, deliver an architecturally diverse and attractive scheme which maintained a high degree of architectural quality and variation. Studio Moren's expertise and collaborative approach, working extensively with consultants and the local planning authorities, has provided a scheme which maximises site potential, reinforces commercial viability ultimately has exceeded client expectations.
Great Oakley is a historic village that has developed organically over centuries and Studio Moren's studies of the local vernacular revealed a palette of architectural features such as staggered building lines, varied roofscapes, front-facing gables and multi-coloured façades. Studio Moren has incorporated all these elements into the proposed architecture of the scheme in a contemporary manner.
The generously sized and architecturally appealing community hub, comprising parking, community building and play area, extends along the northern part of the site and will offer amenities to the site's residents, the nearby school and the local village. The design geometry alludes to the patterns of the allotments, with facilities divided up as a patchwork across its length.
Sustainability has been a key driver with this scheme, including measures such as electric charging points and air source heat pumps fitted to every dwelling and solar roof panels to power the Community building.
Collaborating with landscape architect Turkington Martin, Studio Moren's site layout incorporates a series of rich and varied landscaping features, connecting the development with the local community and the wider rural landscape, as well as providing a sustainable environment for local fauna and flora. The design makes extensive use of permeable paving for both pedestrians and vehicles, and different types are used throughout the site to create streets which are pedestrian friendly and encourage neighbourly interactions.
An existing public right of way has been incorporated into a 'woodland walk' complete with new planting, seating, and other woodland features. A new wetland open space will act as a drainage basin and focal point where the community can meet and relax. Surrounded with wildflowers and grasses, the sunny space will support biodiversity with an aquatic habitat for local wildlife. A boardwalk allows people to engage with nature and a paved area with seats, tables and benches set within ornamental planting offers a viewpoint across the open grassland.
New trees will be planted across the site and existing hedgerows will be supplemented with native species, with the addition of bird and bat boxes, and insect hotels. Street lighting is sensitively placed to maintain the rural feel of the area while providing safe passages for pedestrians.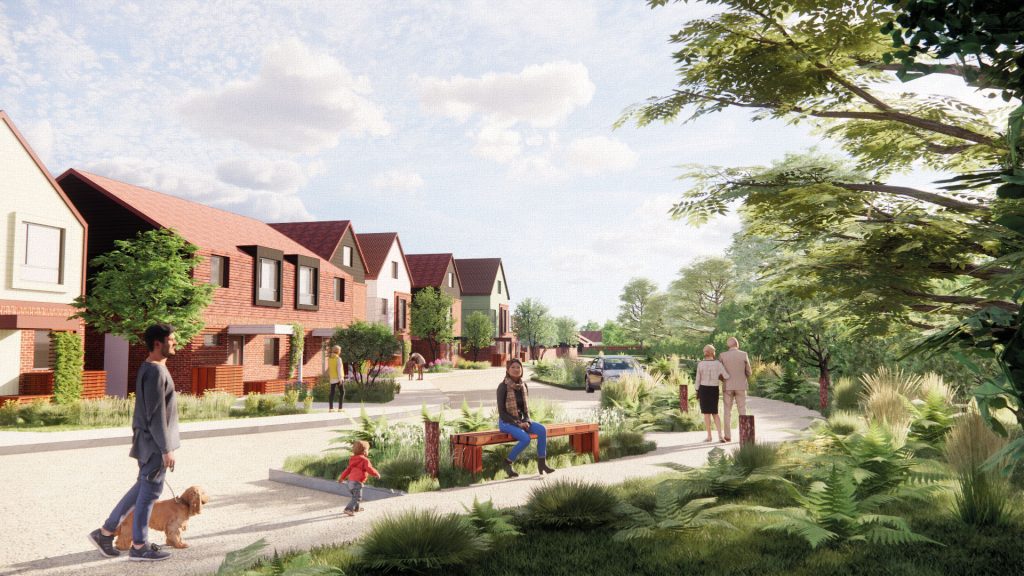 Project Team
Developer: Great Oakley Development Ltd
Architect: Studio Moren
Planning Consultant: Smith Jenkins
Landscape Architect: Turkington Martin
Traffic consultants: Campbell Reith
Building, Design & Construction Magazine | The Choice of Industry Professionals