The award-winning architects and interior designers at Marchini Curran Associates, have led on design services for the expansion of the independent Phoenix cinema and art centre in Leicester.
The pivotal scheme, funded by Arts Council England, Leicester City Council and the European Regional Development Fund (ERDF), alongside independent funding organisations, has transformed the city centre venue with an extension of the Midland Street site, which has been the cinema's purpose-built home since its relocation to Leicester's Cultural Quarter in 2009.
The project, which started in September 2021 under the Scape National Construction Framework has involved adding two new cinema screens, a large digital art gallery, extended café bar, a multi-purpose events space and rooftop terrace bar, to accommodate more visitors and expand the programme of this much-loved independent cinema and arts venue which has been part of Leicester's cultural scene for 60 years.
The client design brief was a fully inclusive environment catering for the diverse spectrum of user groups, staff, and visitors – to create a multi-functional space that changes its personality from the day into the evenings.
The integration of spaces was key and the concept of the building was designed to counterbalance the enhanced box office within the existing building with a new café bar space, forming a bookend within the new extension, to create a seamless harmonisation between old and new.
To achieve this Marchini Curran introduced a new two storey spine wall that runs from the two existing cinema screens through the building to link the gallery, café bars and new screens together. A feature staircase runs up the side of the spine wall giving visual access to the upper floor roof terrace, allowing natural light to penetrate the centre of the ground floor dining area.
Andrew Bull, Director at Marchini Curran Associates, said: "Phoenix is an integral part of the city, offering invaluable space for the independent film and arts scene to thrive and we've treasured delivering architectural and interior design works for such a renowned cultural arts space in the city of Leicester."
John Rance, Phoenix Chief Executive, said: "People love the new spaces. The reactions of our diverse customer groups and stakeholders has been very positive."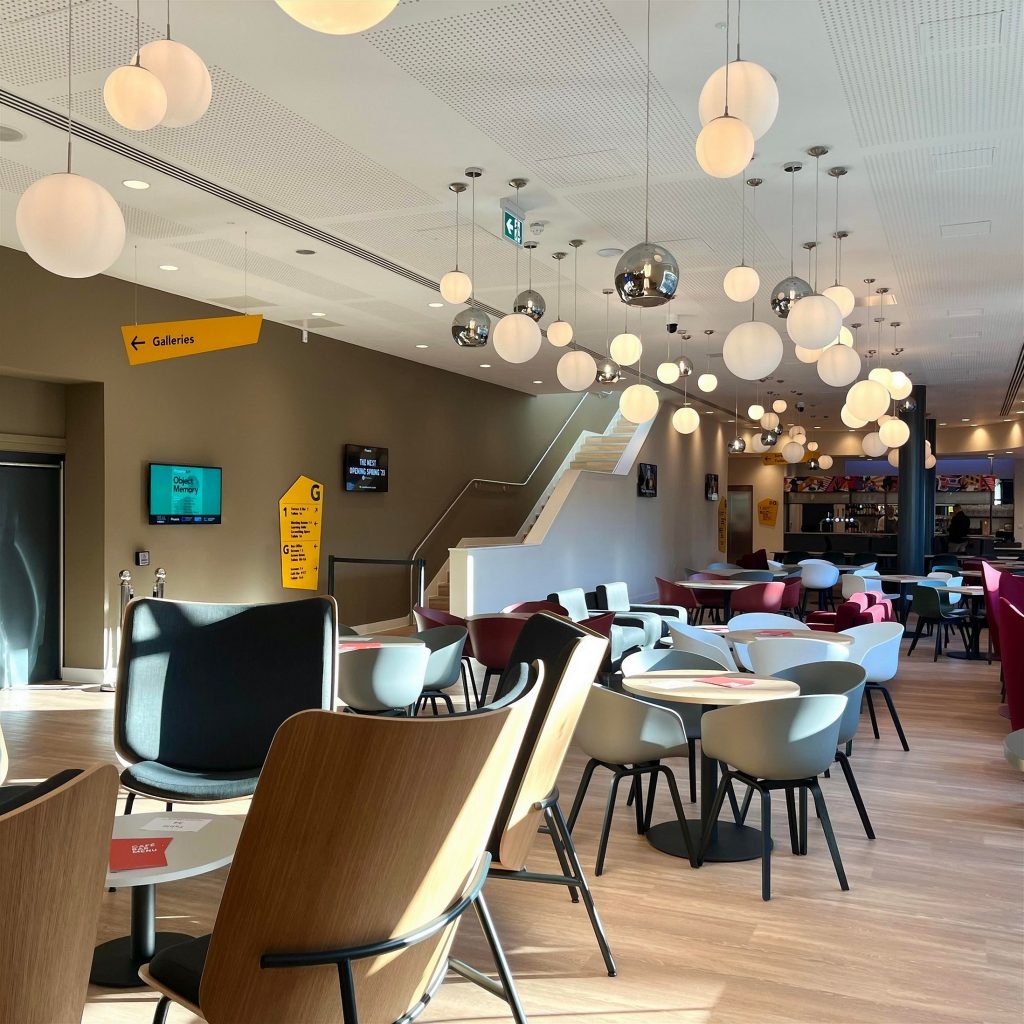 Building, Design & Construction Magazine | The Choice of Industry Professionals