Merson Group are set to provide 4 major installations at East Bank cultural quarter in east London.
Merson Group, one of the UK's largest signage companies, has announced the completion of the brand-new V&A East Museum signage at the new East Bank cultural quarter on Queen Elizabeth Olympic Park, London.
The illuminated letters, each standing six metres high and weighing around 1.5 tonnes each, took a cumulative 3 months to build in Glasgow-based Merson Group's design and production facility, before they arrived in London for their three-day install.
The complicated 3D designed steel structures were clad with aluminium before the edges and perimeters were bronze powder coated to remain in harmony with the façade of the building itself. To allow for optimum illumination, a white polycarbonate facing with internal lighting using LED modules were also incorporated.
There were multiple challenges for the Merson design and build team, but the most critical was to ensure that the structures connected with the building exactly and that the signage could be maintained safely from the rear whilst they sit 40 meters up on the ledge where they now stand.
Robert Murray, Chief Design Officer, said: "I'm truly proud of what the entire Merson design and implantation team have achieved here, especially Senior Designer, Ross Cloughley. Merson Group seek out these landmark projects because we have the expertise to deliver. V&A East will be one of the world's leading arts and culture institutions and we are delighted to be a small part of the journey."
East Bank is a new powerhouse for innovation, creativity and learning on Queen Elizabeth Olympic Park. It is a unique collaboration between world-leading universities, arts and culture institutions that will create 2,500 jobs, generate £1.5 billion for the economy, and open up opportunities for everyone who visits, lives, and works in east London.
Rosanna Lawes, Executive Director of Development at London Legacy Development Corporation, said: "The new signs are a wonderful addition to these incredible buildings. What's particularly pleasing is that we've been able to draw on the skills and talents of companies from all across the UK, like Merson's, to deliver this amazing legacy from the London 2012 Olympic and Paralympic Games".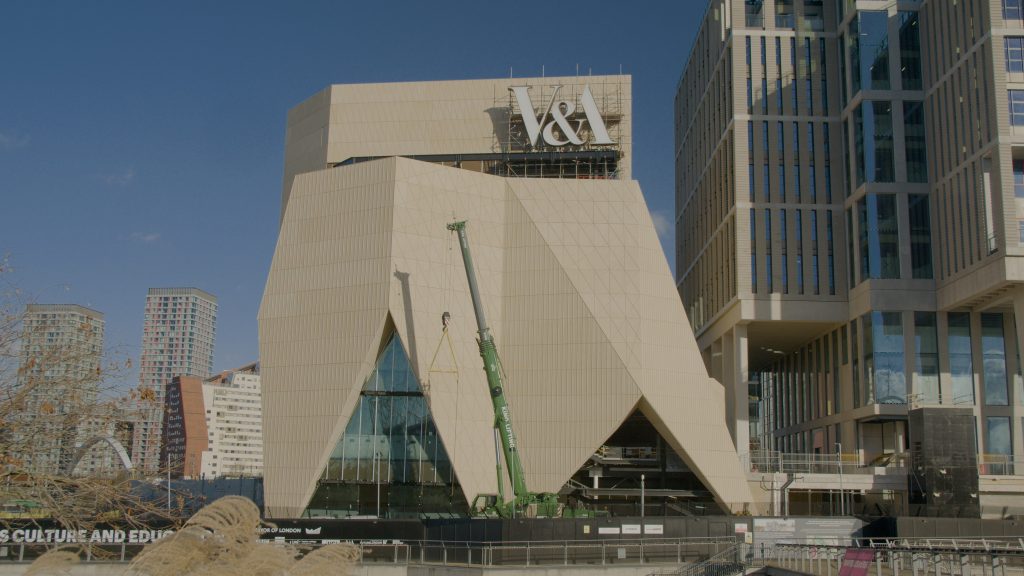 V&A East Museum is the first of four East Bank buildings to which Merson Group are supplying external signage this year.
The high-level letters at the University of the Arts London (UAL) were also completed last month whilst the low-level letters will be installed shortly. Likewise, signage at Sadler's Wells East is on track to be installed in May. The BBC's building is also set to have external signage installed in the second half of this year.
With over 250 employees across two sites in UK and one in Europe, Merson Group has a global footprint when it comes to signage. Servicing clients such as Aston Martin, Lotus, Tesco, and Sainsbury's, and most recently the Crossrail Elizabeth Line – Merson Group have a long history of providing high quality signage and wayfinding solutions across several sectors.
Merson Group are experts and sector leaders in wayfinding signage in the UK. They also provide signage for Network Rail, Heathrow Airport, Spurs FC, British Land & Crown Estates. To find out more, visit: www.mersongroup.com
Building, Design & Construction Magazine | The Choice of Industry Professionals