Maintaining a safe worksite is vital all year round, but different seasons bring with them a variety of different safety concerns. And with World Day for Safety and Health at Work taking place on the 28th of April this year, what better time to evaluate the conditions of your construction site?
To help you and your employees get prepared for the lighter evenings, warmer days, and those inevitable April showers, industrial tool and PPE supplier Zoro have shared their top tips for creating a safer, more supportive worksite this spring and summer.
Expect the unexpected
While the weather might finally be turning, the Great British springtime can still be notoriously unpredictable as we make the transition from a long, cold winter. It's therefore important to keep a close eye on the weather forecast while running a worksite, even if conditions seem to be fairly stable or mild for the time being. As well as keeping up with regular, reputable weather forecasts, be sure to keep your winter or wet weather equipment on stand-by, stored in a convenient location. This allows you to be prepared for all eventualities and means that you and your employees won't be caught off-guard by a sudden turn in the weather. Working through cold, wet conditions with insufficient clothing and PPE can leave workers vulnerable to illness as well as make your worksite liable to accidents.
Slip hazards
You've probably heard of the term April showers, and this is a real weather phenomenon that means there are a higher number of sporadic rain showers throughout April. They might be lighter and shorter than standard rain, but these showers result in frequently changeable conditions for outdoor vocations like construction. As the rain isn't heavy enough to postpone work onsite, this often means that workers must adapt to some on-and-off wet conditions throughout the day.
Light rain like this can make surfaces much more slippery than usual, meaning that one of the key hazards of springtime construction is slips, trips, and falls. It's important that every worker is provided with the proper equipment to help prevent this, such as good-quality boots with sufficient traction, wet floor signs, and tools with textured, non-slip handles. Keep walkways free of standing water and remind your team to be extra-cautious when positioning ladders or scaffolding, as these can become even more dangerous in wet conditions. It's also important for workers to stay visible with bright, reflective clothing when working in fog or grey, rainy weather.
Uneven surfaces
In spring, the ground gradually thaws after winter due to a slow rise in temperature. This might make breaking ground easier for your construction company, but it's always wise to proceed with caution in between seasons. This is because thawed ground or even melted ice can lead to uneven, unstable surfaces for builders to work on. Clearly communicate to everyone in your team that they must check the stability of the ground before using any heavy machinery, positioning ladders, or even just digging the soil — especially on slopes or key parts of the foundations.
Sun protection and hydration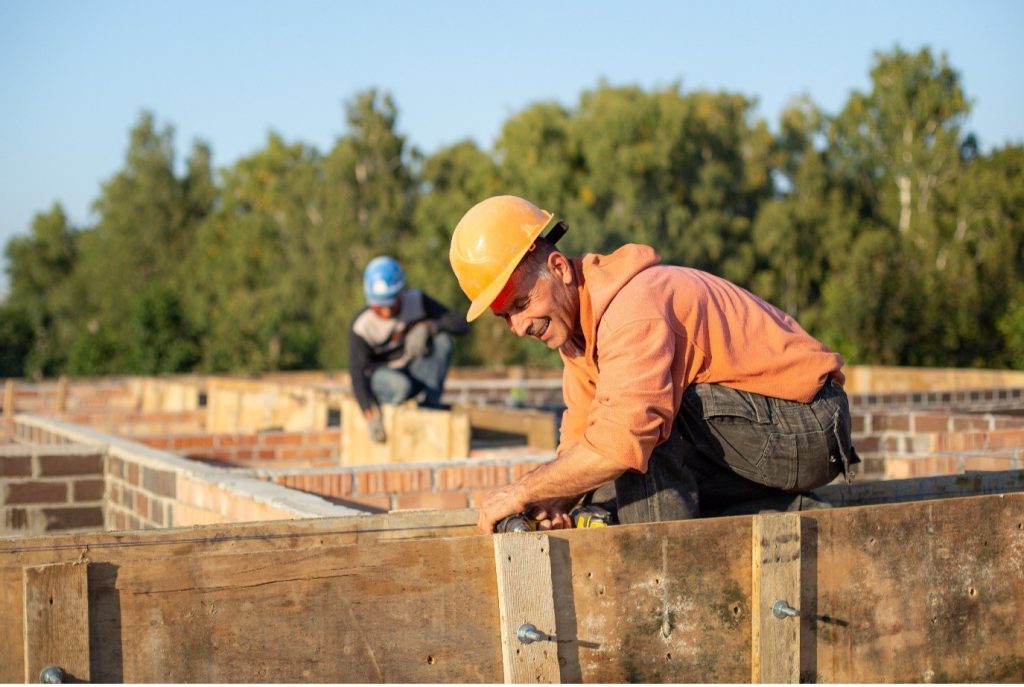 As we edge into the summer months, onsite health and safety should shift to beating the heat. By its very nature, the majority of construction takes place outside and it is an inevitably physical career. So, when temperatures begin to rise, it's vital that all the workers on your site are equipped with everything they need to stay cool, hydrated, and protected from the sun.
Firstly, ensure that there is a supply of fresh drinking water onsite at all times, so that workers can take as many drink breaks as they need throughout the day. They are likely to lose plenty of water through sweat, and it's important that this is replaced in order to avoid dehydration or even heatstroke. Secondly, on particularly hot days, sites should also encourage breaks in the shade, so that no-one becomes overexposed to the sun. If you don't have an existing spot of shade available, an affordable and effective solution would be to erect a gazebo or add an awning to the site of the building, where workers can take a moment to cool down before heading back to the task at hand. It's also wise to remind employees about using suncream to prevent getting burned, or even provide some for them onsite.
"Onsite safety is paramount all year round, and as World Day for Safety and Health at Work is taking place on the 28th of April, it's the perfect time to assess whether your construction zone is ready for the change in seasons. Lighter evenings and warmer temperatures might be more comfortable to work in than ice or snow, but spring and summer bring their own set of challenges to a worksite.
"The changeable British springtime means a sunny day can quickly turn blustery, and April showers can add extra slip hazards to a busy construction site. In the height of summer, you will also require measures to protect staff from sun exposure and dehydration. Providing your workers with adequate PPE and clear communication about the right safety measures for the season is vital to keeping everyone within the construction industry safe and healthy."
Building, Design & Construction Magazine | The Choice of Industry Professionals