By Patricia Gabriel – Market Manager CPG UK
Nullifire has developed a high-performance fire protection solution to meet the unique requirements of off-site construction.
Nullifire FZ100 Fire Safe Zone has been engineered to provide best-in-class fire-stopping capabilities to existing and future service penetrations.
Quick and easy to install, as well as lightweight and easy to cut, it offers a fully tested system to BS EN 1366-3, up to EI120, delivering Nullifire's renowed safety performance whilst supporting the fast-track nature of off-site projects.
Typically installed at the drywall construction phase, one side of the partition may be fully constructed before application, and FZ100 is able to protect many bespoke off-site penetrations along with standard service requirements.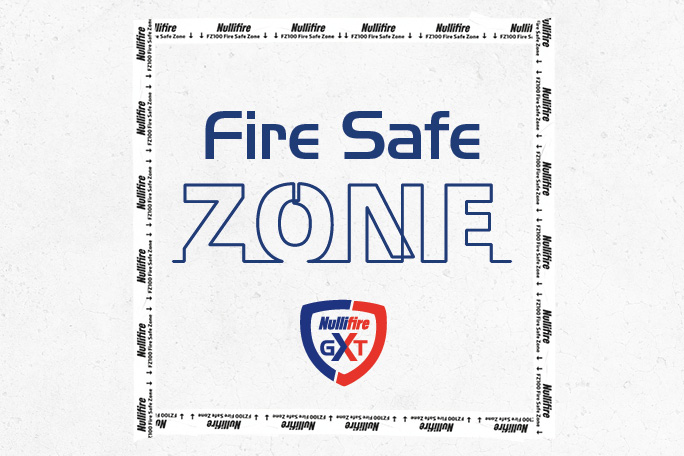 FZ100 identification tape pinpoints the Fire Safe Zone, and within that perimeter, service requirements are marked out and installed with ease.
For a fully optimised system from a single source, a cold smoke seal – which is required on both sides of the parition – can be achieved using Nullifire FS702.
Paul Wright, National Sales Manager for CPG Offsite Solutions (UK) , said, "Nullifire FZ100 has been optimised to meet the specific needs of modular construction, delivering fire protection for off-site construction, which offers reassurance and peace of mind, as well as delivering time and cost benefits to projects overall."
"The system enables the simple installation of services, does not detract from the acoustic capabilities of the partition, is very low odour and being fully breathable foes not absorb mositure."
"Its high technology formulation is fibre free too, enabling it to be used in clean areas such as hospitals and food preparation areas."
Part of the Construction products Group (CPG UK) portfolio of brands, and previously available in the UK under the Firetherm name, Nullifire products are used extensively across built environments, with the benefit of highly knowledgable technical support and service, to ensure the ultimate peace of mind in the specification process.
Paul Wright added, "FZ100 is backed up with the support of Nullifire's renowed technical department, who understand the building regulations for off-site construction and work closely with designers, main contractors and contractors to ensure safety and performance comes as standard."
"There is assurance and support across the supply chain too. Due to in-house manufacturing all products from Nullifire undergo careful quaility management, are subject to rigourous testing methods and are developed in line with the markets requirements."
"Our focus is to protect people and buildings from fire"
Nullifire understands the need to have confidence in the fire protection installed in modern buildings and our systems perform when they are called upon. We focus on making it simple for our customers to choose and install the optimum solution for every project."
Everything is focused on providing what our customers need at every stage of their project – smart protection.
Contact Nullfire today for more information.
Building, Design & Construction Magazine | The Choice of Industry Professionals