The NFRC UK Roofing Awards 2023, held on 12th May, celebrated the very best of roofing in the UK. From projects to individuals, the roofing industry shone a spotlight on stellar examples of work.
The Industry Choice Award, which sees members vote on the entry they feel showcases the best example of roofing work in action, was this year awarded to Fulwood Roofing Services (northern) Limited, for the re-roofing of Stockport School, Greater Manchester. The project was completed using a complete BMI Redland SpecMaster service and a BMI Redland Rosemary Clay Classic system, demonstrating workmanship excellence in action. 
The project is a shining example of how expert roofing contractors, in conjunction with technical support and top-quality products, can overcome site challenges. Stockport School came with its fair share of hurdles. The site is comprised of 24 individual roofs, totalling over 4,000 square metres and spanned 12 months. Add in the COVID-19 pandemic, uneven roofing underlay caused by century-old wooden timbers, a live school site and the need to protect against UV degradation – Fulwood Roofing turned to BMI Redland and SpecMaster to ensure all bases were covered on a project of this scope.
With a bespoke roof specification in hand due to the BMI Redland SpecMaster service, Fulwood Roofing Services (northern) rose to the challenges and overcame them with ingenuity. Over 240,000 Redland Rosemary Classic clay tiles were needed for the roofs – however, as clay is a natural material, variances of up to 5mm can occur when dried in the kiln. While this natural variation normally contributes to the character of a traditional clay roof, on a roof of this size these variances can add up if not managed on site. Fulwood Roofing came up with a creative solution to this. Taking a mean average measurement of ten tiles, every set of ten tiles laid were checked against a perpendicular line, helping prevent any gaps or unevenness.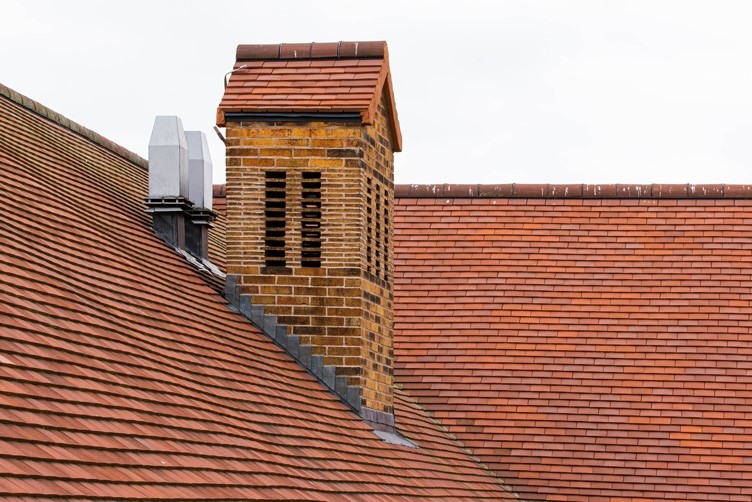 The old wooden timbers of the roof were also tackled with smart thinking. The new underlay has been laid in such a way that externally it looks level, but underneath it conforms to the uneven timbers. This was vital as it avoided extensive remodelling of the roof, and the existing timbers could continue to stand. s the underlay was worked in small sections that could be tiled over almost immediately any UV degradation could be avoided,
The live school site was anticipated to be tricky, however, the COVID-19 pandemic worked in favour here, as it meant students were off-site more, allowing project flexibility. When the school was fully open and active, a detailed schedule of work was supplied to the school ahead of time, allowing them to move students around the building with minimal disruption.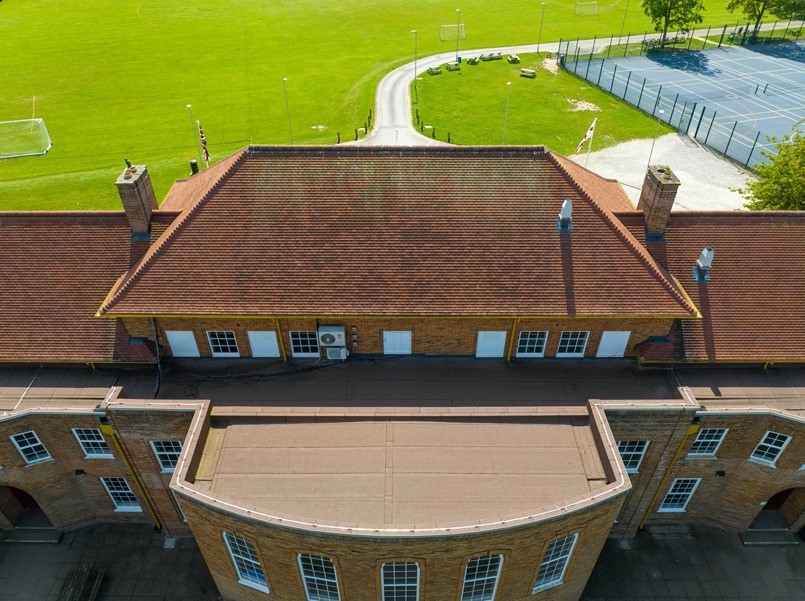 Stephen Bithell, Roofing Contractor at Fulwood Roofing Services (northern) Limited, commented: "Everything was first class from a product point of view. You can't get quality work done without quality products, and luckily for us, we had a great team on site, as well as great products. Working during the COVID-19 pandemic and the supply chain issues that came with that, BMI Redland really kept the project going. The product and the finished aesthetics are really great."
Fraser Biles, Sales Director, at BMI Redland, congratulated Fulwood Roofing Services (northern) Limited on the win: "It's fantastic to see the Stockport School project awarded the NFRC 2023 Industry Choice Award. Fulwood Roofing delivered an exceptional project with great skill and care and as a result received over 20% of the votes out of all the shortlisted projects.
"Our Redland team were pleased to be able to provide support on the project using our SpecMaster service, which provides a 15-year whole roof guarantee, and allowed us to deliver a technical specification designed specifically for the project, and the Redland Rosemary Clay Classic tile in the Russet Mix finish was a fantastic choice for the school. Not only does it fit with the conservation area, but it also helps retain the school's aesthetic character without compromising on roofing protection."
BMI products also featured in the NFRC award wins for Reinforced Bitumen Membranes and Bituminous Hot Applied Liquid Waterproofing categories – respectively Progressive Systems Ltd for Launceston College using the Icopal Thermaweld Firesmart System and MAC Roofing & Contracting Ltd for Heatherwood Hospital using an Icopal Parabit Solo Hot Melt System – recognising the roofing contractors in delivering this outstanding work.
The full list of NFRC UK Roofing Awards 2023 winners can be found here: https://www.nfrc.co.uk/uk-roofing-awards/winners/2023-winners
For more information about BMI Redland, please visit: https://www.bmigroup.com/uk/redland-pitched/
Building, Design & Construction Magazine | The Choice of Industry Professionals