Rural housing specialist, Hastoe Housing, together with development partners, Dorset Council and C G Fry & Son Ltd, marked Rural Housing Week (3-7 July) with a celebration of their latest development of 8 affordable homes in the historic centre of Bridport, Dorset.
Martin Cox, owner of West Dorset Leisure Holidays, previously owned the land on which the homes are built along with his sister and cousin. Having grown up on Rope Walks with a strong memory of the community that once lived there, Martin and his family were keen to support the opportunity to bring more local people back into the centre of the market town.
The 8, two and three-bedroom houses, were built on the site of a former coal yard. This influenced the design, which is a traditional style of architecture found locally, taking into account correct scale and proportioning with appropriate detailing.
Hastoe Housing and C G Fry & Son Ltd both have a long-standing reputation for building high-quality homes, respecting not just local building style and traditions but environmental standards. The homes, completed in March 2023, incorporate many features of Hastoe's New-Build Standard, ensuring the homes are highly energy-efficient and exceptionally well insulated in order to help reduce fuel bills for residents.
Martin Cox, co-landowner, said: "My sister, cousin and I are all very proud to be involved in this project. Our family lived just across the road from here until I was 14 years old. The family coal business was on this land and we were very much part of the community that existed in the centre of town.
"It's extremely rewarding to see the old coal yard now being used for residential purposes. I'm sure that my father and uncle who worked for over 50 years in their coal business, and passed away a few years ago, are looking down and very pleased to see this development.
"It also highlights what can be done to help overcome the current shortage of social and affordable housing, if land is made available and given the appropriate consents.
"I hope the eight families who live in The Old Coal Yard will enjoy their new homes, the central location, and of course being part of the community in the town centre."
Cllr Graham Carr-Jones, Lead Member for Housing at Dorset Council, said: "Housing delivery is a priority for Dorset Council. Our aim is that everyone in Dorset should have somewhere affordable to settle, live and call home.
"Bridport is one of the areas in Dorset with the highest demand for affordable homes. There were over 70 bids for each of the rented properties and over 400 households have Bridport listed as one of their preferred areas to live. In total there are over 4,800 households on the housing register.
"These new homes make a valuable contribution towards that goal and, I know, will make an invaluable difference to those residents who live in them. It is fitting that we celebrate the completion of these homes in Bridport's historic market town during Rural Housing Week."
Philip Fry, Managing Director of C G Fry and Son Ltd, said: "CG Fry are a long-established local contractor and developer based just 7 miles from Bridport. We very much see it as our home time, so to be able to work with Martin Cox, his family and Hastoe to deliver much needed affordable housing on this brownfield site in the centre of Bridport was really rewarding.
"Bridport has some wonderful architecture, and we wanted these houses to feel like they belonged to the town and hopefully our design and construction team have achieved this. It is good to show that good quality design does not need to be complicated.
"It is important that all forms of new housing are built across the town to keep it such a vibrant place."
Lindy Morgan, Chair of Hastoe's Board, said: "Hastoe has a long track record of partnering with local authorities, local communities and local contractors to build beautiful homes that fit with the local environment and historic vernacular. I think Martin Cox has vouched for the fact these homes are representative of those that used to be there."
"We are really pleased we have been able to provide residents with gardens – not an easy task in a town centre location – and ensured these homes are future proofed in terms of their environmental impact and cost to the occupier. By concentrating on the fabric of the building to reduce energy consumption, the homes are low in carbon emissions and energy cost."
Mandy Knott, one of Hastoe's new residents living in the development at The Old Coal Yard, said: "They're amazing. The houses are just amazing. Until recently, my whole family used to live in one room in an old flat. Now we have plenty of room and light and my grandchildren can play in the garden. We love our new home, thank you."
A Homes England spokesperson said: "Despite the current challenges affecting the country, accelerating housebuilding remains our number one priority. We are committed to supporting Hastoe Housing Association that has ambitions to build new homes, and our investment through an affordable housing grant allows us to do that. We're delighted that this funding will enable Hastoe Housing Association to deliver much needed new homes in Bridport, Dorset."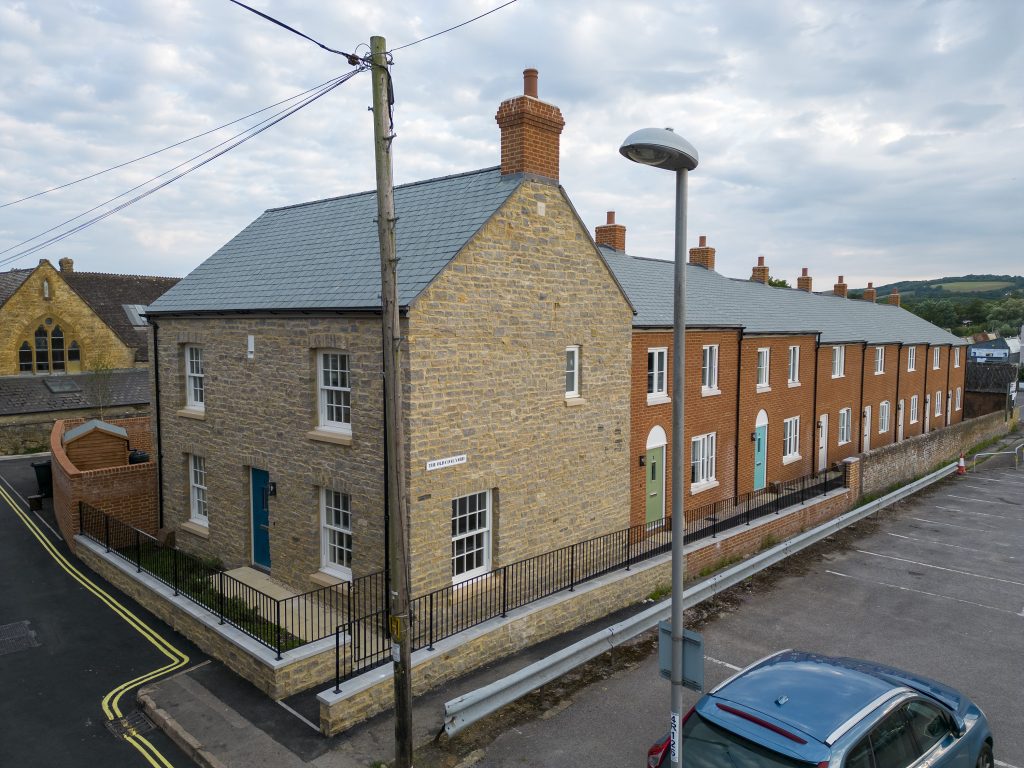 Building, Design & Construction Magazine | The Choice of Industry Professionals