The Whitehill & Bordon Regeneration Company (WBRC) and Taylor Wimpey have completed work on a charitable house renovation after a biking accident left a member of the community paralysed from the armpits down.
In 2021, Greg McKenna of Godalming, Surrey, was injured in a life-changing cycling accident which left him needing the permanent use of a wheelchair and dependent on carer assistance.
Following the accident, Greg was unable to lead an independent life, exacerbated by restrictions created by his home which was unsuitable for a wheelchair.
Through his friends and family, Greg was put in contact with Taylor Wimpey and the Whitehill & Bordon Regeneration Company who, with the assistance of numerous local tradespeople and contractors, embarked on a major project to modify the home.
The full scope of works include a major ground-floor extension to provide step-free access through the home; a fully accessible bedroom including a hoist to enable Greg to more easily move between his chair and bed; a fully accessible kitchen; a full bathroom refit so that Greg can wash and shower with assistance; electric doors throughout the home; and the creation of a therapy room to aid with physiotherapy sessions at home.
The upstairs has also been spruced up to create space for Greg's live-in carers.
While WBRC and Taylor Wimpey have led on the project, it has only been possible thanks to the generosity and efforts of a large number of local contractors, most of whom have worked for free or at a significantly reduced price.
From Reconomy's work to ensure that 96% of all waste products created by the project avoided landfill, to GW & E Wright Electrical's herculean effort with ensuring that the home is fully accessible and all of the incredible technology that facilitates Greg's independence works correctly, the home is a result of true collaboration between some of the area's very best craft and tradespeople.
The contractors involved in the project are:
Blaze Construction
Reconomy
KFH Roofing
JLO Carpentry
BDL Drylining
VELUX Windows
GW & E Wright Electrical
HPS Plumbing
Furniture Helpline Bordon
MD Brickworks and Scaffolding
KL Scaffolding
ST Contracting
RDBS Robert Dales Building Services
Mantech Sealants
FSL Developments
Millbrook Healthcare
Steadfast Automation
Peach Joinery
Hencroft
Automatic Access
Cozens Smith
Stankovic Engineering
Brian Eldridge
Greg McKenna, says:
"I'm delighted with the result of this project and immensely grateful to all of those who have helped along the way. After what has been, to say the least, an incredibly challenging couple of years, to have a home in which I can live as independently as possible is a huge step forward for me.
Simple things like being able to wash, cook, and leave the house by myself and of my own accord are more important than a lot of people will understand. The most frequent word I've heard to describe the product we've ended up with is 'envy' and this wouldn't have been possible without the input from WBRC, the contractors and my parents. From the bottom of my heart, thank you!"
James Child, Project Lead at The Whitehill & Bordon Regeneration Company, says:
"This has been an important project for us and we're delighted that after an often complicated process, Greg finally has a home that brings proper independence and autonomy back to his daily life.
All of us here at WBRC wish Greg the very best and sincerely hope that the home is everything he wants and needs it to be. We will always be on hand to assist should any issues crop up with the refurb, but we're most excited to see how Greg continues to settle into and tinker with the property to truly make it his own."
Paul Broderick, Blaze Construction, says:
"We're delighted to have been able to play our own small part in a project that has been a genuinely remarkable display of teamwork and community compassion. If, between us all, we have been able to provide Greg with a home that enables the independent life he deserves, we couldn't be more thrilled. Here's to many years of enjoyment in the property for a man whose life was drastically changed in an instant."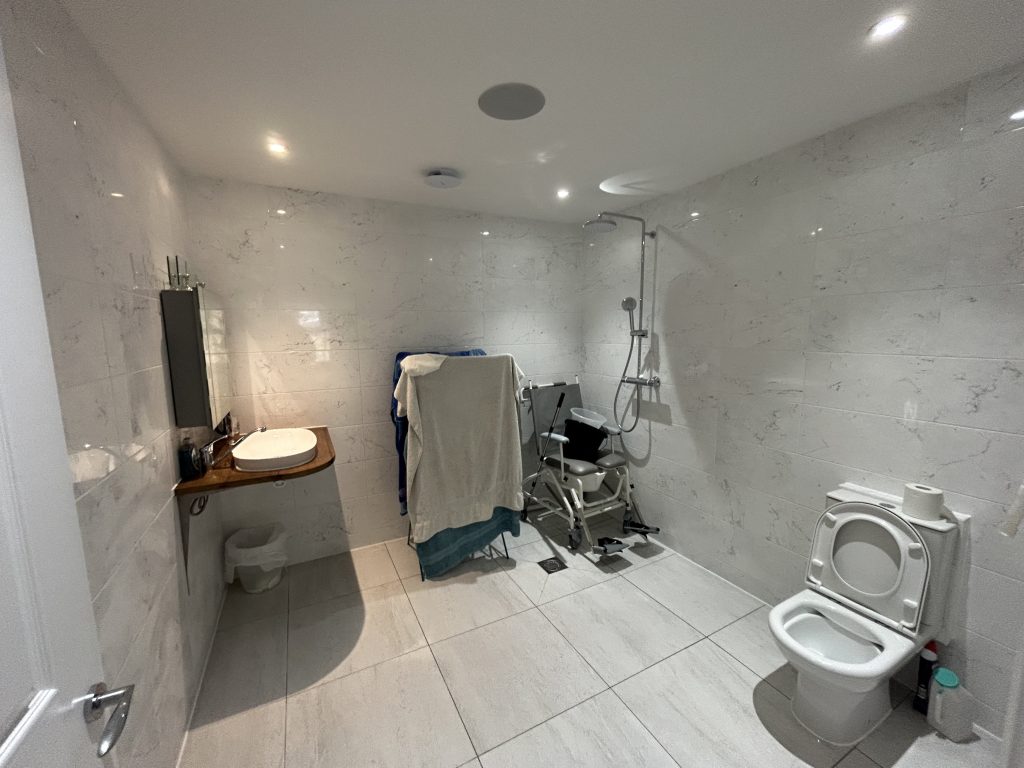 Building, Design & Construction Magazine | The Choice of Industry Professionals