A bricklayer with more than 30 years' experience has had the chance to take a closer look at his energy-saving new house at Bellway's Gateford Quarter development in Worksop before building work has finished.
Paul Phillips, 54, has had a hand in building hundreds of houses in Nottinghamshire and Leicestershire during his long career in construction, and recently had the opportunity to inspect someone else's work when he was invited to a 'pre-plaster' visit as part of the Bellway homebuying process.
It was a chance to walk around the new house before it is finished and take a look at all the elements that make it function, such as the electric, gas and water services and the internal structure, before the rooms are completed and plastered.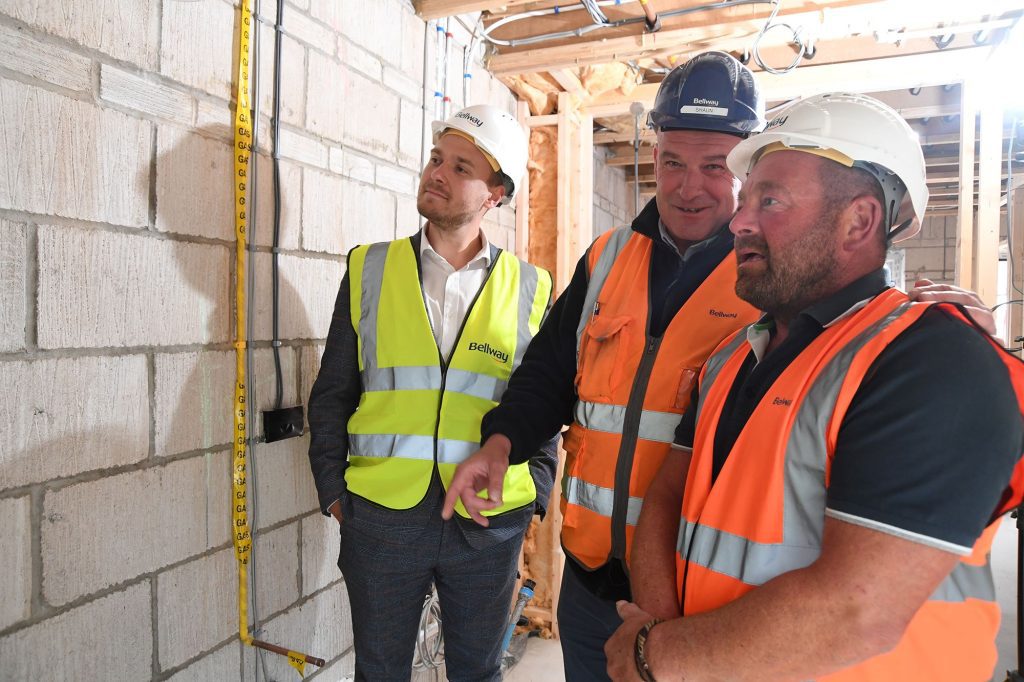 And Paul, who has bought the property and will be moving in with his wife Debbie, 52, and son Harland, 21, was very pleased with what he saw.
Paul was shown around the house by Site Manager Shaun Keown and Sales Manager Adam Champion.
Shaun explained the details about how the house was constructed during the walk-through with Paul.
"I thought the site manager was fantastic," said Paul.  "He was very informative, and I have to say he has built me an exceptional property. I'm chuffed to bits with it, and I'm not green at this, I know what I'm looking for and I know a good property from a bad property.
"A lot of housebuilders don't let you in before your home has been plastered. This is a novel idea to get your customers to know what their new house is all about.
"I know Bellway because I'm a bricklayer and I have worked for them in the past, and I know they build a good property."
The house Paul has bought is a two-bedroom semi-detached Joiner, which features an open-plan kitchen/dining room with French doors leading out into the garden and a front-facing living room.
Paul and Debbie are downsizing, having sold their four-bedroom detached house just a mile away from their new home – a move that will leave them mortgage free.
They sold their old house for £250,000 and bought their new-build Bellway one for £194,950. That means that once they have used the difference to pay off the remaining £47,000 on their old place, they will have money left to pay for legal fees and to start landscaping the garden – and no mortgage to pay each month.
"It's great," said Paul. "It will be a good feeling; in fact, I've got that feeling now. It's not just the mortgage either, but other things such as the mortgage protection insurance. Overall, it's a saving of around £600 a month."
And the couple are looking forward to enjoying the benefits of a smaller and more modern house in terms of energy efficiency and lower fuel bills. They also love the layout of the Joiner house style.
Paul said: "They have maximised every inch. I love how the stairs come into the living room. It's nice and cosy and that's what my wife and I want – a nice cosy house in a lovely area.
"We are used to having a four-bedroom property, but we will get used to having two bedrooms and at certain times in life you've got to make decisions for the future.
There's currently a choice of two, three and four-bedroom houses available to reserve at Gateford Quarter, with prices starting from £194,950.
To find out more, visit https://www.bellway.co.uk/new-homes/east-midlands/gateford-quarter or call the sales team on 01909 238173.
Building, Design & Construction Magazine | The Choice of Industry Professionals