A worker from the construction industry has continued a remarkable transformation journey this month, being named runner-up at the 2 BROS PRO Amplified Classic bodybuilding competition.
Mitchell Clarke, Mobile Mini Key Account Manager, has worked for the company for nearly 4 years, initially joining as an Internal Sales Representative and being promoted to Strategic Account Representative. He has been interested in health since he was 16 years old but admits he didn't take the dieting side of bodybuilding seriously until around 2 years ago.
"I didn't know how to structure things properly until I hired my coaches, Sam and Jack from Tathams Powerhouse Gym and Fitness in Stapleford," said Mitchell. "Last year, Sam won a bodybuilding show and afterwards, he said he thought I had the potential to do so too if I was dedicated enough. That was all the motivation I needed to take the next step."
Mitchell followed a gruelling regime including 18 weeks of competition preparation, slowly dieting down and increasing the intensity of his cardio and weight training to at least five days per week, on top of squeezing in at least 10-15k of steps per day. "It is an exhausting challenge, especially the last 3-4 weeks when energy is low. I am so grateful for the support from everybody at work, they have never been anything but supportive and encouraging. It is so important if you have a passion or hobby, to not let this impact your working commitments, as this is a personal lifestyle choice.
"Whilst I am always conscious of managing my calendar with my food and water intake, this never affects my ability to give my all to customers or colleagues. The team from Mobile Mini West Yorkshire (Wakefield) have always been accommodating, showing interest in my progress and putting up with me cooking salmon in the office! They are really mindful and flexible and it would not be possible for me to achieve these ambitions without their support and understanding."
Mobile Mini UK is one of the leading worldwide providers of portable accommodation and secure storage containers. Headquartered in Stockton-on-Tees, the company has a national network of 16 sites and over 40,000 portable units. Typical customers include construction companies, retailers, manufacturers, hospitals, schools, utility companies, distributors, local and national government, hotels, restaurants, entertainment complexes and individual households.
Steve Dickinson, Mobile Mini UK Managing Director, said "Mobile Mini UK considers its people to be its number one asset and we are incredibly proud of the achievements of our employees both at work and in their personal lives. Mitchell has shown the same level of dedication, graft and commitment in his bodybuilding as he does regularly for our customers and we could not be prouder of the fantastic example he is setting to achieve dreams and promote health, fitness and wellbeing."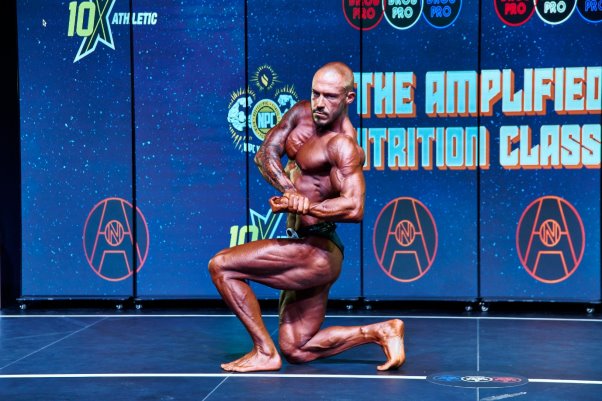 The 2 BROS PRO Amplified Classic competition was held at Braywick Leisure Centre in Maidenhead in July 2023. Mitchell achieved second place in the first-timers division but is keen to keep progressing and strive to become a champion, "I was a little disappointed not to have won after all the hard work and effort, but on reflection, I am proud of how far I have come and I have the confidence and drive now for the next show and to go on and win."
For now, Mitchell will be continuing to build on his successful career in construction as well as other aspects of his life, "It takes a long time to build muscle, so might be a little while before I am ready to enter the next competition at the level I want to reach. In the meantime, I am hoping to buy a house soon and I am enjoying making good progress at work. I have a really good work-life balance at Mobile Mini and I am excited about what's to come, both at the company and on my bodybuilding journey."