As the construction industry is responsible for 25% of the UK's greenhouse gas emissions, national practice GSSArchitecture is continually striving to help reduce these statistics and as part of a wider sustainability strategy, have appointed an in-house SKA Assessor.
Eleanor Lee has been appointed as the SKA assessor for the Practice, having successfully completed her SKA training and assessment modules earlier this month.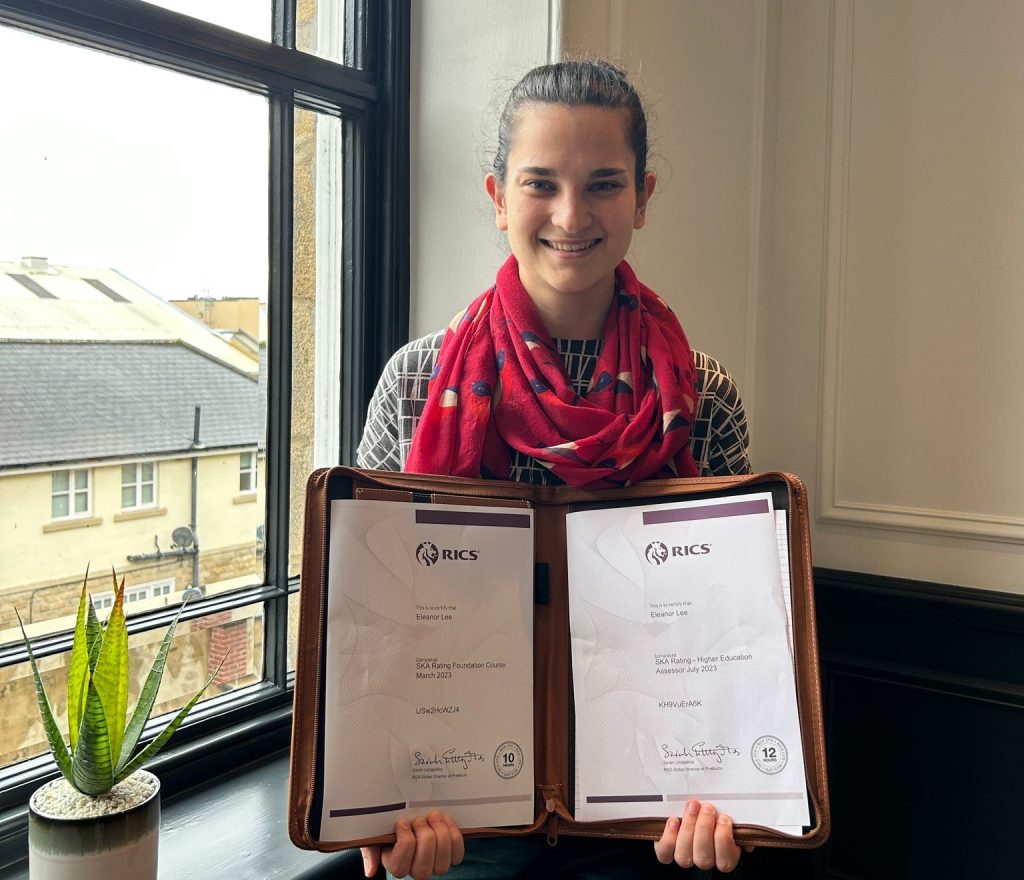 SKA assessments are a sustainable initiative focused on the refurbishment and remodelling of existing buildings, which is a crucial part of the sustainability strategy that GSS promote with their clients. The assessments themselves help building owners, landlords and tenants assess remodelling and refurbishment projects against a series of sustainability best practice criteria. As an organisation, GSS is committed to promoting the efficiencies and sustainable outcomes that can be achieved by reusing or repurposing existing built assets. The practice would like to see an increase the current 11% of UK construction spending on fitouts and refurbishments, rather than building new.
GSS are involved in numerous fit-out and refurbishment projects across the country, and, because of the appointment of an in-house SKA Assessor, they can enhance their client offer by supporting sustainable assessments whilst also delivering effective designs.
The SKA assessment has a strong focus on realistic steps to improve environmental impact, as well as health and wellbeing measures, and is a Royal Institute of Chartered Surveyors initiative. Eleanor has already led the client and design team at Durham University through two schemes, successfully achieving a bronze and silver certification respectively.
Jonathan Hunter, Partner at GSS, said, "We are proud to have Eleanor as part of our team and our clients are already benefitting from the skills she has gained from the SKA Assessment training. At GSS, we are proud to encourage and empower the next generation of designers to lead a more sustainable future and we are looking forward to seeing where else we can drive improvements in the sustainability of the construction industry."
Eleanor Lee said,"When 80% of buildings which will be occupied in 2050 already exist, it's becoming increasingly important that we review and improve existing buildings. Having interacted with the SKA Assessment from the designer's perspective, it's inspiring to see an assessment methodology encourage realistic steps towards sustainability, in a way that works with designers, clients, and contractors alike. I'm really pleased to have had this opportunity and I'm excited to take this forward in future projects."
To find out more about GSSArchitecture, and their research and stance on sustainability and net zero, or to view their extensive range of projects in a variety of projects across the UK, please visit www.gssarchitecture.com
Building, Design & Construction Magazine | The Choice of Industry Professionals