SUNDERLAND'S distinctive new car park has won a national award in recognition of its excellence.
Sunderland City Council's new Riverside Sunderland Multi Storey Car Park, which provides 657 new spaces at Farringdon Row, was named Best New Car Park Award at the British Parking Awards, an independent competition created and presented by Parking Review magazine to recognise the leading examples of car park management, enforcement, design and teamwork.
The MSCP – which was designed by the architectural firms Ryder Architecture and Tonkin Liu, and constructed by Sir Robert McAlpine – beat off strong bids from provision across the country and was recognised alongside facilities in Chester and Stevenage to scoop the urban car park title, the latest in a string of awards for Riverside Sunderland developments.
Councillor Kevin Johnston, dynamic city cabinet member, said: "This is yet another award for Riverside Sunderland, which we know is world-class development that is transforming the cityscape with developments that will create jobs and opportunities for our residents.
"We are proud to be leading on developments that are of a standard and quality that leads to national recognition. It is what the city and our communities demand of us and deserve."
The new facility opened earlier this summer and is split over 11 levels. It features a striking design that is illuminated on an evening, with two living walls constructed with over 50,000 plants some of which are native to Britain and were carefully selected for their ability to thrive in the local climate. The walls are located on the north and south sides of the car park, the impressive structure spans a staggering 200,000 sq ft and will provide a stunning new gateway to Riverside Sunderland.
The quality of the design fits with the ambition of Sunderland City Council to deliver exceptional buildings that raise the bar of the built environment.
The car park is one of a number of new buildings emerging at Riverside Sunderland and is part of a plan to boost the number of people living and working in the heart of the city.  The ambition is to double the resident population of the city centre from 2,500 to 5,000 and increase employment by 50% to 18,000.  For the latest developments from Riverside Sunderland, visit www.riversidesunderland.com.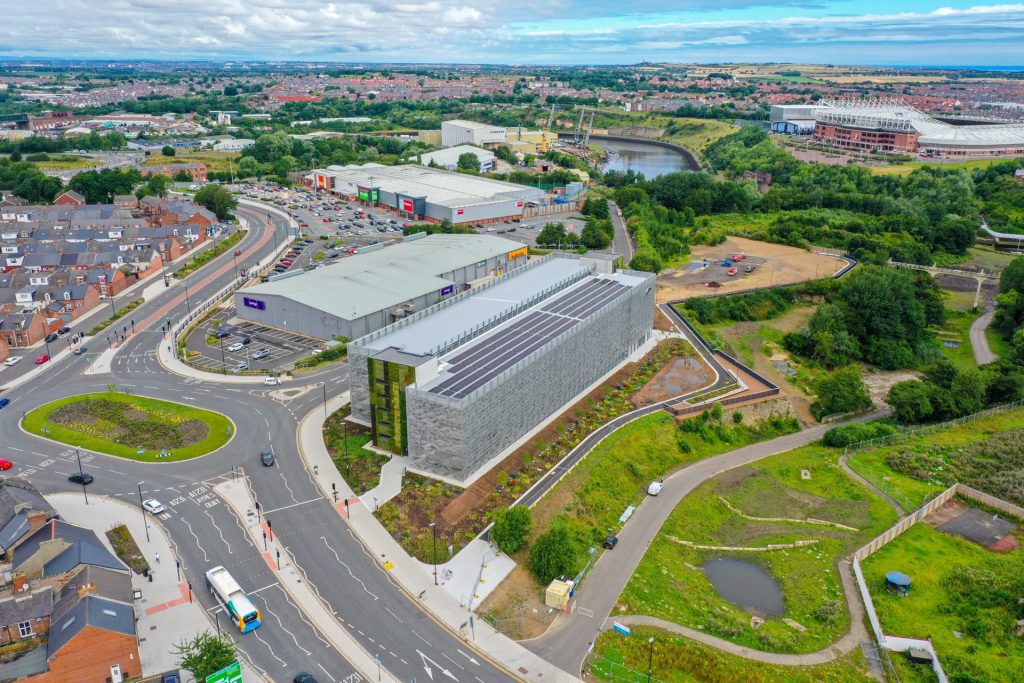 Building, Design & Construction Magazine | The Choice of Industry Professionals