A pioneering cleantech company is set to unveil its prototype flatpack home built using sustainable and advanced materials after undergoing testing at a ground-breaking research facility in Greater Manchester.
Vector Homes is working with Energy House 2.0, part of the University of Salford, to develop its new rapid-build housing system.
The prototype is a low-carbon, one-bedroom bungalow measuring 40sq metres which has been constructed using recycled materials, including steel and plastics, as well as advanced materials such as graphene.
Vector is designing affordable, energy efficient homes with features including low-embodied carbon materials, infra-red heating, solar cells, breathable mould-resistant plaster and render, as well as embedded technology to provide smart environmental controls that efficiently measure and control the temperature, humidity and air quality in each room.
Its homes are designed for rapid production and assembly. Vector is looking to mass manufacture homes in a range of shapes and sizes which are sold as flatpacks to be built by a small team of people.
By incorporating graphene into the structures, the panels used in the construction of a Vector home have improved tensile strength, a greatly-reduced flame spread and increased UV resistance. Vector has worked with the University of Manchester's Graphene Engineering Innovation Centre to develop ways of incorporating the material into its housing systems.
Vector is using the unique features of Energy House 2.0 to test the prototype's thermal properties and its efficiency in different climates.
Energy House 2.0 can recreate temperatures from -20C to 40C, representing 95 per cent the inhabited earth, as well as recreating snow, wind, rain and solar energy to put the Vector home through its paces.
Launched earlier this year, the £16m Energy House 2.0, at the heart of the University of Salford's Peel Park Campus, is globally unique and is helping to drive innovation in the housing sector already, through work with housebuilders Barratt and Bellway, and manufacturer Saint-Gobain.
Vector, which is led by chief executive Nathan Feddy and chief technical officer Dr Liam Britnell, has so far received backing from SFC Capital, GC Angels, the Greater Manchester Investment Fund which is the investment arm of the Greater Manchester Combined Authority, Innovate UK, the European Regional Development Fund and social housing investment firm HSPG.
Liam said: "Our mission is to cut carbon and costs in construction and our homes are designed to have 80 per cent fewer carbon emissions in the building process compared to a standard brick house.
"They are also designed to be dismantled rather than demolished at the end of life, with the components finding a second or even third life elsewhere.
From the microstructure to the superstructure of a Vector home, everything links back to efficiency and sustainability. Our homes will be super standardised to ensure the rapid production of components and assembly.
"The opportunity to work with Energy House 2.0 has been a dream come true. It's a one-of-a-kind facility which enables testing for new types of construction methods.
"The Energy House 2.0 team have been incredible to work with, and in a few months' time our housing system will have more empirical data than any other in the world. This will enable us to continue our iteration cycles to take Vector to the next level."
The Vector Homes prototype will be officially unveiled at an open day and housewarming event on Thursday, September 21, which is being hosted in conjunction with specialist finance firm Together, for housing associations, local authorities, private developers, housebuilders and investors.
As well as showcasing the Vector Homes prototype, other digital technologies such as AI-assisted site planning, smart home and digital tools and other new materials will be exhibited.
Also exhibiting will be F&T Terrix, Ambion Heating and HAHN Plastics, which have provided mould-resistant plaster and render, infra-red heating and outdoor furniture made from recycled plastic respectively for the prototype.
Prof Will Swan, director of Energy House Labs, said: "This type of project is exactly what our unique Energy House 2.0 facility was built for. Vector Homes is an ambitious, innovative north west company and if we can help them to develop a new product which can provide cheap, safe and, most importantly, warm housing, then there will be huge benefits."
Elliot Vure, director of corporate sales at Together, said: "We've been incredibly impressed with Vector's vision to provide quality, sustainable and affordable housing, made from innovative materials.
"The prototype building that Vector has produced is a fantastic example of researchers and the private sector working in partnership, and we believe that Vector's low-carbon, rapid-build homes can go some way to providing a solution to some of the UK's future housing challenges."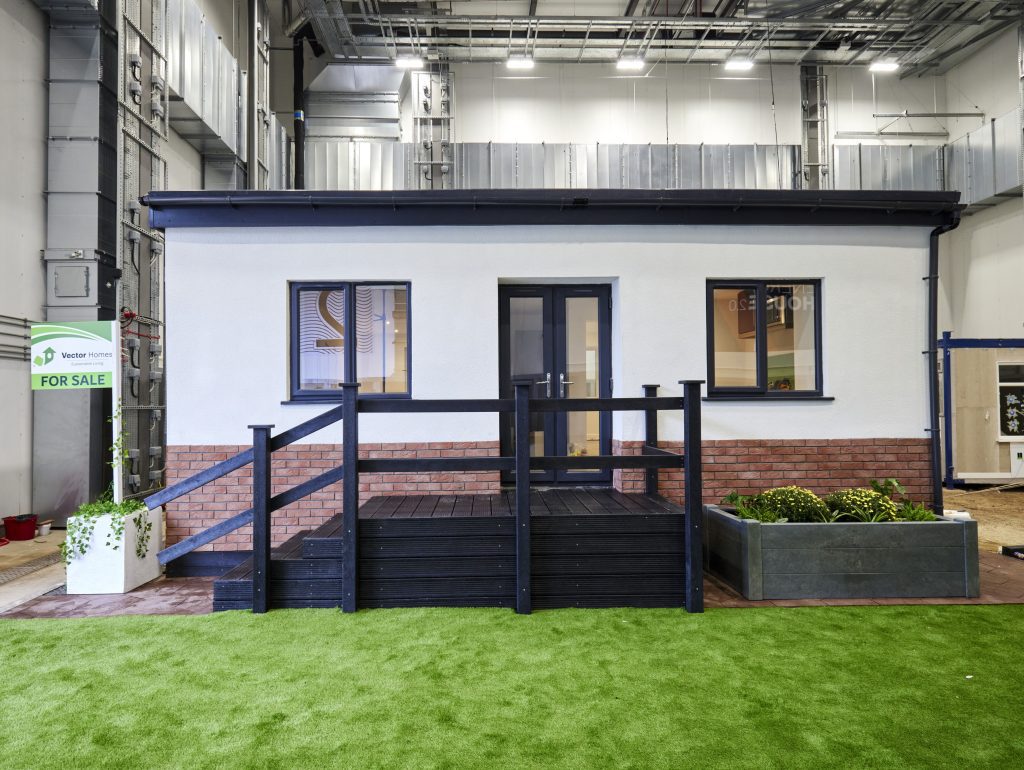 Building, Design & Construction Magazine | The Choice of Industry Professionals