A brand new 'Academy' based at the Bradford College Trinity Green Campus has launched in partnership with Sheffield-based architects, Bond Bryan.
The Bond Bryan Academy will see the company's team of highly skilled professionals serve as guest lecturers, adding vital industry knowledge and perspective to Bradford College students' learning. 

Bond Bryan will also undertake workshops, site visits, and mentorship programmes for students across various courses in the College's Construction & Engineering Department, immersing them in the day-to-day operations of a successful architecture firm.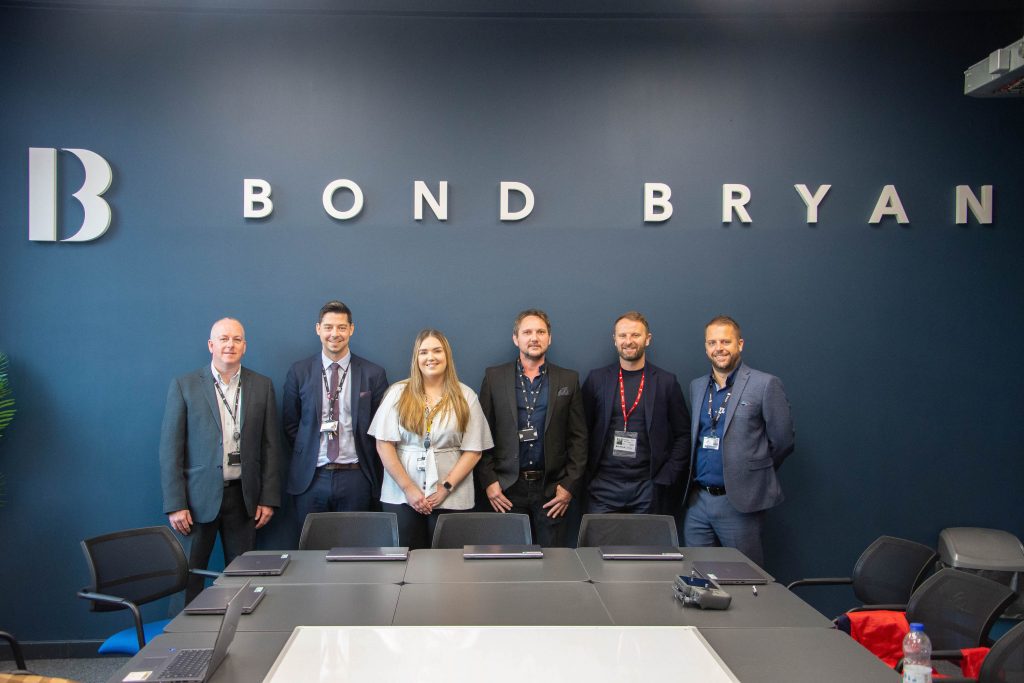 As part of the partnership, a specially designed Bond Bryan base room has been designed and built in the heart of Trinity Green Campus. As well as serving as a purpose-built classroom to support Design, Surveying, & Planning for Construction T Level students, architects will use the facility to oversee new estate projects on site.
Bond Bryan has in-depth knowledge of the education sector and curriculum requirements at Bradford College. The team has collaborated on various successful projects to date, including the design and construction of both the College's David Hockney Building and Advanced Technology Centre.
Speaking at the launch event, Bond Bryan CEO Matt Hutton said: "Our ethos is 'more than design' which, for us, is about doing something with our clients and communities beyond just the boundary of the projects we're working on.

"This partnership with Bradford College] is a perfect example of how to reach students and create pathways for them into vocational courses, hopefully within this brilliant industry. It's all about trying to show them that there are opportunities out there beyond what they've even considered.
"We have success stories in the office of people that we've worked with before at colleges who are now doing really good things for us. We genuinely want to give something back and as an organisation; I want to ensure we are doing things which will make a difference, rather than just box ticking."
The launch event saw Matt Hutton visit Bradford College to deliver an insightful talk to staff and students about his route into architecture and how students will benefit from the partnership going forward.
Stephen Smith, Bradford College Head of Department for Construction & Engineering, said: "We're thrilled with the exciting new partnership with Bond Bryan. This collaboration will provide valuable opportunities for students to gain real-world experience and insight into the architecture and construction industries.
"Bradford College students will develop the practical skills and network needed to excel in their future careers. We are confident this relationship, with such a respected industry leader, will greatly enrich our T Level in Design, Surveying & Planning for Construction. Our students are eager to learn from Bond Bryan's experts and we look forward to seeing the fruits of this effort. We are also proud to deepen our commitment to preparing work-ready graduates through partnerships with respected companies like Bond Bryan."
Asa Gordon, Curriculum Vice Principal, added: "Partnerships with employers like Bond Bryan are fundamental to the College delivering our mission of working together to transform lives. Giving our students the opportunity to meet with Matt and understand the career opportunities available to them following studying with the College, is essential for meeting future skills needs.
"Bradford College students will benefit from the expertise of a number of industry experts, as well as gaining access to work experience through this partnership, supporting them in their journey as the future workforce needed in the Construction industry."
Bradford College offers an extensive range of courses in Construction and Engineering for school leavers right through to degree-level and advanced professionals.

Find out more about the T Level in Design, Surveying, & Planning for Construction (enhanced by the Bond Bryan partnership) by attending the next Bradford College open day on 11th November, 10am – 3pm:
Building, Design & Construction Magazine | The Choice of Industry Professionals