Construction spending is still down a third on last year.
Education applications are on the up in spite of the poor performance of the Government's school rebuilding programme.
Healthcare tops approvals with New Hospital Programme making headway.
Residential sees green marker as approvals show signs of increased stability going forward.
The final quarter of 2023 got off to a lacklustre start in terms of construction spending on new contract awards. Down by just over a third on last year, awards totalled £5.3bn in October as all but the education and hotel, leisure and sport sectors failed to match 2022 levels according to the latest analysis from Barbour ABI.
Commercial and retail awards were a meagre £391m, a 75% drop compared with October 2022, and residential and infrastructure awards were down by 27% and 34% respectively.
"2024 is shaping up to be a very challenging year for the construction sector," said Barbour ABI Consulting Economist Kelly Forest. "New contract awards through to October have trailed 2022 levels by 14% in cash terms, meaning there will be less activity on the ground next year. Infrastructure and hotels, leisure and sport suffered have the steepest losses in 2023 so far, both down by around 30% compared with 2022."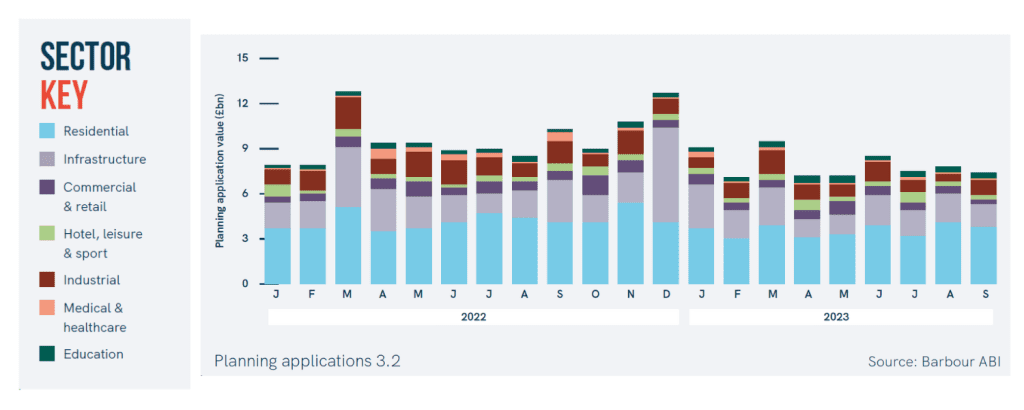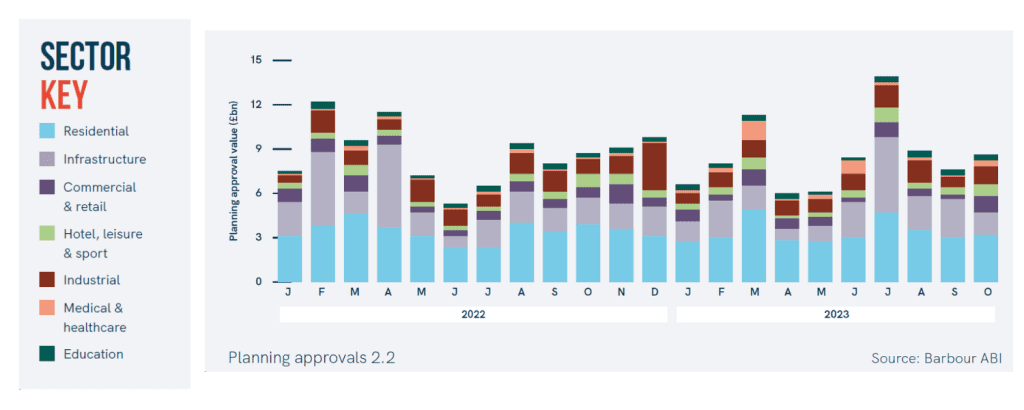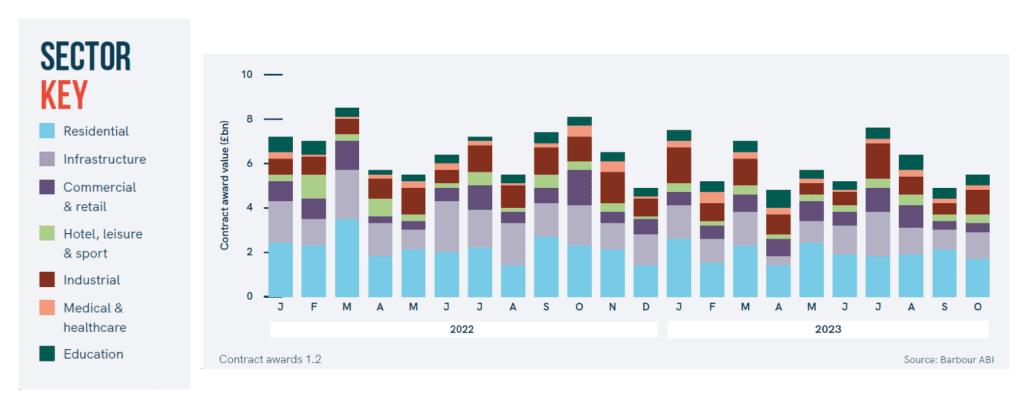 Education tops new applications
New planning applications in September were relatively subdued at £7.4 billion, marking a 5% decline from August and a 28% decrease from the previous year. Yet, the education sector defied this trend, witnessing a 69% increase in applications from 2022 and a 12% rise from August, driven by new school constructions and significant refurbishments.
Forest explained that "smaller interventions to address RAAC issues and backlog maintenance are still important but bigger projects are having the largest impact.
"Meanwhile, out of the eleven £10m plus applications submitted in September, only a couple are being funded via the School Rebuilding Programme which suggests this programme is still making slow progress against the DfE's plan."
The School Rebuilding Programme is a decade-long Government initiative announced in 2020 is a UK government initiative that aims to improve the quality of education by rebuilding and refurbishing up to 500 primary and secondary schools across the country, with buildings prioritised according to their condition.
"Strong construction cost inflation has plagued this programme and momentum still seems to be lacklustre even as inflationary pressures ease," Forest concluded.
Meanwhile, Residential recorded a 7% fall compared with September 2022. However, those looking for a silver lining for beleaguered housebuilders can note the pace of decline has slowed markedly.
And Healthcare tops approvals with new hospital programme
Planning approvals hit £8.6bn in October, 11% up on September and broadly on a par with October 2022. Year to date, approvals are in line with 2022 – positive news given recent headwinds and an indication of near-term stability in the pipeline.
"Notably, Healthcare is poised to be 2024's good news story as work builds on the government's delayed New Hospitals Programme. So far this year, three £150m+ hospital projects funded by this programme have secured planning approval," said Forest.
The New Hospital Programme is a UK government initiative that aims to build 40 new hospitals in England by 2030. The programme has a capital funding of £3.7 billion for this until March 2025, with more funding to be provided for the following five years.
Healthcare also bounced back from August's low in planning applications increasing 11%.
"Construction is a volatile sector and so the pertinent question is how quickly can schemes working through design development get into contract when early signs of improvement in general economic conditions begin to emerge.
"So far in 2023, planning approvals broadly match 2022, providing optimism that the worst is behind us. Increasing capacity and easing cost pressures should help delivery," concluded Forest.
Building, Design & Construction Magazine | The Choice of Industry Professionals