Timber Development UK (TDUK) has just published the first set of its huge new library of Timber Knowledge Sheets – with 50+ now available for download.
The new knowledge sheets introduce and answer common questions about every aspect of working with wood, from the difference between hardwood and softwood, through to acoustic regulations, Eurocode 5 principles, embodied carbon, and sourcing timber sustainably.
Developed with experts from Edinburgh Napier University, and TDUK's unrivalled membership network of supply, manufacture and design professionals, these 50+ knowledge sheets are the first batch of a planned 140 to help support the industry to build better with wood.
TDUK chief executive, David Hopkins says:
"Following the merger between the Timber Trade Federation and TRADA last year, we promised to connect the timber supply chain, lead best practice, and accelerate a low-carbon future.
"Our Timber Knowledge Sheets are another example of us doing exactly that – and represent a big step towards our vision of the UK as a country where timber is the number one material choice for all construction projects.
"Amidst a climate emergency, changing how we build is crucial – as it represents a major portion of our carbon footprint. The material and design choices we make today will shape the future we have tomorrow.
"Timber is an existing, proven solution to how we construct a low-carbon future, with independent studies showing that methods such as timber frame have up to 20% lower embodied carbon than traditional masonry.[1]
"Fundamentally, trees absorb carbon, and when turned into long term construction products, can store it for decades if not millennia. Most other materials you find on building sites do the exact opposite – spewing tonnes of carbon into the atmosphere.
"Taking on climate change requires collective action, so a big part of TDUK's mission is to make sure that everyone in the timber supply chain has the opportunity, the tools, and the knowledge to succeed.
"These sheets, released today, add considerable depth to our online library, which is already the largest, most comprehensive source of timber knowledge in the UK. This will support all to build better with wood."
These new Knowledge Sheets touch on all topics timber, so whether you are an architect, engineer, designer, builder, installer, contractor, or merchant, or any other member of the timber supply chain, you'll find a wealth of information packed within.
Between pages, you will find introductions to all kinds of timber components and methods of timber construction – all described in an accessible and easy to understand fashion – from Lightweight Timber Frame Construction to Modern Methods and Offsite Timber Construction.
The Knowledge Sheets also contain plenty of regulatory guidance, 'best practice' information for working on site, as well as practical introductions to working with timber in challenging contexts such as flood-prone areas.
Everything from the day-to-day (such as Loft Conversions or Timber Flooring) to the more specialised (Upgrading Doors for Fire Resistance) is covered, along with all aspects of sustainability – from Carbon Cycle and Storage through to Trees and Timber.
These Timber Knowledge Sheets follow hot on the heels of the recently published Span Tables for C16 and C24 timber, which have already proven incredibly popular.
TDUK members have access to our entire Knowledge Library, which along with these 50+ Timber Knowledge Sheets, includes briefs, case studies, research summaries and more. A further 90 Timber Knowledge Sheets are to be published imminently.
While most Timber Knowledge Sheets are members only, anyone can access and download Timber Sizes & Tolerances, Timber and Embodied Carbon, or Construction Site Timber Best Practice with a free user account (register here)
To get started on your new timber journey, simply go to www.timberdevelopment.uk, whether you are just beginning or a seasoned expert. If you work with wood, you already belong.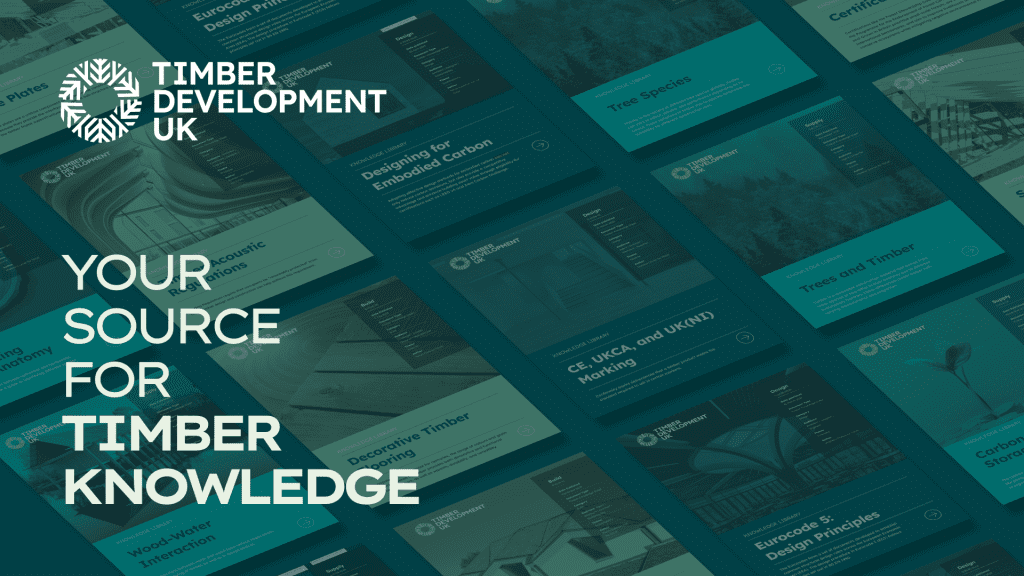 Building, Design & Construction Magazine | The Choice of Industry Professionals