The construction industry must continue to invest in protection against metal theft, says a site security expert. Nationally there were almost 20,000 cases of metal theft in 2020/21 which is 20% higher than the pre-pandemic reporting year (2018/19).
SafeSite Facilities say although a new law ten years ago achieved a huge drop in metal theft, it continues to be a problem costing industry and society millions. The Scrap Metal Dealers Act was introduced in 2013 and fought metal theft by imposing stricter regulations on scrap dealers.
Despite going a huge way to reducing crime which was estimated to cost the economy close to £1 billion each year, tens of thousands of incidents continue to be reported.
Metal theft costs businesses dearly; in an incident over the New Year, copper cables worth £30,000 were stolen from a number of generators in West Berkshire. The cost of buying or hiring a CCTV solution is miniscule by comparison.
Companies like SafeSite Facilities, who can provide rapid deployment site security options at a competitive rate, urge you to have vigilant measures in place and leave nothing left to chance.
Defend your perimeter
Hoarding is the first and foremost effective tool in preventing metal theft from construction sites because most people who steal metal are prevented from entering.
Hoarding is a sturdy and time-tested form of temporary barrier, typically made of metal or wood, erected around the perimeter of a construction site to keep the public and unauthorised personnel out. This helps to reduce the risk of theft by limiting access to the site and restricting who can enter.
By providing a physical barrier between the site and the outside world, hoarding creates a secure environment where materials, tools and equipment can be safely stored when not in use.
Hoarding can also serve as a visual deterrent to potential thieves. A well-constructed hoarding system visible from a distance can help discourage theft by signalling to would-be thieves that the site is well protected.
Caught in the act
CCTV is another effective tool in preventing metal theft. By providing 24/7 surveillance of the site, cameras can deter potential thieves from attempting to steal metal as they know their actions will be captured on camera. Should a theft occur, the footage captured on camera can be used by authorities as evidence in identification and prosecution.
A portable CCTV system, such as those sold by SafeSite Facilities, allows for greater flexibility in terms of placement, as it can be moved to different areas of the site as needed. This means that all site areas can be monitored, reducing the risk of theft and increasing overall security.
Mobile systems can also be more cost-effective than a permanent installation, especially for construction sites that are only active for a limited period.
A portable system can be quickly deployed and set up, providing immediate protection for construction sites. This is particularly useful for construction sites located in high-risk areas or temporarily vacant, as the system can be easily moved to a new location if needed.
SafeSite Facilities' high-definition mobile CCTV towers are connected to an Alarm Receiving Centre that provides total out-of-hours supervision. The team are alerted by the camera to any movement, and if this is deemed suspicious, the owner and the police are quickly notified.
Tubular bells
Scaffold alarms are a great addition to construction sites thanks to their round-the-clock wireless connection to a dedicated monitoring team. When triggered, SafeSite Facilities' popular alarms send a wireless signal to the 24/7 monitoring station, alerting them to potential theft.
The monitoring unit can then take appropriate action, such as contacting the police or dispatching security personnel to the site.
The wireless link between the scaffold alarms and the monitoring station provides several benefits. It allows for rapid response in the event of a theft, as the monitoring station can take immediate action as soon as the alarm is triggered. The wireless link also eliminates the need for hardwired connections, making it easier to install the alarms and reducing the cost and disruption associated with traditional security systems.
Some light relief
Mobile lighting towers help by providing a well-lit environment that deters potential metal thieves and makes it easier to identify any suspicious activity. Lighting towers are mobile light units that can be simply taken to another part of the worksite as and when required.
It provides bright, efficient lighting that illuminates the entire site, reducing the risk of theft by making it difficult for thieves to operate in the shadows.
The bright lighting provided by the tower also makes it easier for construction workers and security personnel to see what is happening around the site, allowing them to identify any potential threats and take action, if necessary, quickly.
Don't forget that the presence of the lighting tower can serve as a visible deterrent to potential thieves, who are less likely to target a site that is well-lit and actively monitored.
The tower can also be fitted with a generator, making it possible to provide lighting even in areas without electricity.
Michael Knibbs, Managing Director at SafeSite Facilities, emphasised the need to safeguard sites:
"Whether operating a small construction project or a large, multi-site operation, owners can take active steps to protect their construction sites against metal theft. We have many products to make a site safe and secure. Our Minder Wireless product, for example uses advanced AI to reduce false alarms and accurately detect intruders.
"Whatever your project or budget, with the right security measures, you can rest easy knowing that your site is well protected, and your assets are secure."
https://www.safesitefacilities.co.uk/products/construction-site-security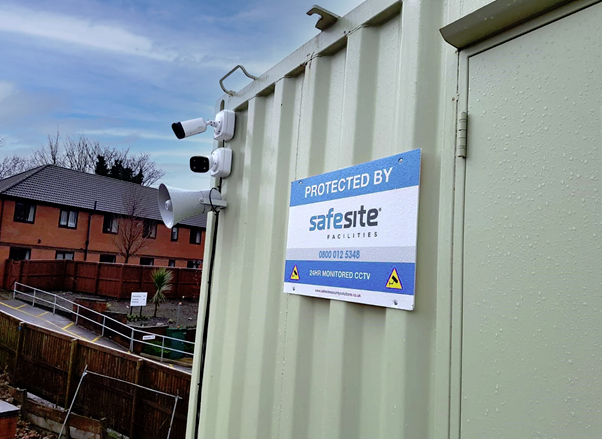 Building, Design & Construction Magazine | The Choice of Industry Professionals