uvex has released an array of cutting-edge safety footwear that is suitable for use across a range of different work environments.
The 14 new styles incorporate the latest uvex technologies to enhance wearability, ensure quality and maximise sustainability.
The uvex 3 lace-up boot S3 SRC reliably protects the wearer and provides high levels of comfort in heavy-duty industrial applications. It combines necessary robustness with a sports-inspired energy-return sole that helps to minimise fatigue thanks to uvex i-PUREnrj technology. uvex anklepro technology provides protection against painful impact due to the shock absorbing foam that encases the ankle area, while uvex climazone climate management system helps regulate the temperature inside the footwear as well as wicking perspiration away from the skin for increased health, comfort and wellbeing. The safety boot is available in black and black/yellow.
The new uvex 2 construction has been developed to meet the specific challenges of the construction and engineering industries, where workers and their footwear face extreme weather conditions and high mechanical stress. The leather construction features new uvex waterstop technology, which protects against water penetration for four times longer than required by the European standard without compromising breathability. A penetration-resistant steel midsole also protects against nails and sharp objects.
The uvex 1 G2 combines three innovative technologies. The first is uvex i-PUREnrj technology offers increased stability, very high levels of shock absorption as well as energy-return. The recovered landing energy over the entire sole unit is returned to the wearer providing a boost of energy, greater comfort and significantly lower fatigue in the legs and feet. The uvex x-tended grip technology guarantees even more stability and safety when walking thanks to optimised abrasion resistance and slip resistance, while uvex x-dry knit technology combines outstanding breathability with water-repellent characteristics. Five new models include boots and shoes with S1 and S3 protection.
Designed for various applications, the new uvex 1 G2 planet shoe S1 P SRC offers sustainability without compromising on comfort or performance. Many of the shoe's components, such as the upper and insole, are made from 100 per cent recycled materials, and the injected polyurethane midsole contains up to 20 per cent granulate made using PU waste from uvex' production processes.
The uvex 1 sport white safety shoe line combines sporty design, premium comfort and sophisticated functionality for hygienic areas. Key features include a lightweight design, climate-optimised high-tech materials, ergonomically designed outsole with excellent anti-slip properties (SRC). Two shoe styles are available in S2 SRC and S3 SRC.
The uvex 1 business safety range places equal value on style, safety and comfort and is the ideal choice for those who work in both office and factory environments. Protective features include an extra-wide robust steel toecap, metal-free penetration-resistant midsole (S3 versions only) and non-slip outsole for excellent protection. Wearers also benefit from a comfortable fit with no pressure points, while uvex climazone technology reduces the build-up of moisture. Now available in black microvelour or black hydrophobic full-grain leather, the new models can be teamed with chinos, a suit or your work trousers for the ultimate business-casual look.
The final new style now available from uvex comes from brand partner Heckel. The Heckel MACCROSSROAD 3.0 S3 HIGH META safety boot features ultra-flexible D3O® technology to ensure optimal metatarsal protection against falling objects, particularly for those working in the construction and public works sectors or in heavy industry.
Commenting on the launch of the new footwear range, head of marketing at uvex, Clair Weston says: "A big launch like this is always exciting but especially as the pandemic had such an impact on the availability of raw materials used in safety footwear uppers across the whole industry.
"This new range is therefore hotly anticipated and, we believe well worth the wait.
"We have styles to suit a wide range of applications and our footwear development team have worked hard to ensure that each model has been designed with four key elements in mind: wearability for optimal protection, fit and comfort; quality to ensure optimal cost-in-use; and last but not least, sustainability, so wearers can protect both themselves and the planet."
To find out more about the new range of safety footwear from uvex please visit: www.uvex-safety.co.uk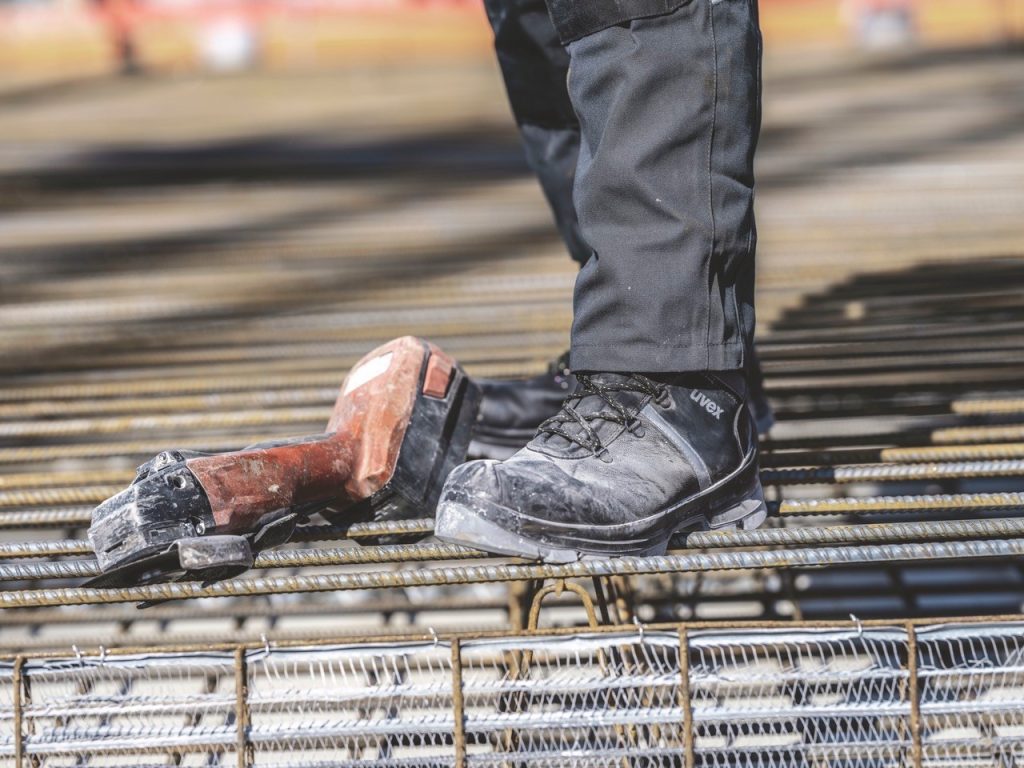 Building, Design & Construction Magazine | The Choice of Industry Professionals