North, east and west, some of London's most iconic residential and commercial developments have benefited from using a combination of green roof substrates and natural, as-dug soils from one of the UK's leading growing media suppliers, Boughton. Here we learn more about the latest project at Canary Wharf and look back at some of previous London highlights that have helped to put Boughton well and truly on the map.
The Pavilion at Landmark Pinnacle, Canary Wharf
Part of a much larger scale project which includes the UK's highest tropical garden, the Pavilion at Landmark Pinnacle is the work of Gillespies, Valley Provincial and Farrer Huxley. The green roof which swoops over the ground level commercial space at the foot of the 75-storey skyscraper, will provide much needed green space for those that live and work in the locality. Whilst residents of Landmarks Pinnacle will have access to two sky gardens, this pavilion has been created for the wider community as a place to promote healthy, active and social living. Sloped to the ground level the space is accessible to all.
Zoned planting, which creates zigzagged walkways to a raised theatre-style seating arrangement at its highest point, has been supported by Boughton lightweight green roof substrates, Intensive IN 1 and the lightweight subsoil.
Boughton's Intensive IN 1 was selected for its greater organic content and its ability to support larger plants and deeper planting depths. Not only this but IN 1 is perfect for schemes that optimise a more detailed and formalised planting scheme as that seen at the Pavilion, which allows for year-round colour and texture, an approach that has become Gillespies trademark at this project and has since gained them finalist status at the 2022 Landscape Institute Awards: Excellence in Horticulture and Planting Design category.
Joining the line-up was Boughton's lightweight subsoil which created the perfect footprint for the application of Intensive IN 1.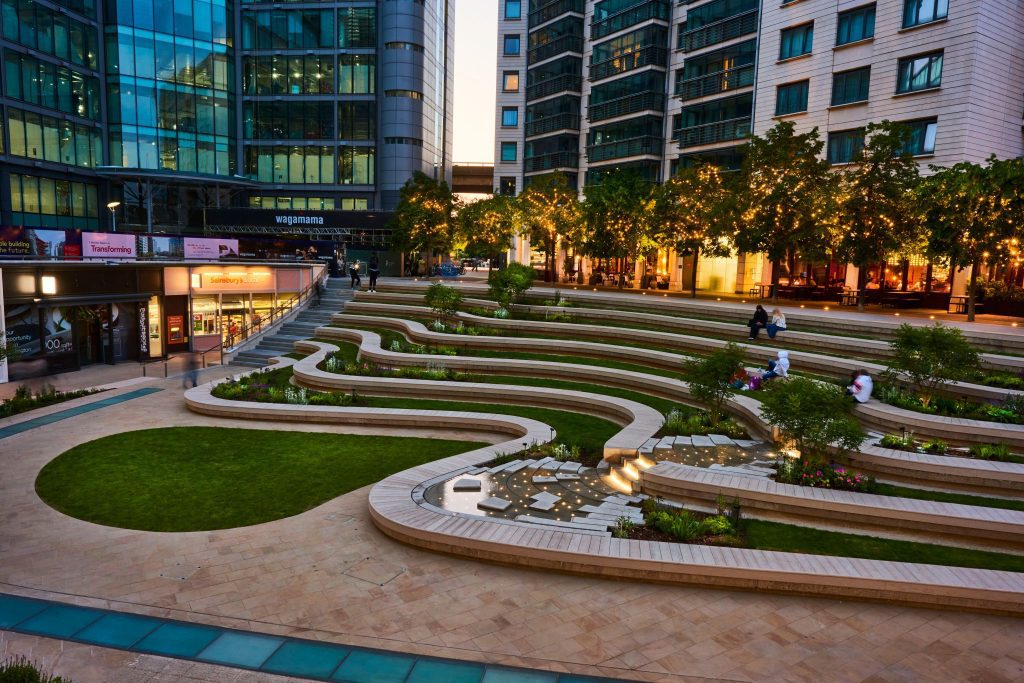 Sheldon Square, Paddington
The Landmark Pinnacle project follows hot on the heels of the Sheldon Square project that also saw Boughton and Gillespies work together.
Located at the heart of Paddington Central, Sheldon Square is best known for its amphitheatre, where a range of activities take place every day. From lunch with colleagues and friends to a special location for live music and culture, Sheldon Square and its amphitheatre are much loved by those that live and work there.
In 2022 the area benefited from a makeover which saw improved facilities, better accessibility, a more dynamic performance space and a greener space added. New trees, sun-loving plants and over 40 colourful perennials were added to not only create a vibrant display but were chosen for their ability to reduce pollution, improve air quality and to increase biodiversity and climate change resilience.
Working with Gillespies, alongside main contractors, 8Build, and soft landscape contractor, Kingston Landscape Group, Boughton supplied over 80m3 of its ever-popular BLS 2 topsoil to site in bulk bags. Single-sourced, 'as dug' natural and screened, Boughton's BLS 2 topsoil was specified for this project by Gillespies.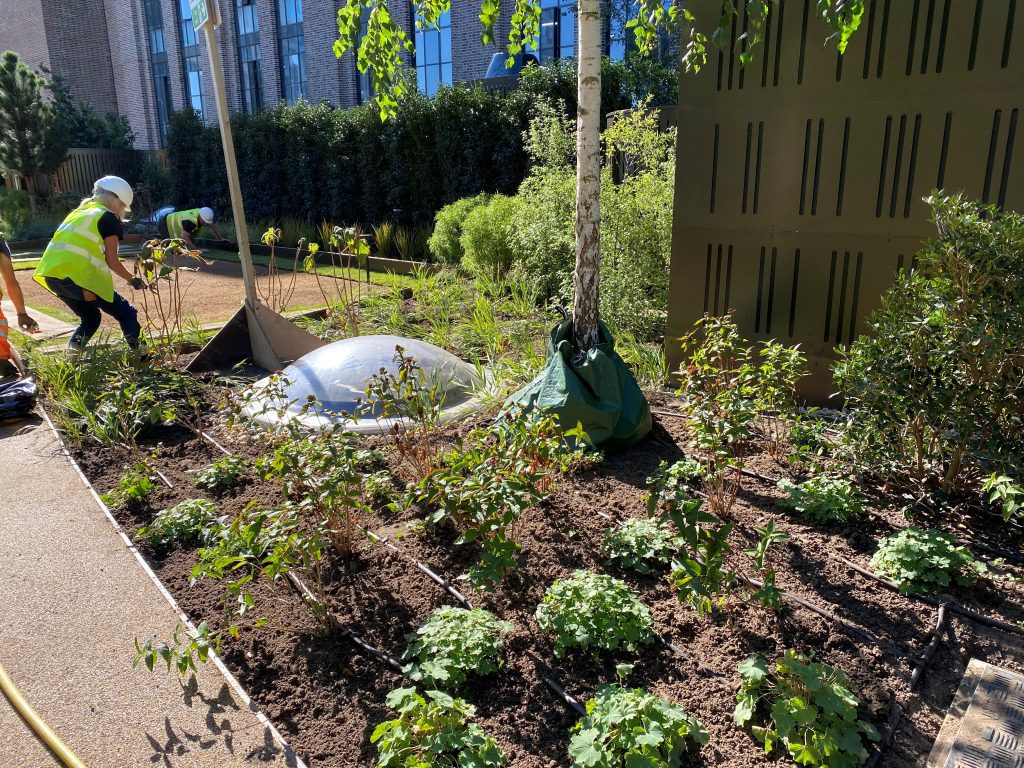 Battersea Power Station
Whilst not Boughton's first large-scale project, Battersea Power Station certainly remains its most iconic.
Situated on a 39-acre site, the Grade II* listed former Power Station was subject to an incredible £9billion redevelopment project – one of the biggest schemes of this type anywhere in Europe.
It was within the scheme's 'Garden of Elements' project that saw Boughton step-up, providing its green roof substrates to support the planting within this series of three garden spaces.
Positioned between the four chimneys that have become synonymous with the Battersea development, sits the 'Garden of Elements', which was designed by Andy Sturgeon and brought to life by six-times BALI Grand award-winners, Willerby Landscapes. Each garden is inspired by fire, water or air, harking back to the Power Station's previous life. It is within these gardens, including the notable main podium garden 'Boiler House Square' that saw Boughton's IN1 Intensive and Lightweight Green Roof Substrates, and Rootzone come into their own.
These garden spaces, full of cloud-like planting schemes are set within raised beds and tall grasses with vegetation designed to offer year-round interest with a mix of evergreens, Mediterranean and more exotic species. Boughton's IN1 substrate was selected to support this scheme thanks to its ability to support larger plants and to be installed at depths from 100 – 500cm, thanks to its sandy texture. Additionally, Boughton's IN1 substrate offers significant moisture retention qualities, making it the perfect choice when so many plants are vying for attention within this three-hectare site. IN1 from Boughton continues to meet and exceed all G.R.O guidelines.
Elsewhere Boughton's Lightweight Substrate was used to provide growing media where weight loading for the green roof needed to be lighter than traditional green roof schemes. Finally, Rootzone completed the offering. Supplied as a ready-mixed solution, Rootzone provided better planting conditions throughout the scheme.
Product was supplied in both bulk bags and 25L bags, meaning the Boughton team had to go above and beyond to tackle the logistical challenges that delivering to a central location presented.
Talking during the construction of the horticulturally rich roof garden, Willerby Landscapes said: "Boughton were a pleasure to work with, being able to safely deliver the material to site despite the many logistical challenges that this prestigious, central London project posed. They supplied us with top quality substrates specifically approved by Tim O'Hare, as well as a service that's hard to beat". 

Find out more
To find out more about Boughton's complete offering for the amenity, landscape and construction industries, please visit www.boughton.co.uk. To enquire about your next project, contact by calling (01536) 510515 or email sales@boughton.co.uk.
Building, Design & Construction Magazine | The Choice of Industry Professionals