National Allotments Week will take place from 7-13th August 2023
Apartments at Canada Gardens offer solution to years-long local allotment waiting lists
35% of people in the UK now grow their own herbs, vegetables or fruit (YouGov)
National Allotment Week (7th – 13th August 2023) does much to remind us of the value of working the land but gaining access to an allotment – particularly in London – isn't always easy. The Association for Public Service Excellence reports that nearly 87% of local authorities are experiencing an increase in demand for allotments. Demand in the London Borough of Brent, for example, is so intense that there is an expected waiting time of up to two years for plots, with the waiting list closed to new applicants. In Wembley Park in the heart of Brent though, residents at Quintain Living's Canada Gardens have found a way to beat the wait.
Canada Gardens is a family-focused development of 743 apartments to rent, ranging from studios to four-bedrooms homes. In addition to extensive grounds dotted with BBQ areas, designer work-from-home sheds, a pirate ship playpark and even its own clubhouse, the development features 18 hireable raised growing beds.
The Canada Gardens growing beds were conceived during the design phase of the site, way back in 2016. The London National Park City campaign, with which Quintain's Head of Masterplanning & Design, Julian Tollast, was heavily involved, was influential in the thinking behind the resident amenities. Tollast and the Quintain Living team drew upon the campaign and their own passion for allotments by providing the raised beds and a greenhouse as part of the overall podium garden design for Canada Gardens.
Since the development opened its doors in 2021, residents have grown a range of fruits, vegetables, and herbs on-site. In addition to the raised beds, residents have use of a greenhouse and tool shed, while Quintain Living – award-winning management company which oversees the rental of more than 3,650 apartments in Wembley Park including those within Canada Gardens – also provides information on seasonal planting and growing tips. A new composter has recently been added to convert green waste from the 85-acre Wembley Park estate into nutrient-rich compost and liquid fertiliser (leachate).
Demand for the raised growing beds at Canada Gardens is strong and sustained. All 18 beds are currently in use, with a variety of salad crops and vegetables enjoying this summer's signature combination of interspersed sunbursts and rain showers. Younger residents have been racing each other growing sunflowers and delighting in munching on bright, super-sweet strawberries. Fragrant herbs scent the air while cucumber vines are climbing up canes. In the greenhouse, the summer's first tomatoes are just ripening, poised to provide the residents growing them with a sudden glut – perfect for sharing with fellow gardeners.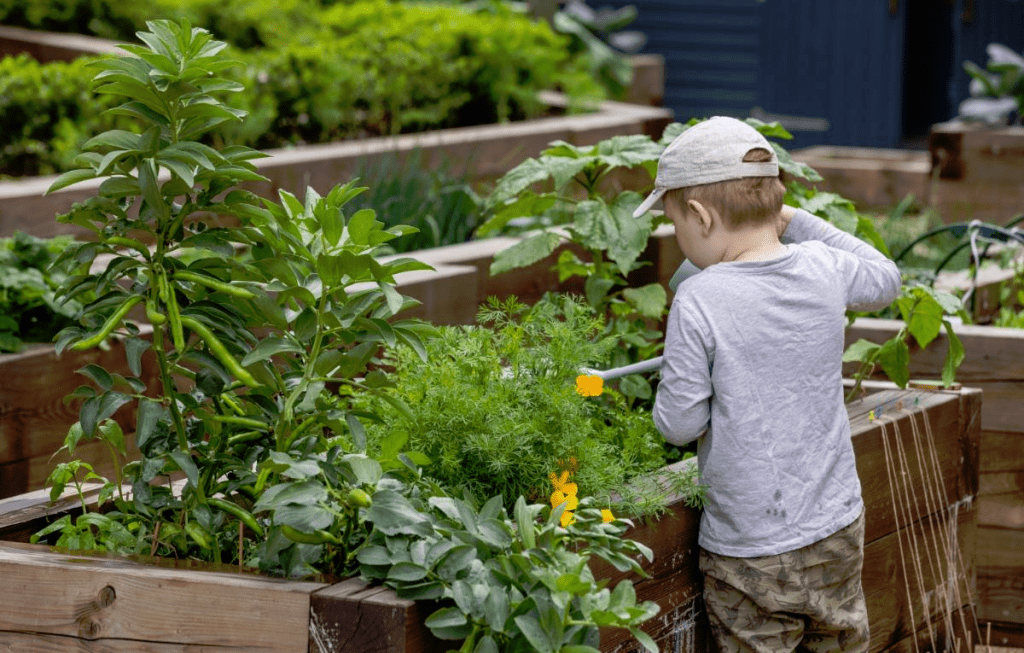 Indeed, not only do residents enjoy the opportunity to grow their own food – a win in sustainability terms by cutting out both food-to-table miles and packaging – but many are taking advantage of the social connections that growing food on-site provides. Residents Shamir and Reschma Jetha have enjoyed using both the Quintain Living Resident App and resident events such as gardening workshops to connect with their neighbours. Mother-of-two Reschma comments:
"Quintain Living arranged for a local community garden manager, Jim (or 'Jim the Farmer' as the kids call him) to teach us how plant everything properly. We planted lettuce, tomatoes, carrots, herbs and many more plants that day. It was really nice, we were all doing it together, everyone was so kind, so dedicated. 'Jim the Farmer' taught us so much about plants, when to sow them and how to care for them."
Having never gardened before, Reschma was nervous that it would be complicated in an apartment, but the Quintain Living experience has shown her how easy it can be – and what a great social experience. She continues:
"It's so easy and really gives us peace of mind to care about nature. Since we started gardening in the allotments, we've joined a Quintain Living residents allotment WhatsApp group. We let other members of the group know when we are coming down to the allotments in case they might like to join, and we can help each other take care of the plants."
National Allotments Week 2023 is focused not just on growing produce but also on the importance of understanding the role of soil health in increasing yields and supporting biodiversity. Tending raised growing beds such as those at Canada Gardens is one way that families can pass this hugely important knowledge down to the next generation.
The Royal Horticultural Society provides plentiful advice when it comes to caring for soil. Its three top tips for working allotment plot soil include carrying out a soil pH test to understand whether any nutrients are lacking, adding organic matter by digging and rotovating and using a crop rotation plan. As part of such a plan, there is still plenty of planting to be done in August, from spring onions, radishes, lettuce and rocket to winter salad leaves such as mizuna and mibuna.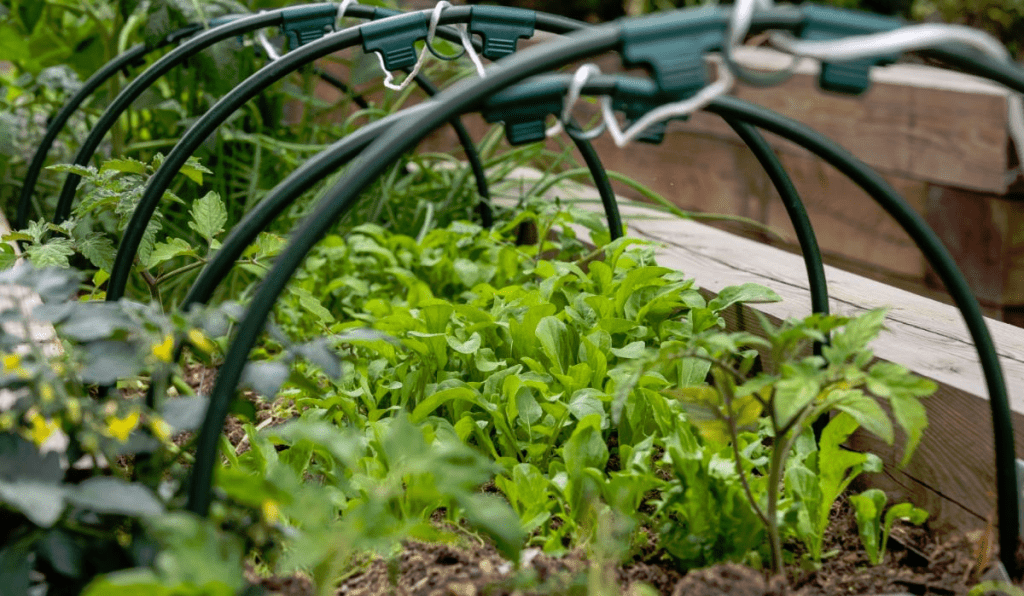 "Growing your own food is a fantastic way to enjoy fresh produce at its best while reducing your carbon footprint. Little tastes better than food you've grown yourself and picked just minutes before eating. There's also plenty of fun to be had pickling and preserving the fruits of your own labour as well as getting to know your neighbours better by gifting them some of your homegrown produce."
Danielle Bayless, Chief Operating Officer, Quintain Living