Three landmark care homes in Derbyshire have finished pivotal works this summer to improve facilities for residents.
Led by Midlands-based contractor, G F Tomlinson, and delivered for Derbyshire County Council through the Pagabo Refit and Refurbishment Framework, the works have included a range of improvements to bring the ageing buildings up to an approved standard to enhance the experience for residents.
The three schemes include £3.1m works to Briar Close House Care Home in Borrowash, £2.9m works to New Bassett House Care Home in Shirebrook and £2.7m works to Rowthorne Care Home in Swanwick, all of which started in summer 2021 and are due to be finished by autumn 2023.
Derbyshire County Council commissioned the improvements as part of a scheme of major refurbishment works to council-run care homes across Derbyshire.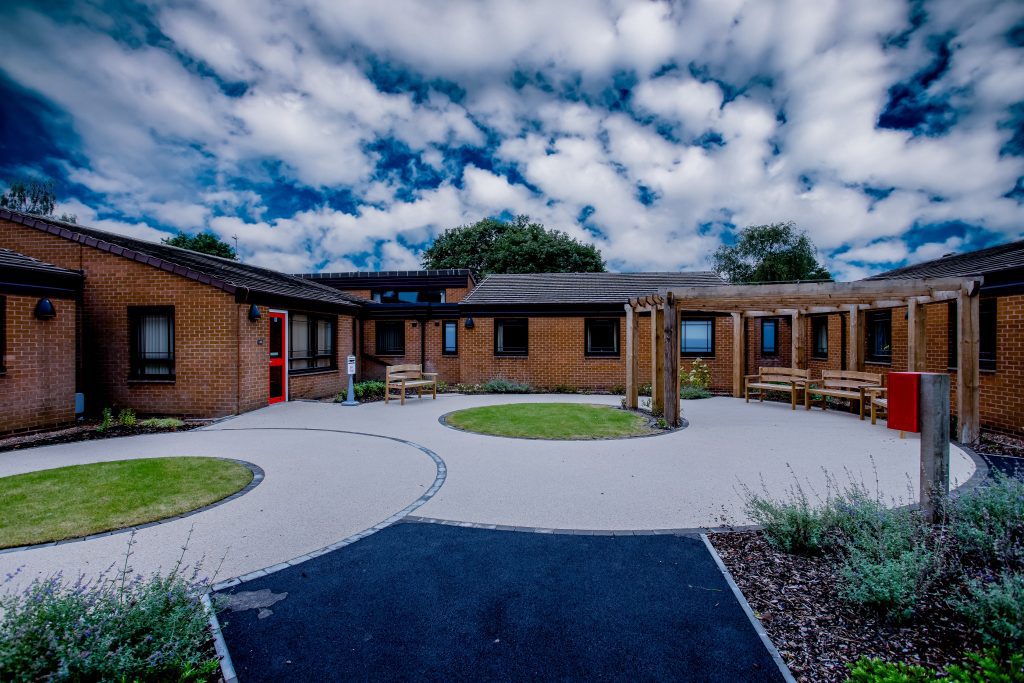 Improvement upgrades included asbestos removal, structural roof repairs, new insulation, partition alterations, new ceilings, plaster works, repairs to doors and ironmongery together with the installation of new sprinkler and fire safety systems and new kitchen facilities. The schemes were finished off externally with hard and soft landscaping which included new planters, pergolas, and decorative garden areas for residents to enjoy.
The landscape improvements have ensured that all outdoor spaces are safe and accessible, with wider paths and raised beds to enable residents to tend to and enjoy new planting areas. The outside areas have also been designed to be Dementia friendly – and include a sensory garden with lights, wind chimes and fragrant flowers and plants specifically to stimulate participation.
Civils works involved the construction of new footpaths and roadways to improve circulation and make the homes easily accessible to care staff and visitors. New drainage has also been installed throughout the sites.
As part of their commitment to the environment and supporting local wildlife, G F Tomlinson installed hedgehog highways at each care home.
Each project achieved scores ranging from 38 to 41 'Very Good' on the National Considerate Constructors scheme, in recognition of the consideration the contractor gave to residents, staff and nearby neighbours during the construction period.
Giving back to the local communities, G F Tomlinson provided a range of social value opportunities at each care home. At Briar Close, the team provided 24 days of work experience to students from local schools and colleges. Other initiatives included Christmas gifts to local residents and furniture replacement following the handover of each area.
At Rowthorne, a new washing machine and temporary kitchen was fitted, local litter picks and hedge cutting took place and 15 days of work experience for local young people was provided. The company also donated a defibrillator to the Rowthorne and New Bassett Care homes on completion of the schemes.
At New Bassett Care Home, old wardrobes and timber pergolas were disposed of, and the care home entrance slabs replaced, along with moving furniture back in after works and re-fitting curtains, all of which were not part of the original works package.
Chris Flint, Managing Director at G F Tomlinson, said: "Delivering these pivotal works for three main care homes in the county has been a tremendous honour and we're proud that the improvements will ensure the preservation of these much-needed residential care homes as part of the local social care provision.
"Despite delays due to Covid-19 vaccination requirements, as we approach completion, we're looking forward to residents moving back into the new and enhanced homes which will significantly improve their quality of living.
"We'd like to say a big thank you to our different site teams for delivering exceptional quality and going above and beyond to deliver social value opportunities in the local communities."
Scott Rice, Project Manager, Concertus Derbyshire Limited, said: ""Projects like this make a real difference to the lives of our most vulnerable elderly people. At all times, GFT acknowledged they were working in what are in reality people's homes. The homes remained occupied during the works which took place over a number of phases.
"GFT worked closely alongside the home management in order to minimise any disruption – the site teams and operatives have been recognised by the home managers for their consideration towards the residents. Covid threw us a curve ball, and throughout the project the nature of working in phases on old buildings led to many unforeseeable issues arising which were dealt with smoothly and efficiently. We have been kept appraised of progress and changes at all stages which has resulted in remarkable high-quality improvements to what were very tired and outdated properties."
Elliott Talbot, Framework Manager for Pagabo's Refit and Refurbishment Framework, said: "We're delighted to see these care home improvements reaching completion thanks to the great work of G F Tomlinson. Our Refit and Refurbishment Framework allowed Derbyshire County Council to find the most suited contractor for this project and streamlined the whole procurement process. A massive well done to everyone who made this scheme a reality."
Building, Design & Construction Magazine | The Choice of Industry Professionals