The completion of College Road brings the number of homes delivered by volumetric specialist Tide in the borough to 1,483, following the completion in 2020 of neighbouring scheme Ten Degrees, with the two developments combining to boost urban renewal.
Volumetric developer Tide has completed a landmark development called College Road, in Croydon, South London, near East Croydon train station. The scheme comprises two buildings: a 50-storey BTR development with 817 one-bed and studio apartments, and a 35-storey building providing 120 affordable homes.
The 50-storey, 163-metre building is also Europe's tallest volumetric modular tower. Until now this record was held by another of Tide's developments, neighbouring Ten Degrees, which includes a 135-metre tower and was completed in 2020.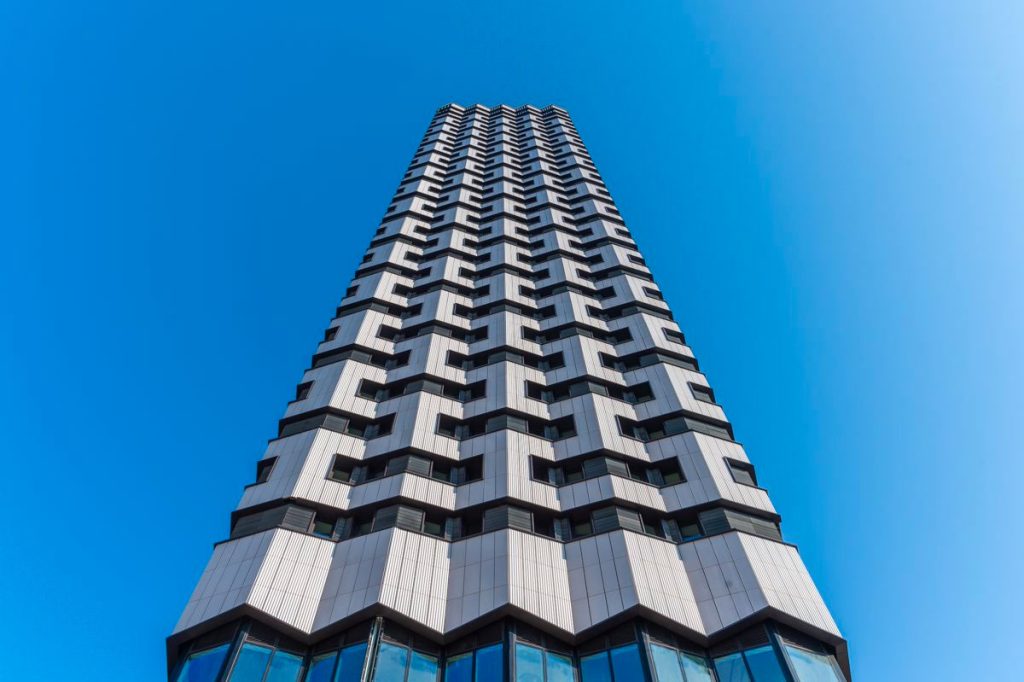 Completion of construction comes two months ahead of schedule, further enhancing returns for investors Oaktree Capital Management and operator Outpost Management. The market-leading development features the UK's most extensive range of BTR amenities while also being the largest co-living asset class scheme to have been approved by the Greater London Authority.
As both developer and contractor for College Road, Tide worked alongside its sister company and volumetric manufacturer, Vision, using an approach that cuts traditional construction time by up to 50%. The efficiency of Vision's offsite technology resulted in 73% of the entire developments floor plate being installed in 32% of the programme, helping to achieve the 28-month schedule. This technique with its efficient construction logistics enabled the delivery of 937 homes on the constrained 2000m2 site.
The development was designed by Tide and Vision's in-house design teams in collaboration with architects HTA Design.
Enclave: Croydon
The 50-storey tower, now open and operating as Enclave: Croydon, was completed in partnership with Outpost Management and funded by Oaktree Capital Management. Enclave: Croydon offers a mix of studios and one-bedroom apartments in a range of sizes, available on an all-inclusive basis with flexible tenures. By redefining this asset class, the scheme will provide seven floors of carefully curated, expansive amenity space, marking a significant milestone in the development of this emerging residential typology.
Designed by architects Tigg + Coll in collaboration with Outpost Management, the high-quality interiors are complemented by over 30 innovative amenity spaces. These include dedicated entertainment and wellbeing spaces, a podcast studio, multifaith space, spa complete with steam room and sauna, high-end gym, show kitchens, co-working and conference rooms, all topped by a Sky Garden across the 50th floor.
The scheme demonstrates the strong design flexibility and exceptional quality of architecture that the Vision system delivers, as well as the ability to build at record-breaking heights. With Enclave: Croydon, Tide has beaten its own record set at neighbouring Ten Degrees, which, at 44-storeys, became Europe's tallest modular building when completed in 2020.
Affordable homes
The 35-storey tower contains 120 one-, two- and three-bedroom apartments, ranging from 51-85m2, community space across two floors, and a roof terrace on level 35. These much-needed affordable homes will be available on a Discount Market Rent (DMR) basis. The homes provide beautiful views and benefit from high-quality finishes, as well as the Vision Volumetric system's high levels of acoustic insulation, soundproofing them from the busy urban environment.
Artwork by Adam Nathaniel Furman
The development includes a glazed colonnade featuring artwork designed by London artist Adam Nathaniel Furman. Comprising three-dimensional porcelain tiles, which are wrapped around the building, the colonnade links to a wider network of landscaped public routes between East Croydon Station and the cultural quarter providing direct links to central London. The seven-metre-high arcade adds a new, beautifully crafted streetscape to the city.
Sustainable placemaking
College Road forms part of the volumetric-driven urban development of Croydon. Including Ten Degrees and College Road, Tide and Vision have provided close to 1,500 homes, amenity, and commercial space, further enhancing the neighbourhood, and adding to the regeneration of Croydon. Volumetric construction unlocked the viability of these major sites which sat idle for many years, adding to the area's housing stock and overall vibrancy.
For both companies, this completion builds on a substantial track record of delivering high-quality volumetric developments and strengthens the companies' longstanding partnerships with its funders and investors. This success is based on a robust business model which combines developer, contractor, and volumetric manufacturer. Tide and Vision have a strong future pipeline, with over 3,500 homes currently onsite.
John Fleming, Chairman of Tide and Vision, said: "It's fantastic to see this landmark development come to completion after only 28 months, two months ahead of schedule. College Road demonstrates the many benefits that come with building volumetric and its capacity to transform constrained sites into valuable real estate, but most importantly, providing nearly 1,000 homes and a revitalised public realm for Londoners delivered in an efficient and sustainable way. College Road is a milestone development that highlights our strong partnership with Outpost Management and Oaktree Capital Partners."

Troy Tomasik, Outpost Management founder and CEO, said: "We're immensely proud to have completed Enclave: Croydon and to have welcomed our first residents to their market-leading new homes. Designed to meet the evolving needs of today's renters and deliver effortless living, our development sets a new standard for the UK rental market, offering unparalleled convenience-led, tech-enabled studio living on an all-inclusive basis. Nowhere else in the UK can you find the range of features available here, combined with beautifully-designed apartments, in a supremely connected location.
Simon Bayliss, Managing Partner at HTA Design, said: "College Road is the product of extensive research into successful models for high density shared living and is the first project to be approved under the GLA's Co-Living policy. Every aspect of the development was designed to offer residents the most liveable private space, whilst also having the free enjoyment of truly fantastic communal facilities. The building connects East Croydon to the new cultural quarter through a colonnade enlivened by crafted public art, an integral part of the building's striking architecture. The design embraces the optimism of Croydon's mid-century heritage including Richard Seifert's iconic NLA building, whilst complimenting the neighbouring Ten Degrees, also designed by HTA with Tide and Vision, whose volumetric system enabled faster, more sustainable and higher quality construction."
College Road Project Team:
• Developer: Tide
• Enclave Funder and Operator: Outpost Management
• Institutional investors: Oaktree Capital Partners
• Contractor: Tide
• Volumetric manufacturer: Vision
• Architect: HTA Design
• Interior design: Tigg & Coll
• Employer's agent: WSP
• Engineers: BMCE and MJHSE
Full press pack images here
Building, Design & Construction Magazine | The Choice of Industry Professionals