The Royal Bournemouth Hospital marked a major milestone on Friday 19th May with a traditional 'topping out' ceremony for its new BEACH Building.
Lord Markham, Under Secretary of State for the Department of Health and Social Care, and Jacqueline Smith, Deputy Lieutenant of Dorset, attended the event alongside a number of staff from University Hospitals Dorset NHS Foundation Trust (UHD), including Chief Executive, Siobhan Harrington, and Dr Isabel Smith, UHD's Medical Director for transformation. The event was hosted by Integrated Health Projects (IHP), an alliance between VINCI Building UK and Sir Robert McAlpine, as represented by executive partner and IHP board member, Hector McAlpine.
As part of the ceremony, dating back to the Roman era, the guests were led to the top of the BEACH Building by a bagpiper where a symbolic tightening of bolts took place, and an evergreen bough was nailed to the structure. This was followed by an exchange of tankards to symbolise a job well done.
The BEACH Building is a 23,000m2 complex standing six storeys tall – equivalent to 115 tennis courts. It contains a new maternity unit and children's unit, as well as an enhanced emergency department, larger than the existing facilities at the Royal Bournemouth and Poole Hospital combined, and a critical care unit with capacity for 30 beds. When it opens in Spring 2025, it will enable the Royal Bournemouth Hospital to become the major emergency hospital for Dorset.
Lord Markham, Under Secretary of State for the Department of Health and Social Care, said: "It was an honour to attend the topping out ceremony of Royal Bournemouth Hospital's new BEACH Building, backed by over £168m of government investment.
"This building will improve birth, emergency and critical care services, and children's health services, making a significant difference in helping cut waiting times for patients in Dorset by serving nearly 145,000 patients a year.
"We continue to work closely with the NHS to improve services and this new building is part of over 70 hospital upgrades we're delivering across the country, on top of 40 new hospitals."
John Roberts, Managing Director at IHP and VINCI Building, said: "IHP are proud to be part of today and achieving this major milestone in the construction of the new facility here at Bournemouth Hospital. The project represents significant investment in the UHBP site to provide a brand-new state of art A&E department. This scheme will serve local people in the city, Poole and wider Dorset community providing improved patient journeys and outcomes for years to come."
Hector McAlpine, Executive Partner at Sir Robert McAlpine and IHP Board member, said: "This topping out ceremony provides an opportunity to celebrate the exemplary collaboration and the technical excellence displayed throughout by the project team and hospital staff. IHP are proud to work with UHD on the BEACH Building and we look forward to delivering this state-of-the-art facility for Dorset's communities."
The construction work has been designed to minimise disruptions to the Royal Bournemouth site for the duration of the project, with the BEACH Building itself set to open in Autumn 2024. The project is part of a wider £250m investment to transform UHD's hospitals.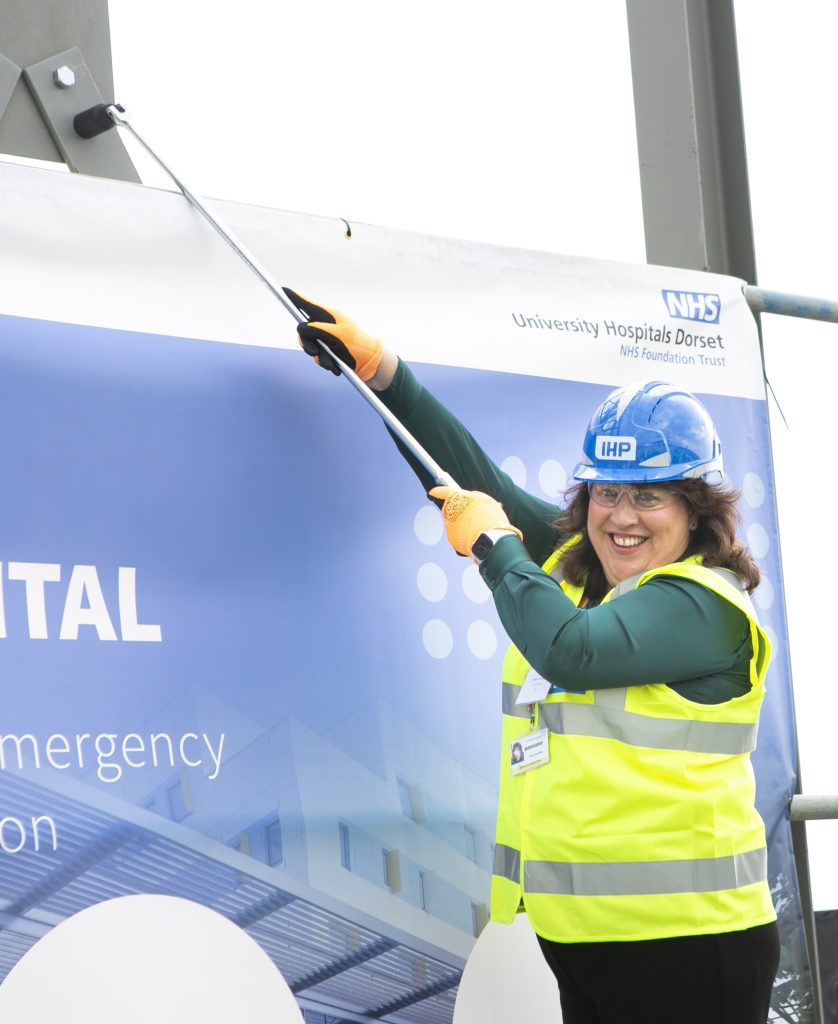 Siobhan Harrington, UHD's Chief Executive, said: "The BEACH Building, when it welcomes patients in 2025, will help create a hospital specialising in emergency care at the Royal Bournemouth, while at Poole, we are putting the finishing touches to our new operating theatres complex – creating the major planned hospital for Dorset.
"As we plan for the future services, we remain focused on the present, and the responsibility to continue to deliver high-class care for all our patients."